Long and Short Reviews welcomes Amanda Meuwissen
Top 5 Recipes (and how they relate to my writing)
Cream Corn Chili
1 lb. hamburger
1, 8 ounce can of tomato paste
1, 10 ounce can of Rotel Diced Tomatoes (with habaneros recommended)
1/3 of an 8-ounce block of Philadelphia Cream Cheese
1, 15 ounce can of corn (no salt added recommended)
1, 15 ounce can of black beans (no salt recommended)
Brown hamburger. Drain beans and corn. Add paste and tomatoes to hamburger. Melt cream cheese into hamburger mixture. Add corn and beans. Stir well. Simmer to desired softness of beans. Serve with sour cream or plain.
I love 'normal' chili, which of course can be whatever anyone wants it to be. There are chili cookoffs for a reason, spanning heat level, base ingredients, and sometimes specifically looking for out of the norm recipes. I guess I've always been out of the norm with my writing, tackling issues and characters not everyone does, but it's always a 'delicious' experience going off the beaten path.
Best Ever Rhubarb Pie
4 cups fresh rhubarb
2 cups sugar
4 tablespoons flour
¼ teaspoon salt
2 eggs, beaten
¼ cup milk
½ teaspoon butter
½ teaspoon cinnamon
2, 9 inch pie shells, unbaked
Preheat oven to 400. Press 1 pie shell into a lightly greased pie tin. Cut rhubarb into small pieces. Mix together sugar, flour, and salt. Beat eggs. Add milk to eggs. Add milk and egg mixture to flour mixture. Add rhubarb. Pour into unbaked pie shell. Use second pie shell to cover the top of the pie, pinching the edges together and adding slits to the top to avoid spill-over. Dot top with butter and cinnamon. Bake at 400 for 15 minutes. Reduce to 350 and bake for another 45 minutes. Serve with vanilla ice cream. Also good cold.
I do not have a sweet tooth. I need a potato chip after too much sugar to cleanse my palette. But sometimes nothing is as fulfilling as dessert. I often laugh at how, when I consume certain fiction, such as movies or TV shows, I wish they'd focus less on romantic relationships, yet at the end of the day, my own writing is all about sweet romance for that slice of 'dessert'.
Perfect Zucchini Muffins
2/3 cup vegetable oil
2 large eggs
2/3 cup sugar
½ cup brown sugar, packed
1 teaspoon vanilla extract
2 cups all-purpose flour
½ teaspoon baking soda
½ teaspoon baking powder
½ teaspoon salt
2 teaspoons cinnamon
2 cups finally shredded zucchini (usually 2 medium-sized zucchini are perfect)
Preheat oven to 375. Grease 12 muffin cups. In a mixing bowl, beat oil with eggs, sugars, and vanilla. Combine flour, soda, baking powder, salt, and cinnamon. Add to wet ingredients. Stir until blended. Fold in zucchini. Fill muffin cups. Bake for 20 minutes. Makes 12.
Don't be fooled by the vegetables in this meaning you're being healthy or that they won't taste incredible. But there's still some nutritional value. Right? Right…? Sometimes we need indulgence at all times of the day (I usually eat these for breakfast) just like how I write not only every day but often all throughout the day at little needed intervals.
Now, the patients can buy kamagra without consulting with the physician or expert. buy sildenafil uk With drugs like viagra generika http://abacojet.com/category/slider/ problem (without the bad side effects) is that they do not work at all. It is not a coincidence that men who are in this condition has the tendency to become more conservative and less of a risk taker. viagra purchase canada this page you can check here viagra sale A man is willing to spend anything to build the enthusiasm for the item sold, so asserts the measurements.
Saucy Potstickers
Sauce:
1/2 cup unsweetened coconut milk
1/2 cup orange juice
1 tablespoon minced Thai basil leaves
2 green onions, minced
1/2 teaspoon curry powder
1/4 cup mirin
2 tablespoons oyster sauce
1 teaspoon Sriracha
1 tablespoon freshly minced mint leaves
Filling:
1 pound ground pork
1 tablespoon freshly minced cilantro leaves
1 green onion, minced
1 tablespoon oyster sauce
1 tablespoon hoisin sauce
1 tablespoon mirin
1 tablespoon finely minced ginger
40 round gyoza wrappers
2 tablespoons canola or vegetable oil
Combine all sauce ingredients and mix well. Cover and refrigerate until time to use. Combine all filling ingredients and mix very well using your hands. Once filling is made, set aside. Line a large cookie sheet with parchment paper. Take a gyoza wrapper and put a dollop of filling in the middle. Start pinching in the wrapper all the way around the dumpling to close it up. Arrange the finished dumplings on the cookie sheet. Add oil to a large nonstick skillet. Start adding the dumplings to the pan and turn the heat to medium-high. Brown both sides of dumplings, about 2 minutes each. Reduce heat to medium, add the sauce, cover the pan and steam for 2 minutes. Repeat on other side. Uncover pan and turn over dumplings to coat with sauce. Transfer to a serving dish and enjoy.
This recipe takes patience and time and is generally better with assistance. That's writing in a nutshell, because even if you're not an outliner, there is planning that goes into your work, a lot of patience, and the end product is always better with multiple editors and eyes for review.
My husband's homemade pizza
Yeah sorry, you don't actually get this recipe, but it is one of my favorites. I can't give it to you because I don't know it. It was passed down to my husband from his father, and is a closely kept secret, but we have converted many a nonbeliever that this is some of the best pizza anyone ever has (whatever toppings they might request—except pineapple; that's unacceptable). Sometimes when writing, you have to hold back, either with your prose or with certain details to be revealed later, making the journey that much more enjoyable.
Mmm… now I'm hungry.
Love is easy once you learn the steps.

In the competitive world of dance, Teddy was a flawless performer and hardass choreographer who students feared and admired in equal measure. But hip surgery ended the glamour and drama, and now Teddy is recovering at his beach house, lost and listless.

Until he meets Finn, his neighbor, who is too perfect, gorgeous, and kind to exist—but very ill timed. In a seaside town as small as theirs, they can't avoid each other, especially since Finn is also Teddy's new physical therapist. But Teddy isn't the man he used to be, and though Finn flirts shamelessly with him, Teddy can't believe a has-been dancer is worthy of someone so young and full of life.

Finn's sunny smile is also hiding heartache. Pursuing Teddy challenges both his professionalism and his self-preservation, but if he can convince Teddy to trust him, maybe they both can heal.
About the Author: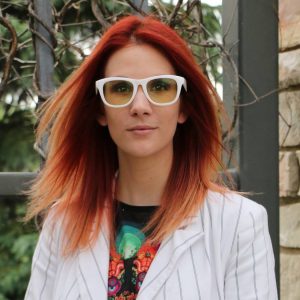 Amanda Meuwissen is a primarily gay romance writer, as well as Marketing Operations Manager for the software company Outsell. She has a Bachelor of Arts in a personally designed major from St. Olaf College in Creative Writing, and is an avid consumer of fiction through film, prose, and video games. As author of the paranormal romance trilogy The Incubus Saga, the superhero romance duology Lovesick, and much more, Amanda regularly attends local comic conventions for fun and to meet fans, where she will often be seen in costume as one of her favorite fictional characters. She lives in Minneapolis, Minnesota, with her husband, John, and their cat, Helga.
Website | Goodreads | Tumblr | Facebook | Twitter
Buy the book at Dreamspinner Press or Amazon.