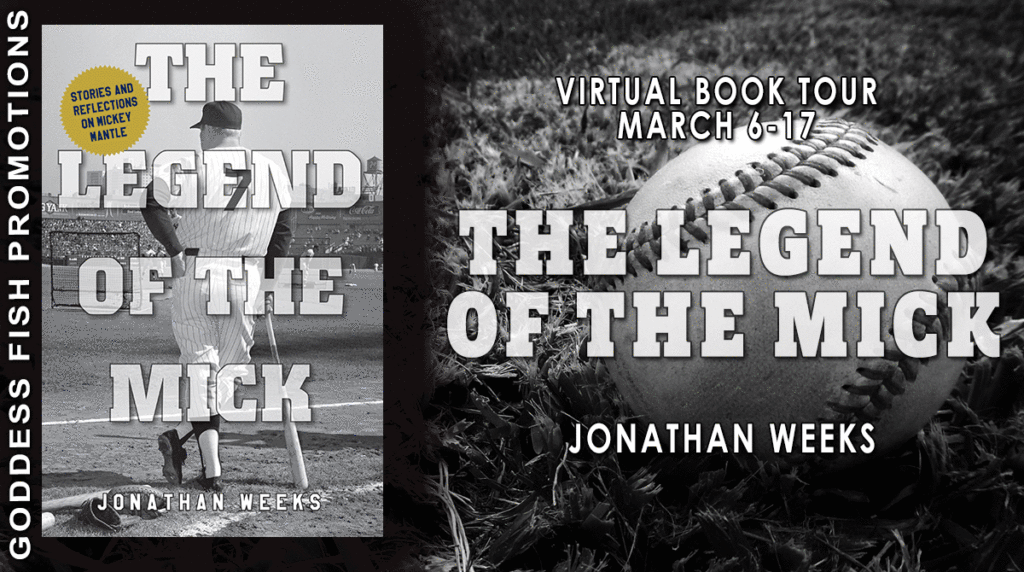 This post is part of a virtual book tour organized by Goddess Fish Promotions. Jonathan Weeks will be awarding a $25 Amazon/BN GC to a randomly drawn winner via rafflecopter during the tour. Click on the tour banner to see the other stops on the tour.
THINGS TO KNOW IF YOU'RE NEW TO WRITING
–When you consider the time it takes to develop, write and edit a manuscript then figure in the time spent on the submissions process, your pay rate usually comes out to less than $1 per hour once you have actually signed a contract. It's best to write for the sheer joy of expressing your ideas as opposed to the prospect of getting rich.
–Anyone who writes is technically a writer. But not everyone who submits their work will end up being published. Rejection is intrinsic to writing. It's a rough business. As writers, we take risks and put ourselves out there only to have our ideas shot down time and time again. Embrace the process. Learn from it. Don't ever take it personally.
–The submissions process is a lot like playing the lottery. You can't win if you don't play. If your aim as a writer is to get published, then the only way you can completely fail is to stop writing. As long as you're still churning out words and ideas, you are still in the game.
–Self-publishing is a sure-fire way to get your words in print. But if you don't have connections and marketing skills, you won't sell many books. It sounds harsh, but it's true. Kindle Direct Publishing is an attractive option to many. There are over 12 million books currently on Kindle. A majority of the self-published ones will sell less than 100 copies. If you intend to self-publish, make sure you have a realistic marketing plan.
–Know your audience. You can't write in a vacuum. You should be reading other people's work and paying attention to what types of books are selling. The tastes of readers change over time. Follow the trends. Adapt your work to fit the current climate. More than 70 percent of adults still read books. There's a large audience out there. You just need to know how to grab their attention.
In the 1950s, America entered the television age. And Mickey Mantle, a country boy from Commerce, Oklahoma, was made for the moment. Signed by the New York Yankees as a teenager, he made his major league debut in 1951 as a right fielder alongside Joe DiMaggio. When DiMaggio retired at the end of the season, Mantle inherited not only Joltin' Joe's position in centerfield but also his stature as the face of the franchise. His boyish good looks, breathtaking power from both sides of the plate, and blazing speed on the basepaths made him an instant superstar. He won league MVP three times, came in second three times, was a 16-time All-Star, a Triple Crown winner in 1956, and a seven-time World Series champion.

Mickey Mantle's career was the stuff of legend and in this book, Jonathan Weeks tells us why. Mantle's extraordinary (and at times incredible) tales carry readers on an enthralling journey through the life of one of the most celebrated sports figures of the twentieth century.
Enjoy an Excerpt
THE SPOOK LIGHT
For more than a century, residents of the Tri-State Missouri, Oklahoma, and Kansas area have talked about a paranormal phenomenon known as the "Spook Light." The light has been described by witnesses as an orb of fire about the size of a baseball or basketball. It flickers, dances, and spins—typically in an east to west pattern—while hovering above the treetops. When observers attempt to walk or drive toward it, it disappears.
According to popular legend, the "Spook Light" was first observed by Native Americans along the infamous "Trail of Tears" in 1836. Since then, a number of ghostly stories have circulated regarding its origin. One of the oldest tales centers around a Quapaw Indian maiden and her lover, who leaped to their deaths after the girl's father forbade them from marrying. Another oft-told yarn involves the spirit of an Osage tribal chief who lost his head in battle and continues to search for it by lantern-light.
The "Spook Light" is commonly seen along a desolate stretch of road near the town of Quapaw, which is located just six miles from Mantle's hometown of Commerce. The Yankee slugger grew up with these campfire tales and, like many teenagers of the era, enjoyed the associated benefits. By the time he was in high school, the deserted route known as Spooklight Road (or "The Devil's Promenade" to some) had become a popular make-out spot. In his 1985 autobiography, Mantle remarked, "If you happened to be waiting at the Spook Light and you happened to have a girl with you, it was a pretty good place for necking." Mantle's first social outing with his future wife, Merlyn, was a triple date to Spooklight Road. The youngsters piled into Mantle's 1947 Fleetline Chevy, which he had purchased with his Yankee signing bonus. Though Mantle was paired with another girl that night, he ended up asking Merlyn out on a date after he "struck out" with her friend.
The "Spook Light" continues to be an enduring legend despite scientific research conducted during Mantle's teen years. In 1945, it was proposed that the phenomenon was caused by the refraction of vehicle headlights over a range of western hills. The following year, an Army Major named Thomas Sheard stationed a vehicle in the region he believed the so-called "Spook Light" was emanating from. He instructed the driver to flash the vehicle's headlights at a designated time after dark. Observers in the vicinity of Spook Light Road were able to see the flashes. In 1965, Popular Mechanics magazine recruited professors from the University of Arkansas to investigate even further. They confirmed that distant headlights on Route 66 were being distorted by waves of heat, producing the phenomenon.
Those who still cling to paranormal explanations maintain that the "Spook Light" was seen long before the invention of automobiles and is, therefore, an unrelated phenomenon. The first verified written account of the eerie spectacle didn't appear until 1935. Multiple sources have claimed that a booklet on the topic was released in the 1880s, but concrete evidence of it has not been uncovered. Detailed information about the ethereal orb—complete with driving directions to Spook Light Road—appear on the Joplin, Missouri official website.
About the Author: Jonathan Weeks spent most of his life in the Capital District region of New York State. He earned a degree in psychology from SUNY Albany and currently works in the mental health field. He has written several sports biographies and two novels, one of which was a posthumous collaboration with his father.
Blog | Goodreads | Amazon Author Page
Buy the book at Amazon.