Long and Short Reviews welcomes Virginia McCullough, whose latest release Greta's Grace was recently released.
Last year, Virginia celebrated her 40th publishing anniversary and, in many ways, writing is all she knows. She began writing when she was very young and at home raising her preschool-age daughter and son in the '70s.
"Unlike so many of my women friends, I hadn't prepared for any particular career. My mother was a librarian, however, and later worked in a text book publishing house, and we were a household of readers, and ideas kept popping into my head," she explained. "Then my family moved to an island on the coast of Maine, where we had some friends who were 'back to the landers,' sort of. We didn't know the first thing about growing so much as a row of lettuce, but we were young and yearned for an adventure. I began to write family living articles for secondary markets—denominational magazines, even though we didn't practice any of those denominations. If the subject matter fit, the editors didn't care! I worked in a small town library and wrote articles about children's literature, too.
The next adventure took us to the sea, literally, and while still in Maine we moved aboard a sailboat and for the next 7 years I wrote articles about living aboard and sailing an old, classic wooden sailboat. We ended up in Annapolis for a couple of school years and then we lived in St. Thomas in the U.S.V.I. for a couple of years. Only later, in the 1980s, when my life changed drastically again, did I begin to make my living ghostwriting and editing nonfiction books and I coauthored a few, too. My time to write fiction came in fits and starts and it wasn't until I moved to Wisconsin in 2001, that I began carving out enough hours here and there to seriously try to teach myself to write fiction."
She started considering herself a writer after a magazine bought her first article, about a year after she started writing.
"That article sold on its 13th trip out, by the way," she said. "But I was wrong to wait. I should have considered myself a writer when I first starting writing with the intention of making writing my career. Now I believe writers write, and publishing and how and where work appears are other issues, part of the profession, of course, but they don't define us."
Growing up, though, Virginia wanted to be a dancer, and she studied classical ballet with a Russian-trained teacher who was very strict and structured.
"She also wanted her students to be prepared to be dancers in operas or musicals, for example, so she taught 'character' dancing and tap, too. I learned to play the castanets and still find myself drumming my fingers to the pattern and repeating the words to a movement, 'roll, roll, roll, right, left,' and 'both, left, roll, both, left roll.' This teacher also required her students to study music and I took some piano lessons, but didn't practice much since we didn't have a piano—so I took up the violin for a while and studied with a very old man with tufts of white hair and incredibly thick glasses—and he lived on Mozart Street, not far from our apartment. That's probably one of the reasons I've never forgotten him or the experience of playing the violin—badly!" she remembered. "For various reasons I didn't pursue dance as a career, one being that I didn't grow much over five feet tall, but the discipline developed while studying dance absolutely carried over to writing. And I still want to learn to play a musical instrument before I leave the planet."
Virginia is from the mid-north side of Chicago.
"It was probably one of the best possible places to grow up in the '50s and '60s—certainly for a young girl who wanted to be a ballet dancer and needed a serious teacher," Virginia told me. "My sister and I—and our friends—had such freedom, too. At very young ages (shockingly young to people today) my sister and I rode the bus and the elevated trains downtown and to distant movie theaters. I can trace my entire life in Chicago to stops on the old Ravenswood line.
"The best part about my childhood in the city was coming of age in the midst of all the great social movements of the day. My parents were activists and my husband and I were, too, and I've always felt that my life in the city gave me an immediate sense of my time, my era. Like living the history, in a way. Of course, there are many ways to do that, but being in the thick of it was one of the great privileges of my life.
"I always loved Lake Michigan, my primary landmark. After my time of living and cruising on a boat came to an end (along with my marriage), my kids and I left the Caribbean and moved back to Chicago. For several years I walked along the lake nearly every day, even when the lake was frozen and snow piled up on the rocks and in the parks. I used to walk the miles of lakefront and through the Lincoln Park Zoo and on downtown to appointments with clients. I later moved to Asheville, North Carolina and now I live in Wisconsin, but I still visit family in Chicago."
"What is your most embarrassing moment?" I wondered.
"When I was about 14, I dressed up in a hand-me-down two piece dress that my sister had just outgrown. I put on white pumps to feel extra sophisticated and headed downtown on the subway to the Drake Hotel, on Walnut Street off Michigan Ave, and near the old Water Tower in Chicago. All this finery, by the way, was for an appointment with our dentist, whose office was in the hotel. But I felt very important strutting around in my grown up clothes. After the appointment, I planned to get a chocolate milkshake at my favorite soda fountain, and I headed down Michigan Avenue, walking amidst all the
'beautiful people' going about their business. But then I tripped, bad enough, but my feet had tangled in my own skirt. The hook and eye closure had come undone and the skirt fell down, exposing me in my slip! Nothing to do, but pull it up and keep on going. I'll never forget feeling my face heating up and catching glimpses of people trying not to laugh at a hapless teenager pulling up her skirt. But I lifted my chin and walked on—and enjoyed the milkshake, too."
Virginia's newest release, Greta's Grace is about a professional speaker, Lindsey Foster.
"That part of the book was fun to develop, especially exploring the concept of a speaker's 'signature story,' which in Lindsey's case is about the death of a friend. I've worked with so many speakers as an editor/ghostwriter and I belonged to the National Speakers Association for about 17 years and went to many chapter meetings and national conferences," she said. "I'm fascinated by what these individuals do. Much like being a writer, being a speaker is a way of life. Those who are successful stay fresh and up on trends and they market themselves to bureaus and meeting planners—the equivalent of writers marketing to agents and editors.
"Lindsey's life becomes especially complicated when she develops a fear of flying and tries to hide it. That means driving to speaking engagements when she would normally fly. Eventually, of course, her secret comes out and the reasons for it begin to piece together."
She's currently working on Island Secrets, book 2 in the St. Anne's Island series, bringing Virginia back to her Georgia island setting, involving the Hadley family, another prominent St. Anne's family (the Saint family was the focus of Island Healing. The search for a biological father drives the story and it deals with uncovering secrets. She's also working on another book set in the same town where Greta's Grace takes place, Simon's Point, Wisconsin. It deals with fertility-infertility issues and a woman finding her artistic voice. She's also putting finishing touches on a lighter book, The Jacks of Her Heart, a second chance romance, which includes a nostalgia café and other '60s and '70s elements.
"It still surprises me how real the characters become, and how much I care about them," Virginia told me. "The characters become like my friends even before I start the actual writing. It also surprises me how much I enjoy writing fiction. I've always considered myself fortunate because I like to write and when I was first building my nonfiction business decades ago, I'd tell people how lucky I was because my work was my play. This is how I now feel writing fiction—I still need to make my living with editing/ghosting and coaching, but I spend more time with fiction than in the past. And I feel like a kid with a bunch of crayons or paints when I start working on my stories. The only thing that interferes are 'voices' telling me it isn't very good or otherwise attempting to discourage me. But overall, I can't believe how much I love the writing process itself."
"Tell us one thing your readers would be most surprised to learn about you," I challenged.
"For some reason almost everyone I meet, clients/readers/new friends, are surprised to learn that I was once a very heavy smoker. I think it's because I'm generally known as a 'sensible' sort of person. So, surely I wouldn't have taken up such a habit. Ah, but I did, and my secret that's not really a secret is that I liked it so much.
"I quit many years ago, but smoking was a kind of theme in my life. I was raised in a family of smokers and it was something my mother started as a young woman to show her independence—family lore has it that she taught my father to inhale. But I also 'blame' authors like Grace Metalious, Carson McCullers, and Lillian Hellman who posed for their cover pictures holding cigarettes—so, yes, in my eyes, cool women smoked. Independent trailblazing women puffed away on cigarettes. Intellectually, I know that's not true, and that image is part of a bygone era, but the association is still very strong.
"Like millions of other people I realized I had to quit. But it wasn't because I wanted to or because I was sick of it. I joke that yeah, smoking is a filthy habit, blah, blah, blah, but I loved every minute of it. I had a terrible fear that I wouldn't be able to write without smoking, and I still wonder how I would have managed without the nicotine patch—I put it right up there with the Salk vaccine as one of the great advances in recent times. The patch allowed me to break the psychological addiction to the rhythm of smoking and writing. And I'm really grateful. But politically correct or not, I still enjoy seeing people smoke in movies and in books."
Finally, I asked, "What advice would you give a new writer just starting out?"
"With rare exception, most of us need to accept that we don't know how to write articles, essays, novels, short stories, and so forth. We have to learn how to craft a lead for an article, for example, and we soon figure out that description, dialogue, and pacing aren't always so easy and for most of us, require practice.
"I was never praised for my writing in school—in fact, I was stilted and afraid to express myself for fear of misplacing commas and whatnot. Unlike so many colleagues and clients, I was never burdened by messages from other people about being a talented writer, which made it easy to understand that I had to teach myself to write. And I read and read and read good writing and learned from it.
"Many years ago, at the end of a workshop I was presenting, someone asked me to sum up what I'd learned about writing that I could pass on. My answer popped out of my mouth: 'Discipline really is all it's cracked up to be.'
I know I couldn't have made my living as a writer without that 'lunch bucket' kind of attitude. It's my business, my job, so I show up. Some days are better than others, for sure, and days get away from me, too—I end up bemoaning that I've spent all day putting out client fires or dealing with email and whatever. But that's the writer's life, too. I love the independence that working for myself has allowed, but showing up is the price of admission. And I don't think I'm unique in any way. Talented or not, we still have to learn and do the work and go through as many drafts as it takes."
Professional speaker, Lindsey Foster, inspires her audiences with her presentations about the healing power of women's stories, but her heart aches over her inability to heal her emotionally distant relationship with her daughter, Greta. But now, Greta is ill, and desperate to be closer to her, Lindsey heads to Greta's new hometown, Simon's Point, Wisconsin, on the shores of Lake Michigan.

During the many months of Greta's treatment, Lindsey finds herself drawn to her blustery ex-husband, Brian. But Sam, Greta's father-in-law, a quiet, reflective man, soon becomes her refuge in this time of crisis.

Willing to do anything to make her daughter happy, Lindsey makes questionable decisions and keeps secrets from Greta, causing more heartbreak. Feeling exiled once again, Lindsey is soon forced to decide between what she believes will make Greta happy and following where her own heart leads.
About the Author: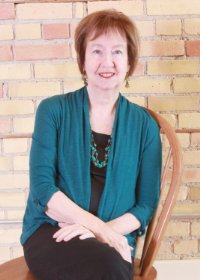 Virginia McCullough's award-winning titles include her recent release, Greta's Grace, an Amazon bestseller; and Island Healing, Book 1 of her St. Anne's Island Series; The Chapels on the Hill; and Amber Light. Her stories speak to hope, healing, and plenty of second chances.
Virginia broke into publishing in the 1970s with articles on family living, sailing-cruising and children's literature. In the 1980s, she began writing books with healthcare experts, professional speakers, therapists, and others. Her most recent medical book, The Oxygen Revolution, was coauthored with Paul Harch, M.D., a pioneer in hyperbaric medicine. Virginia has served as a ghostwriter for well over 100 books, including 12 titles written for neurologist Alan R. Hirsch, M.D., the creator of the weight loss program, Sensa.
An experienced speaker and workshop presenter, Virginia and her colleague, Lynda McDaniel, cofounded The Book Catalysts, a book writing coaching service. They coauthored Write Your Book Now: An A to Z guide to unleashing your creativity, starting your book, and finishing strong and other titles. Visit Virginia on LinkedIn and Facebook. Website: www.virginiamccullough.com.