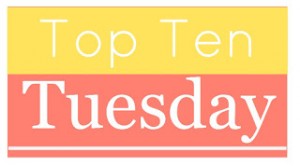 Today, our reviewer, Thornapple, has offered up her "Ten Authors I Own The Most Books From". Welcome, Thornapple!
Thanks for having me! When I signed on to do this post, I thought I had a pretty good idea of who would make my top ten list. One thing I should explain is that I collect vintage paperbacks. So, I have some large collections of some of my all time favorite authors. I couldn't decide if I should leave those out or include them. I decided to add a few of the collections but mostly these are authors I have on my kindle or have saved my favorite books by them. Some the authors that made the list was surprising to me. I had no idea I had that many books by some of these authors.
So, without further ado: Starting at number ten…
10) Martha Grimes. I have the entire Richard Jury Series!
09) Barbara Michaels. ( aka Elizabeth Peters) I have a huge Gothic collection and Barbara was one of the best, I also have a large collection of her Amelia Peabody novels written under the Elizabeth Peters name
08) Dick Francis. One of my favorite British Mystery Series. I don't have all of his work, but I have most of them.
07) Christina Dodd. Now this was a surprise. Christiana has written quite a few historical romances, as well as paranormal and romantic suspense. I have saved quite a few of her historical novels. I do not have the infamous 3 armed cover–check that out-it's legendary.
06) Stephen King. Okay, no surprises there except that I guess I haven't actually saved many of his books.
05) Sir Arthur Conan Doyle. This is a collection and I'm still working on it, but I have quite a number of Sherlock Holmes books, some are in a very nice collectors volume my son got me for Christmas one year.
04) Julia Quinn. Another head scratcher. I didn't know I had kept so many of these. Julia is, along with Eloisa James one of my favorite regency period authors.
03) Sherrilyn Kenyon. If you have not read Sherrilyn Kenyon you might not get it. But, trust me when I say this is one popular author. If you manage to keep all the books she has written and try really hard to keep them in mint condition, you might have a small fortune on your hands. One of the best in Paranormal Romance.
02) Rex Stout. Sort of a surprise to me. I have collected Nero Wolfe novels for awhile, but I has no idea my collection was so large. I am really pleased to see I had so many because unless you want to pay a fortune for them on Ebay, they are really hard to find.
And the winner is…Drumroll please… A tie!! I know, what a rip off. However I have to be honest and this may be a little anti climatic, and no surprise to most…
01) Nora Roberts/ J.D. Robb. I have nearly all of the Eve Dallas "In Death" series and many, many, many Nora Roberts novels. I have collected the older Nora Roberts and still have quite a few of her paperbacks but I mostly have these in digital because I love her stories but simply do not have room for a collection of her books. Nora is the queen of romance–she can write anything: contemporary, romantic suspense, paranormal, and even science fiction.
So, there you have it folks- the strangest top ten list in history!! What's on your bookshelf?