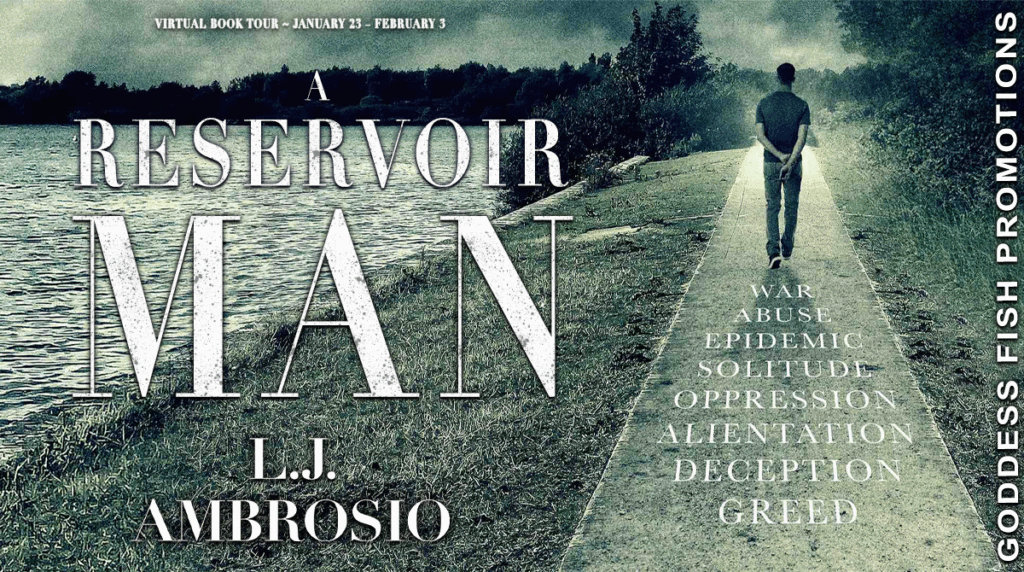 This post is part of a virtual book tour organized by Goddess Fish Promotions. L.J. Ambrosio will be awarding a signed copy of the book to a randomly drawn winner via rafflecopter during the tour. Click on a tour banner to see the other stops on the tour. See our review here.
What would I tell a new author?
Listen to yourself and get advice creatively, learn formatting, and understand the industry you are entering.
The hardest part about writing is
Spelling, run on sentences, the physical appearance, clothes, and haircuts of my characters. I don't want them to look like someone I know unless I want them to…
Important Elements
Get a great cover design; don't get too heady getting a title or silly; stay away from sexual implications in title design. Don't let people read your book until you are finished, but you should have one person that you can trust that you can share with. You must get an editor – don't be cheap; spend money here. If you are self-publishing know the field and know how to advertise. Release the book to critics before the public by three months. Reviews are important; get them. They are very important as is their posting on Goodreads and Amazon. Be a gentleperson; don't be pushy and be humble. Do tours, blitzes, and interviews – anything to get your novel out there. Believe in yourself; you are the artist. Sex is important, but it doesn't make it your novel. Your story is, and the relationship of your characters with life and themselves.
A Reservoir Man, critics have hailed this explosive and timely work as "a must-read coming-of-age story of 2022." Twists and turns further pull the reader in to Michael's action-packed tale, with powerful themes, from betrayal and family to secrets and identity. "Be sure not to blink because you just might miss a pivotal moment in Michael's rousing, larger-than-life story." — R.C. Gibson, Indiestoday.com. "This book is a dream, a gamble, a utopia, even." — Kalyan Panja, Bookmarkks.
Enjoy an Excerpt
Michael had now become, after these last six months, a little more world weary and worse for the wear. Sitting on his bench, entering his last year at college. Michael still had not found his soul or his truth. His emphasis on sex was unfulfilling and empty. He wandered in the shadowy corners, the lightless streets, leading to a dead end and the darkness of an empty truck. Loneliness had become a fixture of Michael's being. He longed for a few hours to be with Carol, Claire, or Raphael.
One day, while sitting on the bench, Michael heard in the distance Otis Reading's "The Dock of The Bay" playing on a portable radio. The music came closer and closer and then quickly turned to the Four Tops' "Reach Out (I'll be There)."
Picking up his head, Michael saw this extremely attractive ethnic guy standing right above him. Michael said 'hello,' and the young man answered.
"My name is Nick. Do you dance?"
Michael said, "Sort of, but I do not have much of a chance to go dancing."
"You want to go tonight?" Nick asked with a smile, and he started to sing "Baby I Need Your Loving" by the Four Tops.
Michael became a little concerned about the message of the song, so he suggested that they might talk over coffee before they venture out dancing. Michael decided to cut his next two classes and have coffee.
They spent hours talking about their lives. Nick was older than Michael by nine years. Nick said he had to prepare for graduation as did Michael. He was in the school for Education and would be graduating that year.
He was first generation Greek from Cyprus and spoke fluent Greek. His family lived in Harlem on 137th Street off Broadway. He had siblings, a brother and sister. Michael was taken by him. He made him laugh and feel amazingly comfortable. Nick invited Michael to dinner Saturday night. His mother would make Doimadakia, Humus, Tzataki and Moussaka. Michael agreed to go.
Nick's parents were great. His mother was shy, his father a little less. They spoke with a broken accent, which Michael loved. They had a great dinner and talked a lot. Michael learned a lot about Cyprus.
Nick said after dinner, "Dancing, right?"
About the Author: Louis J. Ambrosio ran one of the most nurturing bi-coastal talent agencies in Los Angeles and New York. He started his career as a theatrical producer, running two major regional theaters for eight seasons. Ambrosio also distinguished himself as an award-winning film producer and novelist over the course of his impressive career. He taught at 7 universities in the United States.
Buy the book at Amazon.