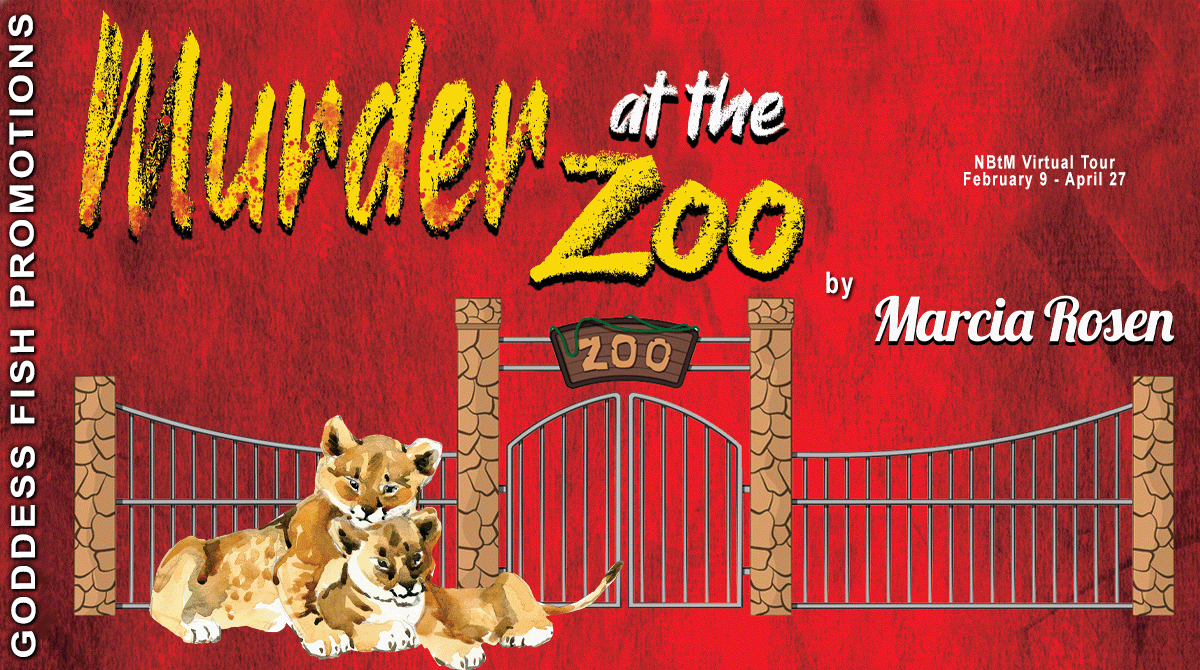 This post is part of a virtual book tour organized by Goddess Fish Promotions. Marcia Rosen will be awarding a $25 Amazon/BN GC to a randomly drawn winner via rafflecopter during the tour. Click on the tour banner to see the other stops on the tour.
A BOLD THIRD ACT
NO! I do not want to retire because I'm a senior. Absolutely not!
More than ever, seniors are living full and engaging lives. More than 45 million Americans are over the age of 65 and millions of them still work— some by choice, some by necessity.
In what I consider my BOLD THIRD ACT, I'm writing mysteries. I'm bringing my passion for writing together with my rather unusual upbringing. In doing so, I am writing with more insight and purpose. As seniors, we can use our life experiences—whether failures, challenges or successes—to bring about enjoyable and productive lives filled with doing something we relate to and love. This is why the seniors in the mysteries I write are strong, smart and active main characters.
Mysteries and crime are in probably in my DNA. It never occurred to me my father and his friends were doing anything illegal. The environment I grew up with seemed perfectly natural to me. It's what I saw everyday: My father was a bookie. He also owned a gambling hall where the men played pool in the front and poker in a private back room. My father and his partners would count the take from sports bets at our kitchen table. Once there was a raid on his partner's apartment, which was right across from ours!
My father's close friends had names like The Gig, Gimp and Doc. So, it makes sense that I'm fascinated by slightly shady characters, and crime and mystery stories. Once, I wrote a memoir story and referred to my mother as my father's "gun moll." Believe me, she was a character as well!
I've been a business owner for more than 40 years, which includes having a successful marketing and public relations agency for more than 20 years. I used to explain to clients that I was a "business detective," finding solutions to problems that seemed a mystery to them. Of course, people and life in general are often a mystery.
My kids have encouraged me to, "Go for it!" They do not want me to slow down, sit around and dream of days past. They don't want me to use age and going to doctors as a social outlet as so many elderly people do. They don't even want me to have grey hair!
To those who do not agree: Sorry! I think I still have much to offer and enjoy. Positive aging is important to me, and writing is my way of showing it.
I used to tell friends that I was too old to see my dreams and ambitions to be a successful author come true. Yet, I refused to give up trying, and now my new mystery series The Gourmet Gangster: Mysteries and Menus has been published and more are on the way with my publisher, Level Best Books.
When I was doing consulting and public speaking, I'd often ask business and professional women to ask themselves: "What voices in your head do you need to eliminate? Get rid of the negative voices that say, 'Who do you think you are?' and 'You can't do it.' "
Now in my senior life, I'm reminded through conversations over a cup of coffee with my friends, my age and some younger, "We all matter." What you want and who you are matters. We can make a difference at any age. Moreover, as we grow older, we can also share our experience, knowledge and, even at times, a good bit of wisdom.
In my mystery series The Senior Sleuths my senior characters represent my beliefs with energy and enthusiasm. These characters are my voice and reflect my truths.
A body is tossed into the lion's habitat at the zoo where Miranda Scott is the senior vet. She and Detective Bryan Anderson join forces to unravel that mystery and several more murders. A fan since childhood of Agatha Christie, Raymond Chandler, and Sherlock Holmes they seem to live in her head frequently telling her what to do…and not do. Murders, family, deceit, revenge and a gangster father and godfather often get in the way of a fine romance between Miranda and the Detective.
Enjoy an Excerpt
"Miranda, get to the zoo! Visitors are pointing at a human arm in the lions' enclosure."
"Hmmm. This is intriguing. A body in the lions' den. What are the facts?"
"Agatha, Raymond, facts if you please," Sherlock demanded.
"All of you shut up!"
It was not the first time Miranda shouted to the voices in her head. Sometimes they seemed so real to her. She had read nearly every book of every famous mystery writer and had seen movies made from them many times. She was often absorbed and obsessed by the stories and the characters.
Miranda loved their ways of thinking, analyzing problems, finding solutions, and delving into the dark spaces hidden in humanity: Raymond Chandler's tough Detective, Philip Marlowe, who always found a dame he could lust after and distrust and Agatha Christie's Hercule Poirot, Miss Marple, and her Tommy and Tuppence. Their gossip and ways of finding clues and uncovering secrets swirled in her head, while the famous Sherlock Homes demanded facts and attention to the tiniest of details.
There were other geniuses of mysteries who stopped by to give Miranda their "two cents" at times, especially when Agatha, Raymond, and Sherlock were disagreeing with each other. Miranda was sure they would have plenty to say about the murder at the zoo.
About the Author
Marcia Rosen (aka M. Glenda Rosen), award winning author of eleven books including The Senior Sleuths and Dying To Be Beautiful Mystery Series and The Gourmet Gangster: Mysteries and Menus (Menus by her son Jory Rosen). She is also author of The Woman's Business Therapist and award winning My Memoir Workbook. For 25 years she was owner of a successful national marketing and public relations agency, Marcia has frequently been a speaker and/or program moderator at organization meetings and conferences, bookstores, libraries and Zoom Programs. Topics she has taught and presented over the past twenty years include: Encouraging the Writer Within You, Marketing for Authors, Writing Mysteries…Not A Mystery, Writing Your Memoir and recently "Anatomy of Writing A Murder." Many articles on these topics have been published on mystery reader blogs and in newsletters and magazines including "Mystery Scene Magazine" and "Mystery Reader International Journal."
She is a member of Sisters in Crime National and New Mexico (Croak & Dagger), Southwest Writers, New Mexico Book Association, Women Writing the West, Public Safety Writer's Association, and National Association of Independent Writers and Editors—for which she is also a board member.
"Marcia Rosen's new book is hard to put down! The characters are engaging and you enjoy getting to know them as you read this mystery. I enjoyed discovering the world and people in Murder at the Zoo and can't wait to read more from this author!"
Website
Buy the book at
Amazon
.