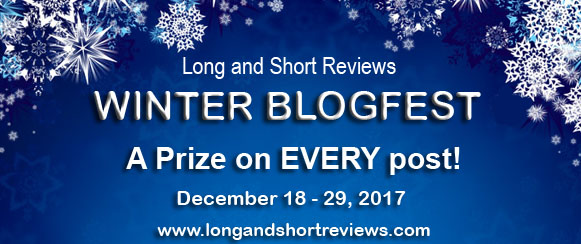 This post is part of Long and Short Reviews' Winter Blogfest. Leave a comment for a chance to win a Kindle e-book copy of BLOODSTONE, US only.
Coping with the Winter Wonderland…

This is what I do when it's cold outside—and for us it's cold and snowy for five months of the year! I stay inside with my handy electric throw blanket. I read, write, and watch movies. And I bake.
Staying inside means planning shopping and errands around the snow/ice/freezing rain forecast and daylight hours. It means cozying up at the kitchen table with a cup of hot tea while DH blows the snow from the driveway. It means watching the neighborhood kids frolic in the park across the street from the warmth of my living room. If it sounds as if I'm a winter hermit, you got it.
My local library is my lifeline. We stop by at least once a week, sometimes more. Old movies and new, new books and old are just the tonic for the winter blahs. I grew up addicted to reading; if it's in print, I'll read it. (I read a lot of cereal boxes as a child.) I take a book everywhere. Thank goodness for e-readers!
You'd think since I'm not such a fan of winter, I wouldn't write winter into my books, but it makes an appearance more often than not. It's such a useful metaphor for hardship, loneliness, and challenge. The movie Frozen has that absolutely right.
To warm up the house and fill it with delicious smells, I bake: pies, cakes, cookies, breads. There's nothing like a flavorful treat, fresh from the oven, accompanied by glass of milk or hot beverage. Here's a favorite recipe of mine that can be enjoyed any time of the year:
Cranberry Chocolate Chip Oatmeal Cookies
Ingredients
• ½ cup shortening
• ½ cup white sugar
• ½ cup brown sugar, packed
• 2 eggs, beaten
• ¼ cup milk
• 1 teaspoon vanilla extract
• 1 and 2/3 cups oatmeal
• ½ cup semi-sweet chocolate chips
• ½ cup dried, sweetened cranberries
• 1 and ½ cups flour
• 1 teaspoon soda
• ½ teaspoon salt
Directions
1. Cream shortening with sugars; then add beaten eggs, milk and vanilla extract.
2. Combine mixture with oatmeal, chocolate chips and dried cranberries.
3. Add flour sifted with soda and salt. Beat thoroughly.
4. Drop by teaspoonful onto non-stick baking sheets, two inches apart. Bake 10-12 minutes at 350°F. Makes about 3 dozen.

What if looking at the face of the man you loved meant death? Years ago, warrior Durren Drakkonwehr was cursed by a mage. Now feared and reviled as the Shadow Man, he keeps to himself, only going to town to trade rare bloodstones–petrified dragon's blood–for supplies. Though he hides his face, he can't hide his heart from the woman who haunts his dreams… Needing bloodstones for a jewelry commission, Mirianna and her father journey across the dreaded Wehrland where the beast-men roam. When their party is attacked, only the Shadow Man can save them. Strangely drawn to him, Mirianna offers herself in return for her father's rescue. Living in the ruined fortress with the Shadow Man, Mirianna slowly realizes that a flesh-and-blood man–not a fiend–hides there in hoods and darkness. But are love and courage enough to lift the curse and restore the man?
About the Author: Helen C. Johannes lives in the Midwest with her husband and grown children. Her first book, THE PRINCE OF VAL-FEYRIDGE, is an EPIC winner in Fantasy Romance. Her second book, BLOODSTONE, is a Launching a Star Winner in Fantasy Romance.
Growing up, she read fairy tales, Tolkien, The Scarlet Pimpernel, Agatha Christie, Shakespeare, and Ayn Rand, an unusual mix that undoubtedly explains why the themes, characters, and locales in her writing play out in tales of love and adventure. A member of Romance Writers of America, she credits the friends she has made and the critiques she's received from her chapter members for encouraging her to achieve her dream of publication. When not working on her next writing project, she teaches English, reads all kinds of fiction, enjoys walks, and travels as often as possible.
Buy the book on Amazon.