Natalie Scott joins us today as part of her promotion for her debut novel, Rules for Riders, which was released last year. Leave a comment or ask Natalie a question – one randomly drawn winner will receive a print copy of the book (US only) and one will receive a Kindle copy of the book (international).
Enjoy the Ride: A perspective from an indie author
I have a friend who's a best selling self-published author. Her advice to me, "Enjoy the Ride." Easy for her to say, she wrote a best-seller! She talked about all of the amazing people she had met along the way and what an incredible journey it had been. I must admit, I was a little cynical. I think when you go through traditional publishing, you have a publishing house behind you. As an indie author, you are your own publishing house. This is extremely daunting but exciting at the same time. I admit at times I have wanted to pull my hair out, but there is also a certain joy in having creative control over your project. From picking out the cover, designing the graphics, putting together the social media, and finding a team to help you, it's been an amazing ride!
The reason I chose the Young Adult genre is that I love the immediacy of youth. Everything is so life and death. The reason I wanted to set my coming of age novel in the equestrian world is that I faced many of the same obstacles. Just like riding, you have to take that leap of faith. You might stumble and fall along the way, but somehow you always have to find a way to pick yourself up. So subconsciously, I am trying to take my friend's advice and enjoy the ride. My novel Rules for Riders is available for sale on Amazon and Barnes & Noble in eBook and paperback. Check it out!
Rules for Riders is a fast paced coming-of-age novel set in the competitive world of equestrian riding.

After a near fatal riding accident, Bebe Barkley is banned from riding and sent off to boarding school. There, she meets her roommate and fellow equestrian rider, Finn Foxley. The girls devise a scheme to get themselves kicked out of boarding school in order to return to the world that they love. Once back on the circuit, former friends become deadly rivals.

Bebe's handsome trainer, Billy O'Reilly, gives her seven rules to follow in order to successfully compete. Through a series of tragic events, both girls are forced to abandon their dreams of Olympic gold. Bebe ventures down a dark road of self-destruction as she breaks every rule Billy taught her, only to be forced to relearn them in order to reclaim her life. Rules for Riders is a tale of lost dreams and the struggle to create new ones.
Read an excerpt:
KING
CHAPTER 1
I can still remember the first time I saw him…
He's seventeen hands high, a dark bay, almost black, a white star on his forehead, and four white socks on his hind legs. I'm fifteen years old when I spy King bucking and rearing and giving the grooms a terrible time. I think he's the most beautiful thing I've ever seen.
I point straight at him, "I want that horse."
My father (otherwise known as the Colonel) rolls his eyes. "No, he's wild. You just want him because he's difficult like you."
We're at our neighbors, the O'Rileys, on a crisp Sunday morning. Jim O'Riley owns Starlight stables and is one of the best horse trainers in Connecticut. Jim winks at me. "For God's sake, Colonel, everyone knows you made a ton of money in the stock market. Let her have the damn horse."
"I said no," shrieks the Colonel, remaining unconvinced. "Besides, who'll train her?"
"I will," Billy O'Riley, Jim's oldest son, steps forward. His clear green eyes stare straight at King. "He's a warm blood, sir, from Holland. We just bought him."
The Colonel growls at Billy. "Listen son, I don't care if he's from friggin' Japan! For God's sake you're only a couple of years older than my daughter."
We all stand there watching, while his face turns bright red with rage. There's no way in hell he's going to let me have this horse now. That would be too perfect. Instead, he shocks the pants off of me!
"Fine, but if you break your neck, don't blame me."
First thing the next morning I race over to the O'Rileys. By the time I reach the stables, I'm out of breath. Billy's busy brushing down his horse, Stargazer. I walk over to King and stroke his mane. Then I pull a sugar cube out of my pocket. "Hey, boy."
Billy looks up. "That's funny, he doesn't usually take to people so quickly. So let me guess, you want to take a ride?"
God, I've been riding since I was six! Okay, I admit it— Billy's a hottie. I've had a crush on him forever. But it makes me crazy the way he still treats me like a little kid. He leans closer and places his hands firmly on his hips.
"Bebe, if I'm going to train you, there are rules for riders. The first one's commitment. Without it, none of the other rules exist. If I agree to train you, you've got to give me 100 percent."
I stare right back at him, giving him my best killer smile. "I'm all yours!"
For the next few weeks, he insists I do nothing but flat work. He hardly lets me ride across the yard without making sure I am doing it properly. Unlike the Colonel, Billy brings out the best in me and plays down the worst. Whatever I lack, he teaches me with infinite slowness; guiding King and I so we both gain confidence.
"That's right. Keep your back straight, hold your head up, shoulders back."
I learn from Billy that difficult horses become easy once you know how to handle them. With Billy's training, I'm right on course. The Colonel's threats don't scare me. Instead, they fuel me, making me even more determined to succeed.
A few days later, I get to the stables early for some quiet time with King. Billy sneaks up behind me. I can feel his breath against my neck.
When I turn around, he has an amused look on his face. "So, do you finally want to take a ride? Isn't that what you've been dying to do—jump every fence this side of Connecticut?"
I have this wild urge to hug him. Instead, I saddle up King. "C'mon, boy."
King and I take off.
"Tell me what you've learned when you get back!" Billy shouts.
About the Author: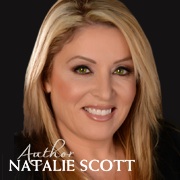 Natalie Scott grew up in Melbourne, often referred as the cultural capital of Australia because of its great restaurants, trendy cafes and great shopping! Natalie developed a love of books when her fourth grade teacher read the book The Lion, the Witch and the Wardrobe by C.S Lewis.
In high school Natalie devoured the classics, her favorite being Catcher in the Rye by J.D Salinger. At University she studied English Literature and Communications, though she will openly admit to spending a lot of time at the college pub where she liked to make up outrageous stories before traveling extensively through Europe and the United States.
Throughout her travels, she fell in love with sunny California where she attended classes at UCLA Writer's Program. Natalie also attended numerous writers' conferences including Santa Barbara, San Diego State and Grubstreet. She was the recipient of the Outstanding Fiction award given at the Southern California Writers Conference. In her spare time, Scott worked as a spokesmodel for companies including the AMC Network,, We Entertainment, Hasbro, Adobe and Sony.
The Aussie gal is a foodie who loves Vegemite and currently resides in Scottsdale, Arizona, where she enjoys sharing her passion for food, enjoys exploring new restaurants, happy hour, traveling, and a passion for books and fashion.
Natalie Scott's debut novel Rules for Riders, a young adult romance novel, was published in August 2014.
Connect with Natalie on Twitter, Facebook, and Goodreads.
To learn more, go to http://www.nataliescott.com/