Long and Short Reviews welcomes Gail Bridges whose latest book, Inn at the Edge, was released in December.  Inn at the Edge is an erotic horror.   All the characters in the book are artistic.  The main character, Angie, is a painter and her husband is a classical guitarist.  There's also a writer, a fiber artist, a jeweler, a dancer, and a singer in the book.  Gail told me she had a lot of fun bringing all those talented people together in a single story.
I asked Gail how many books she had written and which was her favorite.
"How can you ask such a thing? It's like asking a parent to choose a favorite child! I can't choose. I love them all equally.
"Fine. I'll answer. If you insist.
"I have five books.  My first is Grayland, which is a Science Fiction survival story pitting modern-day humans against scientists of the distant future; and the second is In the Village of White Tents, a memoir about my adventures in the bizarre-yet-wonderful world of craft shows. Neither book is a romance, and neither is the least bit erotic.
"My next three books are published by Ellora's Cave, and they're as steamy as it gets without causing fires. The first is Paint Job, which is a novella about a young woman's sexual awakening during the creation of a stunning work of body art.
"The second, a novel-length book, is America's Darlings, the story of sexual gymnasts in a future Olympiad. (They have sex in front of an audience – and they get scored by international Olympic judges on how well they do. Think about it: mounts and dismounts. Floor routines. Coaches. Sexual malfunctions…crazy erotic fun!)
"My favorite book (okay, so I do have a favorite!) is also my most recent. Inn on the Edge was published December 2013 – and it's erotic horror. It features a dangerous sex demon who captures a newlywed couple and initiates them into a delicious world of magic inspired sexual exploits.  Until the demon decides he has to marry our heroine. No matter she's already married…"
"Do you ever suffer from writer's block?" I asked.
"I've always thought I was immune to writer's block – but, ha, the joke was on me. I finished writing my last novel, Inn on the Edge, about five months ago, and then I did…nothing. I wanted to begin my next big novel. I had a great plot and interesting characters, I'd even received my editor's go-ahead – but I couldn't seem to get it started. I'd sit at my laptop and think about the characters from Inn on the Edge.
"I couldn't seem to move on. I recently realized (to be honest, it was my husband who pointed it out to me) that I was spending hours each day doing marketing and promoting of Inn on the Edge, which kept it alive in my mind; I was still there. He was right. Each time I'd write a bit of my new book, I'd catch myself wondering: What would Angie (the heroine of Inn on the Edge) have done in this situation? It made for very rough going.
"I'm pretty much over it now. I've started working on a fantastic new erotic horror novel about a sexual healer who gets drawn into things she doesn't understand – and finds herself tangling with demons. The working title is A Touch of Dahlia."
Gail has been surprised to discover how much she enjoys writing erotic horror.  
"My books aren't blood-soaked, slash-and-kill horror, their horror derives from psychological terror, suspense, and the reader's knowledge that something isn't right," she explained.

Gail's work explores things that many authors haven't yet touched on. The erotic horror field is in its infancy and Gail shared with me that her publisher, Ellora's Cave, is actively trying to build their library of erotic horror.
"You've mentioned erotic horror a lot. How do you personally distinguish between pornography, erotica, and erotic romance?"
"Someone at a recent Romance Conference (the Emerald City Writers Conference) asked me this – and luckily, I had an answer for her. This is how I understand it: Erotic Romance is hot and explicit and may have as much sexual action as straight-up erotica, but the storylines of all Erotic Romances follow the arc of the romance. If there was no romance, there would be no story.
"Erotica, on the other hand, follows a character's sexual journey. There may be romance and many of the same elements found in erotic romance, such as great storytelling – but the romance itself does not take center stage, the sexual journey does. In my mind, this opens up a story for more interesting plot lines.
"I love writing erotica, and erotic horror."
Gail's strangest writing quirk is that she can't bear to delete anything from her writing.  However, she's come up with a fix for that.
"I have a document for each novel that I call 'deleted material.' I cut-and-paste all rejected writing into it, no matter how long or how short the section – because I might end up needing it later! The 'deleted material; document for Inn on the Edge ran to sixty-nine whopping pages," she admitted. "But guess what? I didn't end up needing any of it."
"What comes first for you, the plot or characters?" I wondered.
"I suppose it would be plot before characters. But for me, there is a step even before that. The first thing I dream up for a new story is a scenario.
"For example: What would happen if humans of the future forgot how to have sex? What if it were bred right out of them? What if a very special young woman of a future civilization gathered her courage and went back through time to experience sensuality for the first time? What if she means to go back to her own time and share what she's learned – but she falls in love with the man who initiates her into the world of sexual pleasure and finds herself torn between staying with him and fulfilling her destiny?
"(Nice!)
"Seriously, I'm re-reading that little scenario I just wrote, and I'm liking it. I'm liking it a lot. I'm even starting to get a feel for what the main character might be like, what a plot might look like. The wheels are churning in my head! This is a great demonstration of my creative process.  I'm going to copy and paste this scenario into my 'Great Story Ideas' folder for future consideration. Perhaps one day it might see the light of day."
In addition to writing erotica, Gail also writes mainstream work under her real name, Evelyn Arvey.
"Gail Bridges is a combination of my middle name and my grandmother's maiden name.  Unlike many authors (who have very good reasons), I make no effort to hide the connection between my two writing personas," she told me. "Gail Bridges writes erotica, of course, and Evelyn Arvey doesn't. I created my pen name because I would hate for readers of my mainstream work to stumble onto my erotica without warning."
I asked Gail to tell us about her writing space.
"I have two favorite places. The first is where I happen to be right now: at the kitchen table. One of my cats is sitting so near my left hand that occasionally I have to backspace and get rid of random Qs and Ws. (Thank you, Linky.) The beauty of the kitchen table is that I am part of things and available to my family and don't feel lonely. The problem is that – you guessed it – I am part of things and available to my family!
"The second place I love to write is at my local coffee shop, Zoka. Several times a week, for maybe three hours, I nab one of the small square tables in front of the long bank of windows. I order a mocha, maybe an almond croissant, and set up my laptop. The hum of background noise doesn't bother me at all.
"Except for earlier today, that is. When I was about to pack up and leave the coffee shop, two women sat down at the table nearest to me. I couldn't help but hear the interview that the older woman was conducting for the younger one, about a job that involved reading. Lots of reading.
"Reading? Very interesting!
"My ears perked up. Manuscripts were mentioned. Publishers were brought up.
"I scootched my chair a bit closer, trying to look innocent. They began talking about plots, and two-page synopses, and authors who don't know a Story Arc from Noah's Ark – and I realized that the older woman was a literary agent. Wow! They actually exist in the wild! Unfortunately, I had to leave the coffee shop after only a few minutes. There was dinner to prepare. And I was in danger of falling onto their table, I was eavesdropping so hard. Enough was enough."
About the Author: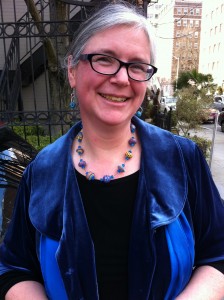 I have three grown children. I live in Seattle, Washington with my husband and our five cats. In the past I have worked in a variety of different artistic media. I have a BFA in painting from the University of Washington, and  for over fifteen years I made award-winning Fine Art Jewelry (silver and handmade ceramics) and sold my work at local and regional Fine Art and Craft shows. My business, Vivid Arts, flourished – but always, I felt driven to write. Two years ago, no longer able to deny the writing muse, I took an open-ended sabbatical from my art shows. Since then, I've written two novels and a number of published and unpublished short stories.
Website ~ Blog ~ Twitter: @GailWBridges ~ Facebook Author Page
Angela and her brand-new husband Josh have just arrived at their honeymoon destination, a romantic bed-and-breakfast hotel on the breath-taking Washington coast – the Inn on the Edge.

But everything isn't as it seems. The lessons that come free with the room aren't for painting the lovely coastal scenery – the lessons are for better sex. Angie and Josh, shocked and titillated, immerse themselves in every sensual offering, with each other and with the three other newlywed couples at the inn.

It doesn't take long for things to go horribly wrong. The discover that the old man running the place is a sex demon, who has been stealing their sensual energy. Worse, he's dangerously in love with Angie and he has plans for her – plans involving an heirloom wedding ring.

Inside Scoop: This book contains scenes of unbridled demon-inspired passion—girls with girls, boys with boys, twosomes, threesomes and more!

A Romantica® erotic horror romance from Ellora's Cavel