Long and Short Reviews welcomes back Joe Cosentino who is celebrating yesterday's release of Drama Oz, the 14th Nicky and Noah mystery/comedy/romance novel.
Joe Cosentino, congratulations on the release of the fourteenth novel in your award-winning and popular Nicky and Noah gay cozy comedy mystery series, Drama Oz.
Thank you. I'm proud to be a friend of Dorothy's.
So many readers love your Nicky and Noah mysteries, Player Piano mysteries, and Jana Lane mysteries. Which are your favorite?
As my parents say about my older sister, "The first is always the most special." However, I love all of my series. Each have humor, quirky characters, sweet romance, cozy settings, plot twists and turns, and shocking whodunit endings. They all have an element of show business just like me. The Nicky and Noah mysteries are perfect for readers who love gay cozy mysteries with a wallop of humor. Readers of gay fantasy mystery will adore the Player Piano mysteries. People who like a straight female protagonist with a gay male sidekick will adore the Jana Lane mysteries.
Why do you think the Nicky and Noah mystery series has lasted over a decade now?
I haven't found any other MM comedy mystery romance series set in the world of academia and theatre. Also, nobody else has my warped sense of humor.
Why did you pick The Wizard of Oz and Key West as the show and location for the fourteenth novel?
The Wizard of Oz is my favorite classic movie musical. What many people don't realize, however, is that the wonderful world of Oz began as a book and later a series of books by L. Frank Baum. Those cherished books are displayed on my bookcase with worn edges from numerous reads over the years. Whenever I felt anxious, depressed, or stressed, I reached for those glorious treasures. And I still do! Like Dorothy, I enter the land of Oz to meet new friends and embark on a wonderful adventure. Key West, Florida is one of my favorite places. If you haven't been to Key West, it's a peninsula with white sandy beaches laden with foamy waves tickling jagged rocks under an azure sky dotted with marshmallow clouds. Gorgeous white seagulls and towering lighthouses herald gorgeous pink, violet, and gold sunrises and sunsets. Quant guesthouses, theatres, and restaurants inhabited by people open and affirming to all line the shore. So in my novel, our favorite thespians stage an original musical adaptation of the much-loved classic entitled, Friends of Dorothy, at the Wizard of Oz theme park in Key West.
Tell us about Drama Oz, the 14th Nicky and Noah mystery novel.
A killer is loose in the Wizard of Oz theme park theatre. The young actress cast as Dorothy is quite the diva. The young actors cast as Toto, the Munchkin Leader, and the Winged Monkey Leader fully inhabit their roles and their G-string, chaps, and loincloth respectively. Of course Nicky and his crew use their drama skills, including playing wacky characters in investigative role-plays with the suspects, to catch the killer before the witch's fireball sends them up in smoke.
It's great to see our favorite characters back.
Gay and hunky Sherlock Holmes, Nicky Abbondanza, is the wizard onstage and off, doing double duty as show director and playing the Wizard. As Nicky says, "It takes a wiz!" Nicky's gorgeous and devoted husband, Noah Oliver, is cast as the Scarecrow sitting on a long pole (pun intended). Their teenage son, Taavi, plays the role of the Tinman with a large can of lube, and his best friend, Ty, counters as the Lion with a playful tail. Nicky's best friends, older couple Martin and Ruben, join the cast playing Aunt Em and Uncle Henry "going down on the farm." They also double as Glinda who does it good and the Wicked Witch of the wild West.
Who are the new characters/suspects/victims for book fourteen?
Adorable actor Pip Manning plays Toto in the show. His affections waver between handsome Mormon Drew Gateway the stage manager and bodybuilder Detective Rick Boulder. Gymnast with a secret Topper Tucker, who plays the Winged Monkey Leader, has his wings set on stocky Taz Zaman, who plays the Munchkin Leader. A crew of woman technicians and the diva starring as Dorothy have more baggage than an airport.
What makes the Nicky and Noah mystery series so special?
It's a gay cozy mystery comedy series, meaning the setting is warm and cozy, the clues and murders (and laughs) come fast and furious, and there are enough plot twists and turns and a surprise ending to keep the pages turning (as Nicky would say) "faster than a Republican ex-president ordering a riot at the Capitol." At the center is the touching relationship between Professor of Play Directing Nicky Abbondanza and Associate Professor of Acting Noah Oliver. We watch them go from courting to marrying to adopting a child, all the while head over heels in love with each other (as we fall in love with them). Reviewers called the series "hysterically funny farce," "Murder She Wrote meets Hart to Hart meets The Hardy Boys," and "captivating whodunits." One reviewer wrote they are the funniest books she's ever read! Another said I'm "a master storyteller." Who am I to argue?
How are the novels cozy?
Many of them take place in Vermont, a cozy state with green pastures, white church steeples, glowing lakes, and friendly and accepting people. Fictitious Treemeadow College (named after its gay founders, couple Tree and Meadow) is the perfect setting for a cozy mystery with its white Edwardian buildings, low white stone fences, lake and mountain views, and cherry wood offices with tall leather chairs and fireplaces. This novel in Key West is as cozy as ever at the popular and picturesque vacation site loved by so many.
For anyone unfortunate enough not to have read them, tell us the titles of the novels in the series.
The Nicky and Noah mysteries are Drama Queen, Drama Muscle, Drama Cruise, Drama Luau, Drama Detective, Drama Fraternity, Drama Castle, Drama Dance, Drama Faerie, Drama Runway, Drama Christmas, Drama Pan, Drama TV, and now Drama Oz.
Many of your characters are of various ethnicities and sexual identities. Is that deliberate on your part?
Absolutely. We live in a diverse world. A story taking place at a college or in the world of theatre would be unbelievable if everyone were the same.
I'm sure you've been told that the books would make a terrific TV series.
Many many times! Rather than Logo showing reruns of Golden Girls around the clock, and Bravo airing so called reality shows, I would love to see them do The Nicky and Noah Mysteries. Come on, TV producers, make your offers! I've written a teleplay of the first novel and treatments for the remaining novels!
How would you cast the TV series?
Here's my wish list: Matt Bomer as Nicky, Neil Patrick Harris as Noah, Rosie O'Donnell and Bruce Willis as Noah's parents, Valerie Bertinelli and Jay Leno as Nicky's parents, me as Martin Anderson (nepotism!), Nathan Lane as Martin's husband Ruben, Wanda Sykes as Martin's office assistant Shayla, and Luke Macfarlane as Nicky's brother Tony.
How can your readers get their hands on Drama Oz, and how can they contact you?
The purchase links are below, as are my contact links, including my web site. I love to hear from readers! So do Nicky and Noah. I tell them everything!
Thank you, Joe, for interviewing today.
It was my pleasure. As a past professional actor and current college theatre professor/department chair, I know first-hand the hysterically funny antics, sweet romance, and captivating mystery in the worlds of theatre and academia. The Nicky and Noah mysteries are full of them! I know you'll laugh, cry, feel romantic, and love delving into this crackling new mystery with more plot twists and turns than a QAnon member hearing real news. I'm more excited than a red state limiting voting rights to share this fourteenth novel in the series with you. So follow the yellow brick road to a girl with a dog who is one hot bitch, a wicked witch who would kill for a new pair of shoes, a sexy Wizard who wants to bang the Scarecrow's brains out, a Tinman and Lion embarking on a mixed marriage, plenty of monkey business, and murder!
And I love to hear from readers. So drop me a line. I'll share it with Nicky and Noah!
The Treemeadow College theatre crew stage an original musical adaptation of The Wizard of Oz, entitled Friends of Dorothy, at a summer theme park in Key West. Quickly cast and crew members melt away like a witch submerged in water. Nicky, as the Wizard on stage and off, must save the show and figure out whodunit. Once again, our favorite thespians will need to use their drama skills to catch the killer before a witch's fireball sends them up in smoke. You will be applauding and shouting Bravo for Joe Cosentino's fast-paced, side-splittingly funny, edge-of-your-seat entertaining fourteenth novel in this delightful series. It's a scorcher! So follow the yellow brick road. The stage lights are coming up in Oz on a girl with a dog who is one hot bitch, a wicked witch who would kill for a new pair of shoes, a sexy Wizard, a Scarecrow sitting on a big pole, a Tinman with a giant can of lube, a Lion with a long tail between his legs, plenty of monkey business, and murder!
Enjoy an Excerpt
A rooster's crow heralds the start of a new morning on a farm in Kansas. A small elderly woman wearing a housedress matching the gray bun on her head comes out of the farmhouse. At the sight of her overflowing bucket, penned pigs, goats, cows, and horses come to attention for their morning meal. A tall, thin, aging man in black overalls sticks his pitchfork into a pile of hay as gray hair covers his forehead. Aunt Em and Uncle Henry share a, "Good morning." Lively country western music plays, and they belt out a hand-clapping song, "Goin' Down on the Farm," which leads to bump and grind choreography between the couple and the animals. When a horse rubs against her, Aunt Em hollers, "Who do I look like, Catherine the Great?"
"You're way older than the eighteenth-century Russian empress, my love," Uncle Henry retorts.
"Stop!" Hello Nicky-and-Noah fans, it's me, your favorite armchair (or rather play director's chair) sleuth, Nicky Abbondanza, PhD, which in my case stands for Pretty Hot Detective. I'm not a real detective. I actually solve all of my cases. This one's number fourteen. But who's counting? Me! I've directed plays, musicals, a runway show, bodybuilding competition, movies, and even a television pilot at Treemeadow College in picturesque Vermont, where I am a Professor of Play Directing in the Theatre Department. However, I'm not in Treemeadow now. Where am I? Here's the story. My handsome, loyal, and wonderful husband, Noah Oliver, Associate Professor of Acting, and I planned a lavish summer vacation cruising (no pun intended) the Mediterranean with our teenage son, relentless thespian and co-sleuth Taavi Kapule Oliver Abbondanza. Reality and a migraine struck when Noah and I remembered our salaries as college professors. So recalling our free trips to Alaska (for staging a murder mystery dinner show on a cruise) and Hawaii (for directing a luau show), Noah and I discreetly let theatre producers know we might be available for summer stock. In other words, we begged for a job. We turned down offers from Arab and African nations where being gay is a crime punishable by death. We're funny that way. Instead, we took a (slightly) less risky job in a blue dot in the red state of Florida: the new Wizard of Oz Theme Park in Florida's Key West. The park features beloved costumed characters chased around the yellow brick road by screaming children wielding the Wicked Witch of the West's crystal ball, Dorothy's slippers, and the Tinman's oil can purchased at exorbitant prices from the Emerald City gift shop. Park activities include Throw a Fireball at the Scarecrow, Drop a House on the Wicked Witch of the East, Burst Glinda's Bubble, and Munch with a Munchkin. The themed restaurant features Green Witch Warts, Flying Monkey Droppings, and Uncle Henry's Jellyroll with Aunt Em's Bread Box. The thrilling ride attractions enable visitors to spin in a tornado and land on a Munchkin, dive into Toto's basket, and ride in a hot air balloon with a Wizard full of hot air. But I digress. Back to the only thing that really matters—the theatre!
At the center of the park is an enormous enclosed theatre that would make any tax-exempt billionaire televangelist green (pun intended) with envy. So, the park management hired me to direct an original musical production of the much-loved classic based on the original books by L. Frank Baum. The stories where Dorothy's slippers are chic silver, and her post-adventure comeback line is simply, "I'm so glad to be home again."
My first decision was to cast the most charismatic and talented actor I know as the Wonderful Wizard of Oz—the wonderful me. At forty-six with the body and maturity of a twenty-one-year-old (both courtesy of the gym at Treemeadow College) and hailing originally from Kansas, I was a perfect fit for the Wizard—unlike my costume. With my olive skin, dark hair, and over six-feet tall status, I admit I looked quite dapper in the Wizard's three-piece Victorian suit which matched my emerald eyes. My tapered trousers were trim in the waist, hips, and inseam. Hence the big problem—or the big asset depending on the situation. You see, my nearly foot-long penis—unaroused—though Noah's treasure, has been a costumer's nightmare. So while our costume designer, Gabriela Boada, and her daughter and assistant, Ava, took out my slack's inseam (causing it to be an outseam), I wore my contemporary dress slacks.
My thirty-nine-year-old youthful (grr!) husband's milk-and-honey face turned to scarlet until I cast him as the Scarecrow (and the cast's acting coach). Actually, Noah, having grown up in a Wisconsin dairy farm, was perfectly cast as Dorothy's first friend in Oz. Our seventeen-year-old son, Taavi, threatened to put a curse on me from his native Hawaii until I offered him an oilcan and the role of the Tinman, Dorothy's second cohort in Oz.
My best friend, department chair, and mentor, Martin Anderson, filled out a pink slip (no pun intended) with my name on it until I asked him to write the new musical, which he appropriately titled, Friends of Dorothy. I cast Martin's husband, Ruben Markinson, in the dual roles of Uncle Henry and the Wicked Witch of the West. This prompted Martin to strap me into his chairlift and use his diaper as a slingshot to lob his C-PAP machine at me until I cast Martin as Aunt 'Em and Glinda the Good Witch of the North. Their sixteen-year-old son, Ty Wilde Anderson Markinson, strangled me with Martin's compression stockings until I cowardly gave him the role of the Lion. And we were off to see the Wizard.
So here I sit, front row center at the technical dress rehearsal of our extravaganza as the evening hours drift by like piercing arrows to my brain. Everything is coming together as smoothly as a QAnon member storming the Capitol under orders of a past Republican president.
Martin pointed to the dancer playing the horse. The young man's bare torso and full brown jockstrap gave "hung like a horse" a new meaning. "That horse is even more hung than you, Nicky. And a whole lot friskier!"
I typed on my electronic tablet, "Why didn't the twister cart off Aunt Em?"
About the Author: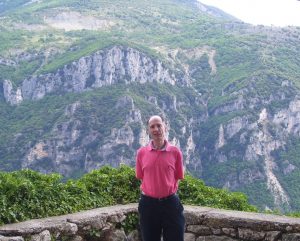 Joe Cosentino was voted Favorite MM Mystery, Humorous, and Contemporary Author of the Year by the readers of Divine Magazine for Drama Queen, the first Nicky and Noah mystery novel. He is also the author of the remaining Nicky and Noah mysteries: Drama Muscle, Drama Cruise, Drama Luau, Drama Detective, Drama Fraternity, Drama Castle, Drama Dance, Drama Faerie, Drama Runway, Drama Christmas, Drama Pan, Drama TV, Drama Oz; the Player Piano Mysteries: The Player and The Player's Encore; the Jana Lane Mysteries: Paper Doll, Porcelain Doll, Satin Doll, China Doll, Rag Doll; the Cozzi Cove series: Cozzi Cove: Bouncing Back, Moving Forward, Stepping Out, New Beginnings, Happy Endings; the In My Heart Anthology: An Infatuation & A Shooting Star; the Tales from Fairyland Anthology: The Naked Prince and Other Tales from Fairyland and Holiday Tales from Fairyland; the Bobby and Paolo Holiday Stories Anthology: A Home for the Holidays, The Perfect Gift, The First Noel; and the Found At Last Anthology: Finding Giorgio and Finding Armando. His books have won numerous Book of the Month awards and Rainbow Award Honorable Mentions. As an actor, Joe appeared in principal roles in film, television, and theatre, opposite stars such as Bruce Willis, Rosie O'Donnell, Nathan Lane, Jason Robards, and Holland Taylor. He received his Master of Fine Arts degree from Goddard College, Master's degree from SUNY New Paltz, and is currently a happily married college theatre professor/department chair residing in New York State.
website | Facebook | Twitter | Goodreads | Amazon Author Page
Buy the book at Amazon, Smashwords, Barnes and Noble, or Kobo.