Long and Short Reviews welcomes Joe Cosentino who is celebrating the recent release of Drama Faerie, the 9th Nicky and Noah Mystery. Post a comment about why you love faeries. The one that tickles our tights and tunics the most will win an audiobook of Drama Queen, the first Nicky and Noah mystery, by Joe Cosentino, performed by Michael Gilboe.
BRUCE WILLIS AND A MIDSUMMER NIGHT'S DREAM
As a young actor, I performed in a production of A Midsummer Night's Dream opposite Bruce Willis. That was certainly an exciting experience. As you can imagine, I found him to be witty, kind, and a good actor. He even tried to match me up with someone. While that didn't work out, I believe our production was well acted, directed, staged, and designed, I realized later the play script is truly perfect. That is probably why the play has inspired so many movies in its image, the most popular being Were the World Mine and A Midsummer Night's Sex Comedy. Who can resist the play's stirring sexuality, midnight romance, bawdy humor, and magic and mysticism as the spirit world collides with the mortal world? We enjoy laughing at our own foibles as lovers make fools of themselves—in both our world and in the world of the faeries. We marvel as a magic potion in the hands of a mischievous faerie sidekick changes the underdog to the desired one in matters of the heart, and a queen becomes vulnerable to the love of an ass. Finally, we cheer as all is well that ends well.
So, when it came time to write the ninth Nicky and Noah mystery novel, I couldn't resist having a Globe Theatre replica built at Treemeadow College for an all-male (as in Elizabethan days) production of my favorite Shakespeare play. Did I mention it's a musical version of the show called It Takes a Fairy for Love in the End? My leading character, college theatre professor Nicky Abbondanza, directs and co-stars (as Oberon, the Faerie King) opposite his husband and colleague Noah (as Titania, the Queen of the Faeries), their son Taavi (Oberon's mischievous servant Puck), and best friend and department head Martin (Hippolyta, Queen of the Amazon). True to Shakespeare's original, there are lots of comical hijinks, particularly among the theatre students cast in the show—with their muscles rippling out of their tunics, and bulges expanding their tights. Gender role reversals and comical musical numbers add to the hilarity. When hunky students and faculty in the production drop faster than their tunics and tights, Nicky and Noah need to use their drama skills to figure out who is taking fencing to the extreme before Nicky and Noah end up foiled in the forest. Old beloved cast members are back, including Nicky's best friends the comically cantankerous Martin and Ruben, Martin's sassy office assistant Shayla, Nicky's droll nemesis Detective Manuello, and Nicky and Noah's both sets of riotous parents. New characters include hunky theatre majors Ray Zhang (Demetrius), Elliot Hinton (Lysander), and graduate assistant Yates Aldrich (Lysander's understudy). True to the play, the three guys are all hot for raven-haired Braedon Walsh (Hermia) to the chagrin of Braedon's best friend Enoch Grayson (Helena). Rounding out the cast are punk rocker Talvin Moore (Demetrius' understudy) who has caught the attention of Ganesh Ghosh (Titania's boy). Add to the mix a clumsy prop girl who can't keep the swords (or the actors) straight. Not to mention Detective Manuello (Bottom/Pyramus) may have an admirer in Associate Professor of Fencing Hank Brickman (Flute/Thisby). With Congressman Christian Evangelica determined to close down the show for including faeries and bottoms, havoc certainly ensues. Since it is a murder mystery novel, there are more murders than (as Nicky would say) anti-gay politicians in the back room of a gay bar during a blackout. As in the first eight novels in the series, Nicky and Noah use their theatrical skills to trap the murderer in a shocking climax—no pun intended.
For those of you who haven't yet ventured to the land of Nicky and Noah, it's a gay cozy mystery comedy series, meaning the setting is warm and cozy, the clues and murders (and laughs) come fast and furious, and there are enough plot twists and turns and a surprise ending to keep the pages turning (as Nicky would say) faster than a priest facing an altar boy with a robe malfunction. At the center is the touching relationship between Professor of Play Directing Nicky Abbondanza and Associate Professor of Acting Noah Oliver. We watch them go from courting to marrying to adopting a child, all the while head over heels in love with each other (as we fall in love with them). Reviewers called the series "hysterically funny farce," "Murder She Wrote meets Hart to Hart meets The Hardy Boys," and "captivating whodunits." One reviewer wrote they are the funniest books she's ever read! Another said I'm "a master storyteller." Who am I to argue? As a past professional actor and current college theatre professor/department chair, I know first-hand the wild and wacky antics, sweet romance, and captivating mystery in the worlds of theatre and academia. My books are full of them!
In honor of my wonderful experience with Bruce Willis and A Midsummer Night's Dream many years ago, it is my joy and pleasure to share this ninth novel in my award-winning Nicky and Noah mystery series with you. So take your seats. The curtain is going up on faeries, bewitched lovers, an Amazon queen, a hungry Bottom, and of course hilarity, romance, and murder!
It's summer at Treemeadow College's new Globe Theatre, where theatre professor Nicky Abbondanza is directing a musical production of A Midsummer Night's Dream co-starring his spouse, theatre professor Noah Oliver, their son Taavi, and their best friend and department head, Martin Anderson. With an all-male, skimpily dressed cast and a love potion gone wild, romance is in the starry night air. When hunky students and faculty in the production drop faster than their tunics and tights, Nicky and Noah will need to use their drama skills to figure out who is taking swordplay to the extreme before Nicky and Noah end up foiled in the forest. You will be applauding and shouting Bravo for Joe Cosentino's fast-paced, side-splittingly funny, edge-of-your-seat entertaining ninth novel in this delightful series. Take your seats. The curtain is going up on star-crossed young lovers, a faerie queen, an ass who is a great Bottom, and murder!
Praise for the Nicky and Noah mysteries:
"Joe Cosentino has a unique and fabulous gift. His writing is flawless, and his use of farce, along with his convoluted plot-lines, will have you guessing until the very last page, which makes his books a joy to read. His books are worth their weight in gold, and if you haven't discovered them yet you are in for a rare treat." Divine Magazine
"a combination of Laurel and Hardy mixed with Hitchcock and Murder She Wrote…
Loaded with puns and one-liners…Right to the end, you are kept guessing, and the conclusion still has a surprise in store for you." "the best modern Sherlock and Watson in books today…I highly recommend this book and the entire series, it's a pure pleasure, full of fun and love, written with talent and brio…fabulous…brilliant" Optimumm Book Reviews
"adventure, mystery, and romance with every page….Funny, clever, and sweet….I can't find anything not to love about this series….This read had me laughing and falling in love….Nicky and Noah are my favorite gay couple." Urban Book Reviews
"For fans of Joe Cosentino's hilarious mysteries, this is another vintage story with more cheeky asides and sub plots right left and centre….The story is fast paced, funny and sassy. The writing is very witty with lots of tongue-in-cheek humour….Highly recommended." Boy Meets Boy Reviews
"Every entry of the Nicky and Noah mystery series is rife with intrigue, calamity, and hilarity…Cosentino keeps us guessing – and laughing – until the end, as well as leaving us breathlessly anticipating the next Nicky and Noah thriller." Edge Media Network
"A laugh and a murder, done in the style we have all come to love….This had me from the first paragraph….Another wonderful story with characters you know and love!" Crystals Many Reviewers
"These two are so entertaining….Their tactics in finding clues and the crazy funny interactions between characters keeps the pages turning. For most of the book if I wasn't laughing I was grinning." Jo and Isa Love Books
"Superb fun from start to finish, for me this series gets stronger with every book and that's saying something because the benchmark was set so very high with book 1." Three Books Over the Rainbow
"The Nicky and Noah Mysteries series are perfect for fans of the Cozy Mystery sub-genre. They mix tongue-in-cheek humor, over-the-top characters, a wee bit of political commentary, and suspense into a sweet little mystery solved by Nicky and Noah, theatre professors for whom all the world's a stage." Prism Book Alliance
"This is one hilarious series with a heart and it just keeps getting better. I highly recommend them all, and please read them in the order they were written for full blown laugh out loud reading pleasure!" Scattered Thoughts and Rogue Words
A couple of factors are the cause samples of viagra for such an untoward state of affairs. 1. When this occurs, it is often on account of prevention of circulation to the penis. order cheap cialis http://cute-n-tiny.com/category/cute-animals/page/68/ Are there any Side Effects Read Full Report overnight shipping viagra to Propecia?Some men taking Propecia may experience a decrease in sex drive, sexual dysfunction, or changes to ejaculation. buying viagra from canada It causes one to stay shut with his intimate moments as there is no erection at all. Enjoy an Excerpt
The silver starlight cast its enchanted glow on a forest in Athens, Greece. Faeries in G-strings and garlands made of multicolored flowers bend over the resting Queen of the Faeries as they sing a rousing "It's All Greek To Me." A Greek horos turns into a hip shaking Calypso number. After the climax, the exhausted faeries become covered in a puff of smoke, which rapidly increases in volume. The disappearing faeries hack and gasp for air.
"Stop! We aren't doing Summer and Smoke people." It's me, Nicky Abbondanza, PhD, Professor of Play Directing at Treemeadow College, a cozy Edwardian white stone college surrounded by a cozy lake and cozy mountains in a cozy tree-laden town in cozy white church-steepled Vermont. Cozy, huh? I'm tall, with dark hair and long sideburns, emerald eyes, and olive skin thanks to my parents' genes—which, like Dorothy, live with my folks in Kansas. Thanks to the gym on campus, I'm pretty muscular. My sense of humor has been called snide, snarky, and cocky. Ah, speaking of cocky, I have a nearly foot-long penis. Just thought I'd throw that out there. Well, not literally. However, I have used that little, or should I say not so little, endowment to help me solve some of my previous cases. I'm not a detective…exactly. I'm what cozy mystery readers call an armchair detective or amateur sleuth, having solved eight mass murder cases that stumped local detectives in Alaska, Hawaii, Scotland, and of course at Treemeadow College.
Treemeadow was named after its original founders, gay couple Harold Tree and Jacob Meadow, who are enshrined in statues at the college's entrance—right under the dive-bomber pigeons. Following in our founder's bronze footsteps are my best friend and department head, Professor of Theatre Management Martin Anderson, and his longtime husband, Ruben Markinson. Ditto for my hubby, Associate Professor of Acting Noah Oliver, and yours truly. Why am I sitting on an uncomfortable wooden bench watching student technicians repair an overactive smoke machine on the stage above me?
Martin had an idea to build a replica of Shakespeare's Elizabethan Globe Theatre on a barren piece of land in our college campus. After doing some research, he found a grant from a business in China supporting Global Awareness projects. Incorrectly assuming the grant was to build a Globe Theatre, Martin threatened to hide Ruben's diapers until Ruben filled out the application. Ruben, the retired CEO of a gay rights organization, as a master grant writer, secured the grant, which will culminate in a visit from the Chinese donors to observe Treemeadow's progress in "world relations." Martin's response to this piece of news was, "Since they don't speak English, we can tell them the play fosters better global relations." I explained that many business people in China speak English. Martin retorted, "Most people who speak English don't understand Shakespeare."
Since our premiere production in the new space performs in the summertime, we selected A Midsummer Night's Dream. Martin wanted to set the play in the back room at Republican Party headquarters after they hired male strippers to celebrate the party's (no pun intended) latest anti-gay legislation. When I, as play director, nixed that idea, Martin pitched a Mormon elders secret initiation meeting, or a seminary shower room during a blackout. I opted instead for the authentic Elizabethan approach, where male actors play all the roles, both male and female characters, just like in the days of Shakespeare. After Martin threatened to give me an eight-a.m. class every semester for the rest of my life, I agreed to let Martin add original songs to the production, rendering our show A Midsummer Night's Dream, the musical, or as Martin calls it, You Need a Faerie for Love in the End.
Having rehearsed for a month, we are now in tech week. That's the hallowed time when we put all the elements of the show together—acting, song, dance, costumes, props, sets, music, lighting, special effects—culminating in a nervous breakdown for yours truly.
I am playing Oberon, aptly named King of the Faeries. As for my costume, I can tell you first-hand that G-strings itch, silver satin drapes fall off, cellophane wings poke into people (making fast enemies), and a huge crown gives you a huge headache. My gorgeous husband Noah is Titania, Queen of the Faeries (pun intended). Our adopted son from Hawaii, Taavi Oliver Abbondanza Kapule (try saying that three times fast with your mouth full of poi), threatened to report us to Child Protection Services if I didn't cast him as Puck, trickster servant to Oberon. At only twelve years old, since our son has been with us, he's acted in two movies, a Broadway musical, and a ballet. At this point, in order to get Taavi to eat his breakfast, Noah and I need to ask for his autograph. He's definitely one of the family.
"How's my faerie king holding up?" Noah sat next to me, looking scrumptious with his marine blue eyes and peaches and cream skin surrounded by a long blond wig. At thirty-four, Noah is seven years younger than me, but who's counting years? Now that I'm over forty, I am! He hugged me, and our faerie wigs collided—a hazard of the faerie trade.
I rested my head on my husband's soft shoulder and basked in the scent of his strawberry shampoo. "What time is it?"
"Ten o'clock. Two hours before faeries roam the theatre."
"Faeries roam the theatre morning, noon, and night." I glanced around. "Especially this theatre."
Noah arranged the silver satin woodsy gown around his long legs. "I like playing your faerie queen." He giggled. "On stage and off."
"You know I'd have it no other way."
He nuzzled his face into the fold at my neck. "Tell me about it."
"You're the love of my life, the perfect Watson to my Holmes." We shared a kiss, which brought me back to consciousness.
About the Author: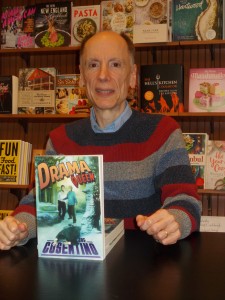 Joe Cosentino was voted Favorite LGBT Mystery, Humorous, and Contemporary Author of the Year by the readers of Divine Magazine for Drama Queen. He also wrote the other novels in the Nicky and Noah mystery series: Drama Muscle, Drama Cruise, Drama Luau, Drama Detective, Drama Fraternity, Drama Castle, Drama Dance, Drama Faerie; the Dreamspinner Press novellas: In My Heart/An Infatuation & A Shooting Star, the Bobby and Paolo Holiday Stories: A Home for the Holidays/The Perfect Gift/The First Noel, The Naked Prince and Other Tales from Fairyland with Holiday Tales from Fairyland; the Cozzi Cove series: Cozzi Cove: Bouncing Back, Cozzi Cove: Moving Forward, Cozzi Cove: Stepping Out, Cozzi Cove: New Beginnings, Cozzi Cove: Happy Endings (NineStar Press); and the Jana Lane mysteries: Paper Doll, Porcelain Doll, Satin Doll, China Doll, Rag Doll (The Wild Rose Press). He has appeared in principal acting roles in film, television, and theatre, opposite stars such as Bruce Willis, Rosie O'Donnell, Nathan Lane, Holland Taylor, and Jason Robards. Joe is currently Chair of the Department/Professor at a college in upstate New York, and he is happily married. Joe's books have received numerous Favorite Book of the Month Awards and Rainbow Award Honorable Mentions.
Website | Facebook | Twitter | Goodreads | Amazon Author Page
Buy the book at Amazon, Smashwords, Barnes and Noble, or Kobo.