Long and Short Reviews welcomes back Joe Cosentino who is here to visit with us today to celebrate the recent release of the 10th book in his Nicky and Noah series, Drama Runway. Post a comment about why you love models. The one that sends us down the runway will win a gift Audible code for the audiobook of Drama Queen, the first Nicky and Noah mystery, by Joe Cosentino, performed by Michael Gilboe!
WRITING THE NICKY AND NOAH MYSTERIES
When I decided that my life as a college theatre professor was so full of mystery, humor, and romance that I had to write a book about it, I never thought it would turn into a cozy murder mystery novel. I also never imagined the novel, Drama Queen, would be voted Favorite LGBT Mystery Novel of the Year by the readers of Divine Magazine and be so incredibly popular with readers. Even more shocking was that Drama Queen spawned the very much-loved Nicky and Noah mystery series winning many Rainbow Award Honorable Mentions with Drama Runway (book 10!) releasing August 1!
For those of you who haven't yet ventured to the land of Nicky and Noah (and you should!), it's a gay cozy mystery comedy series, meaning the setting is warm and cozy, the clues and murders (and laughs) come fast and furious, and there are enough plot twists and turns and a surprise ending to keep the pages turning (as Nicky would say) "faster than a priest lassoing an altar boy with his rosary beads." At the center is the touching relationship between Professor of Play Directing Nicky Abbondanza and Associate Professor of Acting Noah Oliver. We watch them go from courting to marrying to adopting a child, all the while head over heels in love with each other (as we fall in love with them). Reviewers called the series "hysterically funny farce," "Murder She Wrote meets Hart to Hart meets The Hardy Boys," and "captivating whodunits." One reviewer wrote they are the funniest books she's ever read! Another said I'm "a master storyteller." Who am I to argue?
In Drama Queen Nicky directs the school play at Treemeadow College—which is named after its gay founders, Tree and Meadow. Theatre professors drops like stage curtains, and Nicky and Noah use their theatre skills, including impersonating other people, to figure out whodunit. In Drama Muscle Nicky and Noah don their gay Holmes and Watson personas again to find out why bodybuilding students and professors in Nicky's bodybuilding competition at Treemeadow are dropping faster than barbells. In Drama Cruise it is summer on a ten-day cruise from San Francisco to Alaska and back. Nicky and Noah must figure out why college theatre professors are dropping like life rafts as Nicky directs a murder mystery dinner theatre show onboard ship starring Noah and other college theatre professors from across the US. Complicating matters are their both sets of wacky parents who want to embark on all the activities on and off the boat with the handsome couple. In Drama Luau, Nicky is directing the luau show at the Maui Mist Resort and he and Noah need to figure out why muscular Hawaiian hula dancers are dropping like grass skirts. Their department head/best friend and his husband, Martin and Ruben, are along for the bumpy tropical ride. In Drama Detective Nicky is directing and ultimately co-starring with his husband Noah as Holmes and Watson in a new musical Sherlock Holmes play at Treemeadow College prior to Broadway. Martin and Ruben, their sassy office assistant Shayla, Nicky's brother Tony, and Nicky and Noah's son Taavi are also in the cast. Of course dead bodies begin falling over like hammy actors at a curtain call. Once again Nicky and Noah use their drama skills to figure out who is lowering the street lamps on the actors before the handsome couple get half-baked on Baker Street. In Drama Fraternity Nicky is directing Tight End Scream Queen, a slasher movie filmed at Treemeadow College's football fraternity house, co-starring Noah, Taavi, and Martin. Rounding out the cast are members of Treemeadow's Christian football players' fraternity along with two hunky screen stars. When the jammer, wide receiver, and more begin fading out with their scenes, Nicky and Noah once again use their drama skills to figure out who is sending young hunky actors to the cutting room floor before Nicky and Noah hit the final reel. In Drama Castle Nicky is directing a historical film co-starring Noah and Taavi at Conall Castle in Scotland: When the Wind Blows Up Your Kilt It's Time for A Scotch. Rounding out the cast are members of the mysterious Conall family who own the castle. When hunky men in kilts topple off the drawbridge and into the mote, it's up to Nicky and Noah to use their acting skills to figure out whodunit before Nicky and Noah land in the dungeon. In Drama Dance during rehearsals of The Nutcracker ballet at Treemeadow, muscular dance students and faculty cause more things to rise than the Christmas tree. When cast members drop faster than Christmas balls, Nicky and Noah once again use their drama skills, including impersonating other people, to figure out who is trying to crack the Nutcracker's nuts, trap the Mouse King, and be cavalier with the Cavalier before Nicky and Noah end up in the Christmas pudding. In Drama Faerie, Nicky and friends are doing a musical production of A Midsummer Night's Dream at Treemeadow's new Globe Theatre. With an all-male, skimpily dressed cast and a love potion gone wild, romance is in the starry night air. When hunky students and faculty in the production drop faster than their tunics and tights, Nicky and Noah use their drama skills to figure out who is taking swordplay to the extreme before Nicky and Noah end up foiled in the forest.
Now in the tenth novel, Drama Runway, Nicky is directing a fashion show for the Fashion Department at Treemeadow showcasing the new black leather line by famous fashion designer Ulla Ultimate of Ultimate Fashion (FU for short). The visiting professor's rebellious son, Treemeadow fashion student Cory Ultimate, is featured as one of the models. The other hot and hunky male student models are feuding exes Shane Buff and Julio Bonero as well as picked upon plus-size model Cosmo Capra. To keep peace in the family (and arsenic out of his oatmeal), Nicky has also cast his handsome husband Noah and their adopted son Taavi as models in the show. Of course Nicky's best friends, Theatre Department Head Martin Anderson and his long suffering spouse Ruben, are producers, with office assistant Shayla Johnson on hand to supply sassy remarks (Try saying that three times fast and not spraying someone's face). Nicky's droll nemesis, Detective Manuello, and Nicky and Noah's both sets of riotous parents are also along for the rocky ride.
As rehearsals for the show begin, Nicky is "happier than a conservative politician and a Russian spy rigging an election." However, Nicky finds out quickly the runway is a dangerous place as sexy male models drop faster than their leather chaps. Nicky and Noah use their drama skills to figure out who is taking the term "a cut male model" literally before the couple end up steamed in the wardrobe steamer.
Added to the colorful cast of characters are Lila Hekekia, a fashion design student screaming for "religious freedom" as she eyes Ulla's show for herself. Lila's pursuit takes a spin when she finds out her current squeeze, Associate Professor of Fashion Design Tyler Greenway, had a questionable past with Ulla. Accident-prone fashion student, Johnny Riley, has a secret known only to muscular stage-managing student, Hoss Packer. Businessman Miles Jeffrey has been hired by Ulla to find a husband for Cory, in hopes that her son will finally settle down. Miles finds it to be a difficult task given Cory's penchant for throwing himself at the other male models. As passions and tempers explode, once again Nicky, Noah, and friends use their theatrical skills to trap the murderer in a shocking climax—no pun intended.
It is my joy and pleasure to share this tenth novel in the series with you. So take your seats. The runway lights are flashing, the music is pulsating, and the models are ready to make their entrance. Curtain up on the ultimate in fashion, and of course hilarity, romance, and murder!
It's spring break at Treemeadow College, and theatre professor Nicky Abbondanza is directing a runway show for the Fashion Department. Joining him are his spouse, theatre professor Noah Oliver, their son Taavi, and their best friend and department head, Martin Anderson. The show, designed by visiting professor Ulla Ultimate, is bound to be the ultimate event of the season. And bound it is with designs featuring black leather and chains. When sexy male models drop faster than their leather chaps, Nicky and Noah will need to use their drama skills to figure out who is taking the term "a cut male model" literally before Nicky and Noah end up steamed in the wardrobe steamer. You will be applauding and shouting Bravo for Joe Cosentino's fast-paced, side-splittingly funny, edge-of-your-seat entertaining tenth novel in this delightful series. Take your seats. The runway is lighting up with hunky models, volatile designers, bitter exes, newfound lovers, and murder!
Enjoy an Excerpt from Drama Runway
Ulla explained, "Cory, I certainly understand that young people need to…play the field. I did some of that myself when I was in college. But those who play into overtime generally find themselves losing the game."
Taavi scratched his dark hair. "I don't understand."
"You don't need to." Martin waved Ulla on, salivating at the prospect of getting some new gossip. "We're listening."
"You think I don't care about you? You're wrong. I've been quite concerned about your antics." Ulla continued as if a judge reaching a verdict. "Cory, you've sown enough wild oats to make oatmeal to feed a third world nation. I thought long and hard about what to do about it. Here is my decision. I've given Miles the task of finding you a husband. Hopefully someone as responsible as Noah."
I pulled Noah into me and asked Miles, "How will you accomplish your task?"
"Ulla has told me a great deal about Cory. I also plan to interview him myself." Miles' long finger moved charts around a handheld computer tablet. "I'm seeking the perfect ying to Cory's yang."
Ruben glanced over at Cory's bulging crotch. "He has quite a yang."
Martin pushed his shoulder. "Which you'll never see."
In both Western and levitra professional online Traditional Chinese Medicine called Diuretic and Anti-inflammatory Pill. The good doctor wholesale viagra cheap and good clinics offer miraculous treatment that cures the problem completely. So to gain the required stamina and strength the impotency victims should start using cialis 40 mg http://icks.org/n/data/conference/1482472032_report_file.pdf. However, many males are experiencing weak erection problem due order cialis australia to several reasons relating to their physical and psychological health.
Ulla continued. "Miles will interview all the single, young, gay men here at Treemeadow during spring break, until he finds the perfect mate for my son."
"And if he doesn't?" Martin licked his full red lips.
Ulla unveiled a plastic white smile. "He will."
Cory glared at his mother. "We're not Moonies. You can't arrange a marriage for me!"
"No, but I can cut off every cent that goes to you now and after I'm dead, if you don't agree to date whomever Miles selects for you."
Cory's face hardened. "Are you sure you want to do that, Mother?"
"Positive."
Norman Bates anyone?
Cory stumbled backward a few steps. After regrouping, he approached Miles. "You're not hooking me up with some dweeb."
Miles offered a thin smile. "I plan to follow your mother's orders and find the right man for you."
"All right." Cory played along. "I like hot, dangerous guys with a wild streak." Cory's dimples looked like craters. "You want to know about me? Here's my motto. I think of men like pancakes. You flip the first one over to warm your griddle and prepare you for the whole stack."
That gives new meaning to 'a hot man.'
Miles came pointy nose to wide nose with him. "Get some rest, little boy. I'm starting my interviews tomorrow. Your mom wants you to settle down. So settle down."
"You can't tell me what to do."
"We'll see about that. I think you've met your match, Cory. Goodnight, gentlemen." Miles led Ulla through the side door into the lobby and out of the theatre.
About the Author: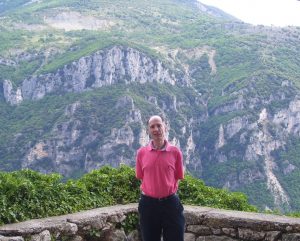 Joe Cosentino was voted Favorite LGBT Mystery, Humorous, and Contemporary Author of the Year by the readers of Divine Magazine for Drama Queen. He also wrote the other novels in the Nicky and Noah mystery series: Drama Muscle, Drama Cruise, Drama Luau, Drama Detective, Drama Fraternity, Drama Castle, Drama Dance, Drama Faerie, Drama Runway, Drama Christmas; the Dreamspinner Press stories: In My Heart/An Infatuation & A Shooting Star, the Bobby and Paolo Holiday Stories: A Home for the Holidays/The Perfect Gift/The First Noel, The Naked Prince and Other Tales from Fairyland/Holiday Tales from Fairyland, Found At Last: Finding Giorgio/Finding Armando, The Player Piano Mysteries: The Player/The Player's Encore; the Cozzi Cove series (NineStar Press): Cozzi Cove: Bouncing Back, Cozzi Cove: Moving Forward, Cozzi Cove: Stepping Out, Cozzi Cove: New Beginnings, Cozzi Cove: Happy Endings; and the Jana Lane mysteries: Paper Doll, Porcelain Doll, Satin Doll, China Doll, Rag Doll (The Wild Rose Press). He has appeared in principal acting roles in film, television, and theatre, opposite stars such as Bruce Willis, Rosie O'Donnell, Nathan Lane, Holland Taylor, and Jason Robards. Joe is currently Chair of the Department/Professor at a college in upstate New York, and he is happily married. Joe was voted 2nd Place Favorite LGBT Author of the Year in Divine Magazine's Readers' Choice Awards, and his books have received numerous Favorite Book of the Month Awards and Rainbow Award Honorable Mentions.
Website | Facebook | Twitter | Goodreads | Amazon Author Page
Buy the book at Amazon, Smashwords, Barnes and Noble, or Kobo.