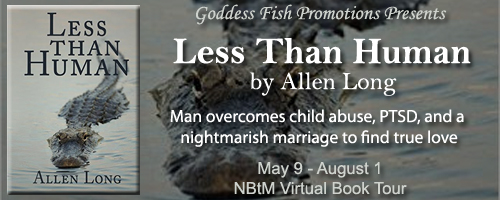 This post is part of a virtual book tour organized by Goddess Fish Promotions. Cate will be awarding a $25 Amazon or B/N GC to a randomly drawn winner via rafflecopter during the tour. Click on the tour banner to see the other stops on the tour.
Some of the challenges I faced while writing my memoir
Hello, Readers. My name is Allen Long, and I'm the author of the recently published book, Less than Human: A Memoir.
My single biggest challenge comes easily to mind. It was understanding my highly complex ex-wife to the fullest extent possible and making her a sympathetic, well-rounded character.
Our marriage had a strange shape. During our first three years as husband and wife, Linda cheated on me twice. I suspect a guy from a healthy home probably would have dumped her after her first infidelity and definitely after her second.
However, my brother David and I were physically abused by our parents from the time we were small children until we each turned twelve, so I had a very high tolerance for abuse and forgave her.
Surprisingly, we were then happily married for years, and we had three sons. Then, as our youngest son approached pre-school age, Linda became increasingly bossy and critical of me for no apparent reason and frequently screamed at me. On Thanksgiving 1991, Linda experienced a mental/emotional crisis that consisted of alternating fits of rage and suicidal depression.
She screamed at our sons and me every day for the next six months and proclaimed her love for a man she'd engaged to train her as a racing cyclist. I divorced her and gained full custody of the boys.
In the early drafts of my book, I depicted Linda as a one-dimensional harpy. Then I decided to remove as much anger and recrimination as possible from our story and try my best to explain why she behaved as she did.
One of the first things I did was to include a summary of the story of her life. The readers sees some of the hurts she experienced as a child, how she idolized her father and brother (making it nearly impossible for me or anyone else to live up to her high expectations for a husband), and early signs of mental/emotional instability.
The reader also learns that her initial career choice when she was in high school was to become a nurse, following in the footsteps of her mother and grandmother. But her mother knew Linda was strong-willed and advised her against a nursing career because she didn't think Linda would like being bossed around by doctors. She suggested a career in horticulture instead, since Linda loved flowers and plants.
Linda then attended Virginia Tech as a horticulture major, planning to join the Peace Corps upon graduation. Then she met and married me halfway through college, and the Peace Corps rejected us because it had no interest in my journalism degree, a major disappointment to Linda.
Then during our fifteen-year marriage, Linda had only three satisfying years working in her field. Otherwise, she held two unremarkable horticulture-related positions and then became a stay-at-home mom and participating parent in our son's alternative schools.
As soon as we divorced, Linda became a nurse, and I realized this career issue had been a time bomb ticking since her high school years.
Also, there were some facts I reported without explaining because I couldn't, such as Linda's need to leave the marriage for sexual adventures while still wanting to retain me as a safe anchor. I also didn't try to explain her mental/emotional instability, which I still don't understand, although her nurse mother and doctor brother have suggested she has a chemical imbalance in her brain.
In addition, I made a point of showing I wasn't the perfect husband. When I was married to Linda, I had undiagnosed and untreated anxious depression, and I'm sure there were times when I was self-absorbed when Linda needed me to more present. Also, I have a clear memory of a time when I disappointed Linda and still feel at fault, and I included this scene in the book.
By the time I finished the sixth and final draft of the memoir, I was satisfied I'd eliminated or minimized bitter or recriminating remarks about Linda while showing her as a well-rounded person possessing a range of virtues and flaws similar to the rest of us.
After the book was released, my oldest son told me how much he'd enjoyed it, and he thanked me for the honest but sympathetic portrait I'd painted of his mother. This is the greatest compliment I've received regarding the memoir.
In Less than Human, Allen Long tells the story of his often nightmarish childhood in the wealthy suburbs of D.C., the wonders and mysteries of teenage love, his ill-advised journeys into corporate America and a hellish marriage, and ultimate breakdown. And yet, his story is mostly one of triumph. He draws strength from the joys of fatherhood, he finds true love in his second marriage, and through working with psychotherapists and leading a life rich in self-examination, he overcomes both child abuse and the resulting PTSD, finally learning that instead of being less than, he is, indeed, human.

Less than Human follows an unconventional path, arranged as much by theme and association as by chronology. These stories take many forms, from driving narrative to lyrical reverie, at times evoking mythic overtones, and this variety, along with an unflinching confrontation with the conditions and consequences of childhood abuse, create its own form of suspense–in what direction will this book take us next?
Enjoy an excerpt:
"Swimming's fine," my mother said. "Hurry up and unpack your bathing suits, and don't track any water or sand back into the house."
"But what about the alligator?" I said.
"Stop whining and do as your mother says," my father said.
"You can fish too if you like," my grandfather said. "There's some bamboo poles with lures in a bucket in the garage."
Danny and I set up our fishing gear on an old warped pier and cast our spinners out into the murky water. After a couple of sweltering hours without any bites, I decided to swim. Danny refused to budge, his eyes scanning the russet surface for the alligator.
I stepped into the lake, thick mud oozing between my toes and spiky plants pin-pricking my soles. I waded into the pleasantly cool but swampy smelling water until it was up to my waist. Then I carefully surveyed the lake. The day was scorching and I wanted to plunge into the water and swim, but a deeper instinct reminded me that at any moment I could be prey. I froze. Part of me felt safe because our parents knew I was swimming, but I was also afraid I'd get snapped up into the jaws of the alligator.
Although I kept my eyes peeled for any creatures near me, a turtle suddenly popped its head out of the water a foot away, scaring the bejesus out of me.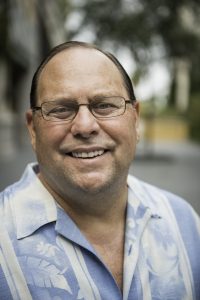 Allen Long was born in New York City and grew up in Arlington, Virginia. He holds a B.A. in journalism from Virginia Tech, an M.A. in fiction writing from Hollins University, and an M.F.A. in fiction writing from the University of Arizona. He has been an assistant editor at Narrative Magazine since 2007, and his fiction and memoirs have appeared in a wide variety of literary magazines. He lives with his wife near San Francisco.
Sales links:
http://www.amazon.com/Less-than-Human-Allen-Long-ebook/dp/B01B8P1KZE/
http://www.barnesandnoble.com/w/less-than-human-allen-long/1123318074
Author's Facebook page:
https://www.facebook.com/AllenLongAuthor/