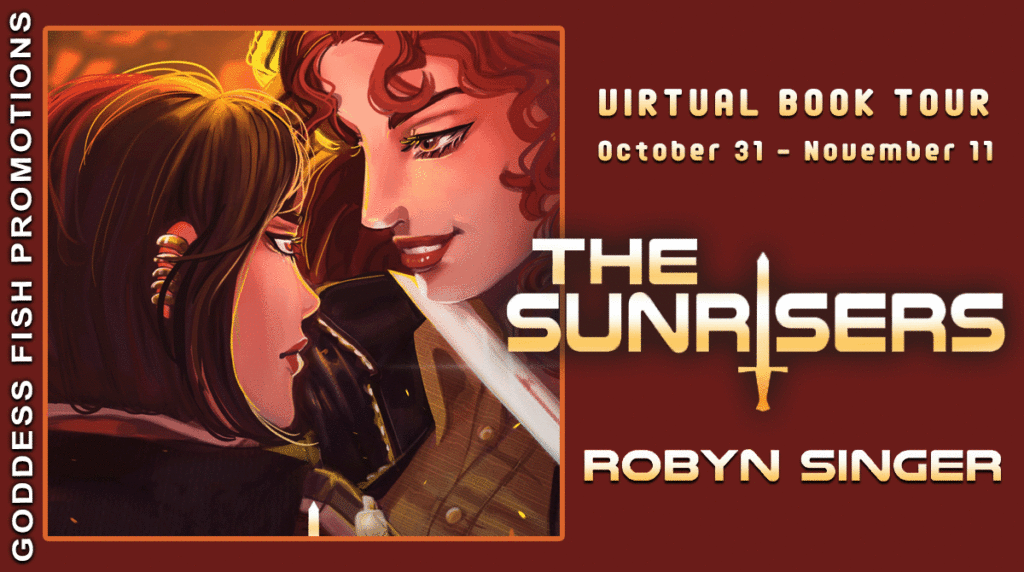 This post is part of a virtual book tour organized by Goddess Fish Promotions. Robyn Singer will be awarding a $10 Amazon or Barnes and Noble GC to a randomly drawn winner via rafflecopter during the tour. Click on the tour banner to see the other stops on the tour.
Character Creation
Characters are the most important part of any story. In my eyes, this is not up for debate. Two years after finishing your book, readers won't remember the details of the plot or the intricacies of your world building, but they will remember a character they truly fell in love with, or even hated with a fiery passion. It's because of this that I put more effort into my characters than anything else, and it's where I feel my writing truly shines. How do I create my characters?
Well, let's take a look at my process.
Generally, I come up with a premise first and then create the characters around it. I'll come up with personalities and backstories which allow them to fill the roles I need them to, which fit the themes of the story, and which make them unique. From there, I write out a description of what they look like, how they dress, what their hobbies are, what their favorite food is, what their goal is, and what their lie vs truth, or, what they learn about themselves during the story, is. As minor as some of these aspects may seem, all of them serve to help understand and flesh out a character.
Of course, sometimes the characters come first. Often, I'll recycle characters from a previous work of mine which didn't work, and insert them into a new story. When I do this, there's much fun to be had tinkering with them in all the ways I listed above to keep the core of who they are, while also making them fit properly. More than once, I've specifically come up with a pitch just because I thought of how certain characters I'd created in the past could fit into a specific setting.
Like any writer, there are certain tropes I love above all others and while I try not to repeat myself to a gross extent, there are certain types of characters I like to have appear in all my stories, just because I have fun writing them.
I'm not one to base characters off of real people, though that is a totally valid strategy.
What I will often do, however, is steal the names of real people and give them to my character.
Names for my characters either come from that, a list online, or my brain thinking of something that fits on its own based on the vibes of the character.
What I keep in mind when I'm going through this process are the key elements a
character needs to possess. They need to be interesting, they need to be empathetic, they need to be lovable or hateable, depending on what you're going for, and they need to say something in relation to what the story is about. Keep these things in mind when you're breaking down your characters, and you'll have a winner every time.
After years of adventures, professional thief and amateur noodle critic Yael is invited to join The Order of the Banshee, a collection of the greatest female thieves in the universe, despite being decades younger than any of them.

Yael's childhood best friend, Molina, has lived the opposite life: a stern and serious member of The Sunrisers, the universe's premiere peacekeeping organization, she's just been promoted to Captain, serving under her father. Her first assignment of her new command: Bring down The Order of the Banshee.

Yael and Molina now find themselves on opposite sides of a conflict neither of them will escape unscathed. The love they have for each other is the same as when they were young, but either their personal values or their love will break.

In this game of cat and mouse, both women must use all their wits and tricks to stay ahead of their new enemy. Will order triumph, or will chaos? No matter what, Yael and Molina will both lose.
Enjoy an Excerpt
Outside the cave, ground troops were being deployed, the sound of their combat boots stomping on the moon's surface echoing. And inside the cave, eleven of the smartest and most dangerous women in the universe were staring daggers straight into my eyes.
"I knew we couldn't trust a whippersnapper," Athena York said.
"How very disappointing," Beatriz Nunez snarled.
"I have a granddaughter in the Sunrisers," Lilith hummed. "If you tipped her off, I'll at least respect you for going for the heart."
I shook my head and swung my arms around, sweating from every pore. "I swear I didn't call them. This is all just a big misunderstanding. You have my complete loyalty."
Madame N'gwa cocked her head to the side and grinned. "You wanted to be a Sunriser when you were even more of a baby than you are now. Perhaps you made a deal to make your dream finally come true."
A shocking pain surrounded my heart. Those Sunriser bastards had stolen all the trust I'd earned from my idols through years of deceit. Whichever captain was in charge of this operation was going to pay.
Lioness stepped forward, crushing her glass in her hand and sending small shards flying all over the place. "Thank you for sharing your story with me. But I don't think we'll be hearing anymore of them. Rather, I don't think you'll be living any more of them."
About the Author: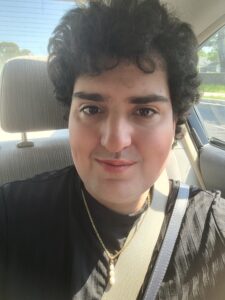 Robyn Singer is a lifelong New Yorker, and since she was a kid playing with her action figures, all she's wanted to do is tell stories. She went to SUNY Purchase to get a degree in Playwriting & Screenwriting with a minor in Film and has produced several comic books, but she's always had her eye on becoming a published novelist.
As an Autistic, bisexual trans woman, diversity and inclusion in stories are vitally important to her, and she seeks to represent as many groups as possible in her work. While she wants to show characters of marginalized groups experiencing joy, she also draws inspiration from real-world problems which bother her.
The Sunrisers (Cinnabar Moth Publishing, November 2022) is her debut novel. She writes novels and short stories of all genres and for all ages, and she continues to produce comic books. Her ongoing series, Final Gamble, will begin publication by Band of Bards in 2022.
Twitter | Instagram
Buy the book at Amazon.