Long and Short Reviews welcomes Joe Cosentino who is celebrating the recent release of his latest book in the Nicky and Noah series Drama Dance. Post a comment about why you love The Nutcracker Ballet. The one that tickles our tights the most will win an audiobook of Drama Queen, the first Nicky and Noah mystery, by Joe Cosentino, performed by Michael Gilboe.
Joe Cosentino's 8 Tips for Writing a Winning Mystery Series
at the release of Drama Dance, the 8th Nicky and Noah mystery novel
Writing a successful mystery series is like having a baby. Okay, I've never done that. It's akin to going to war. Oops, I've never done that either. I'm sure you get the idea. It's difficult. Since I'm the author of two popular mystery series (
The Nicky and Noah Mysteries
and
The Jana Lane Mysteries
), new mystery writers often ask my advice about writing in the genre. In honor of the release of
Drama Dance
, the eighth
Nicky and Noah
mystery novel, here are my eight tips for writing a winning mystery series.
1) Start with the twist ending. I generally wake up at about 3am with a wonderful idea for the end of a new novel. Beginning with a shocking and terrific ending and working backwards will give the story a strong and justifiable conclusion. Readers constantly tell me they never saw the ending of my book coming. However, once the sleuth reminded them of the clues in the last chapter, they slapped their heads screaming, "How could I have missed that!"
2) Create a roadmap for the story. I moan when I read a mystery that presents suspects and then randomly selects whodunit at the conclusion. You need to chart out every clue, red herring, and plot point. It's important to decide when to offer information and when to use sleight of hand to camouflage it.
3) A mystery, like any story, is only as good as its characters. Create realistic, loveable, captivating characters that we enjoy. I'm always so thrilled when readers tell me they love Nicky and Noah as much as Nicky and Noah love each other.
4) A mystery should include all aspects of real life, which includes romance and drama. Don't bog your characters down with so much sleuthing that they can't have personal lives and careers. Jane Lane faces a personal crisis in each Jane Lane mystery novel, at home and on the set. In addition to producing their show, Nicky and Noah embark on a personal journey in each Nicky and Noah mystery, including dating, marriage, and adopting and raising a child.
5) Especially in these trying times, humor can save us. Don't force it but find the humor in as many situations as possible. It's always there. I remember one Christmas my parents gave me a jacket and my sister a house. When I complained to my mother, she replied, "But it's a nice jacket, and we'll be living in the house with your sister." I love when readers tell me they laugh out loud at Nicky's snarky aside comments, his best friends' Martin and Ruben's good-natured bickering, or Martin's secretary's barbs. Jana Lane's old world agent is also a riot.
6) The setting should be another character in the mystery. Whether it's cozy, exotic, or fantastical, use the setting to help tell your story. Jana Lane's upstate New York mansion in the Jana Lane mysteries highlights her glamorous yet small community lifestyle. Treemeadow College in Vermont is the perfect setting for the Nicky and Noah cozy mysteries with its white Edwardian buildings, low white stone fences, lake and mountain views, and cherry wood offices with tall leather chairs and fireplaces.
7) Write what you know about. Since I was a professional actor, it's not a coincidence that my Jana Lane sleuth is an ex-child star making a movie comeback. Nicky and Noah are college theatre professors like me. Real life brings a wealth of information, stories, and characters. The Nutcracker Ballet is my favorite ballet, so it provided the perfect production for Nicky to direct at Treemeadow College in my current release Drama Dance. My colleagues at my college tease me that if they annoy me, I might kill them in my next Nicky and Noah mystery. And they're right! (smile)
8) Travel everywhere! Not only is travelling fun and educational, you can use it in your mysteries. It's not a coincidence that Jana Lane (and I) travelled to Washington, DC and New York City, or that Nicky and Noah (and I) embarked on trips to Alaska, Hawaii, and Scotland.
I hope you enjoyed reading my eight tips on mystery writing. Now it is my joy and pleasure to share this eighth novel in my Nicky and Noah mystery series with you. Below are the blurb, my bio, the purchase links, an excerpt, and a special giveaway offer. So take your seats. The curtain is going up on Clara, the Nutcracker, the Mouse King, the Sugar Plum Fairy, and the Cavalier. And of course hilarity, romance, and murder Nicky and Noah style in Drama Dance!
Theatre professor Nicky Abbondanza is back at Treemeadow College directing their Nutcracker Ballet co-starring his spouse, theatre professor Noah Oliver, their son Taavi, and their best friend and department head, Martin Anderson. With muscular dance students and faculty in the cast, the Christmas tree on stage isn't the only thing rising. When cast members drop faster than their loaded dance belts, Nicky and Noah will once again need to use their drama skills to figure out who is cracking the Nutcracker's nuts, trapping the Mouse King, and being cavalier with the Cavalier, before Nicky and Noah end up stuck in the Land of the Sweets. You will be applauding and shouting Bravo for Joe Cosentino's fast-paced, side-splittingly funny, edge-of-your-seat entertaining eighth novel in this delightful series. Take your seats. The curtain is going up on the Fairy—Sugar Plum that is, clumsy mice, malfunctioning toys, and murder!
Enjoy an Excerpt
The Victorian-era playroom was adorned with wallpapered walls of pink and gold swirls. A large window hovered over a cushiony toy chest. Standing guard on one side was a grandfather clock and a pink chaise lounge on the other. Elaborately decorated gift boxes of all shapes and sizes stood between them. Cherished music played as couples in elaborate gowns and vested tuxedos executed a promenade at the Stahlbaum's holiday party. Little boys in knickers galloped with their toy horses, and sweet girls in frilly party dresses danced with their dolls. A small, thin, elderly man entered in a puff of smoke, causing a hush in the room. Uncle Drosselmeyer, in a maroon suit, motioned for pretty young Clara, dressed in white, to join him next to the Christmas tree adorned with gold balls, candles, and garland. Clara's younger brother, Fritz, joined her with mischief in his eyes. The adults and children left the playroom, except for Drosselmeyer, Clara, and Fritz. The lights in the room flickered as the bald man waved his tiny arms and magically produced—a garlic crusher.
"What happened to the nutcracker?" I asked from the front row center orchestra, resting the notepad and pen on my lap.
Ruben Markinson entered the stage from the wings. "I couldn't fit a nutcracker up Martin's sleeve."
Martin Anderson dropped his Uncle Drosselmeyer persona and sneered at his husband. "So you expected Clara to dance with a garlic crusher?"
Ruben replied, "It's less absurd than you dancing on stage at your advanced age, Martin."
Martin glared at his longtime companion. "My body is a temple."
"And it's in ruins!" Ruben replied.
We're back! For you Nicky and Noah mystery virgins, let me explain. I'm Nicky Abbondanza, Professor of Play Directing at Treemeadow College, a quaint college in picturesque Vermont. Treemeadow was named after the quaint gay couple who founded it: Harold Tree and Jacob Meadow. They are immortalized together in bronze at the quaint college entrance—to the delight of every pigeon in the county.
In any on sale at store cialis price case, agree delish gel is much better than a feeble agent. The medication has prolonged effects lasting for 4 to 6 hours. levitra prices:-This medication, like any other ED pill or jelly, Kamagra is very easy and convenient to use. generic viagra from india However, studies have shown that long-term use of sibutramine could seriously damage human health. When ED happens, you begin to stay http://cute-n-tiny.com/tag/owl/ buy levitra australia away from your relationship. I had taken a sabbatical from teaching to direct and star in a Broadway play and direct two movies. But when producers responded to my calls with, "Don't call us—ever again," I realized that "those who can, do; those who did, teach." So, missing my college more than a hooker misses a john with a fat wallet and narcolepsy, it was back to Treemeadow for me, where I was recently promoted from Associate Professor to Professor. For you non-academics, that means I make more money now. But I don't teach and direct shows for the monetary rewards. I do it for the ulcers and heart attacks. This semester, after teaching my theatre classes at accelerated hours, I finished my classes mid-semester; and my department head and best friend, Professor of Theatre Management Martin Anderson, loaned me out to the Dance Department to direct their December production of The Nutcracker ballet. Since I have gotten myself out of many traps, I also agreed to understudy the cheesy role of the Mouse King.
For the carnally conscious, I'm tall, with dark hair, a cleft in my chin, emerald eyes, a Roman nose, and long sideburns. I have a muscular body, thanks to the gym on campus—and to my fear of giving into gravity now that I hit the big four zero.
My husband of five years, recently promoted Associate Professor of Acting Noah Oliver, as usual joined me as the production's acting coach. Noah's dance training in college made him a perfect understudy for the Sugar Plum Fairy's Cavalier. By the way, Noah is seven years younger than me. But it doesn't bother me. At all!
Noah is gorgeous with golden blond hair, sea-blue eyes, milk-and-honey skin, and a tight little body. We both always wear dress shirts, dress slacks, and blazers, except to bed. Speaking of clothing, to my tailor's horror and Noah's delight, I have a nearly foot-long penis when erect. Had I been a caveman, I wouldn't have needed a club. A gay porn star would hang his head (both of them) next to me. Why am I telling you this? I tell you everything.
As for the rest of the cast and crew, elderly Martin is playing Clara's elderly Uncle Drosselmeyer. Martin's equally elderly husband, Ruben, agreed to be our props master. Dance faculty members took on the roles of the Sugar Plum Fairy, Cavalier, the Mouse King, and choreographer. The star dance students were cast in the roles of Clara, Clara's understudy, the Nutcracker, and the Nutcracker's understudy. In the ensemble, the remaining senior dance students filled the roles of the parents, and the freshmen were cast as the children. I brought my theatre student, Nate Owens, along as stage manager. Other theatre students are doing the set, lights, sound, and costumes.
Finally, due to his vast talents, and my nepotism, Noah's and my eleven-year-old adopted son, Taavi Oliver Abbondanza Kapule, was cast as Clara's brother, Fritz.
Now back to the action.
Praise for the Nicky and Noah mysteries:
"Joe Cosentino has a unique and fabulous gift. His writing is flawless, and his use of farce, along with his convoluted plot-lines, will have you guessing until the very last page, which makes his books a joy to read. His books are worth their weight in gold, and if you haven't discovered them yet you are in for a rare treat." Divine Magazine
"a combination of Laurel and Hardy mixed with Hitchcock and Murder She Wrote…
Loaded with puns and one-liners…Right to the end, you are kept guessing, and the conclusion still has a surprise in store for you." "the best modern Sherlock and Watson in books today…I highly recommend this book and the entire series, it's a pure pleasure, full of fun and love, written with talent and brio…fabulous…brilliant" Optimumm Book Reviews
"adventure, mystery, and romance with every page….Funny, clever, and sweet….I can't find anything not to love about this series….This read had me laughing and falling in love….Nicky and Noah are my favorite gay couple." Urban Book Reviews
"For fans of Joe Cosentino's hilarious mysteries, this is another vintage story with more cheeky asides and sub plots right left and centre….The story is fast paced, funny and sassy. The writing is very witty with lots of tongue-in-cheek humour….Highly recommended." Boy Meets Boy Reviews
"This delightfully sudsy, colorful cast of characters would rival that of any daytime soap opera, and the character exchanges are rife with sass, wit and cagey sarcasm….As the pages turn quickly, the author keeps us hanging until the startling end." Edge Media Network
"A laugh and a murder, done in the style we have all come to love….This had me from the first paragraph….Another wonderful story with characters you know and love!" Crystals Many Reviewers
"These two are so entertaining….Their tactics in finding clues and the crazy funny interactions between characters keeps the pages turning. For most of the book if I wasn't laughing I was grinning." Jo and Isa Love Books
"Superb fun from start to finish, for me this series gets stronger with every book and that's saying something because the benchmark was set so very high with book 1." Three Books Over the Rainbow
"The Nicky and Noah Mysteries series are perfect for fans of the Cozy Mystery sub-genre. They mix tongue-in-cheek humor, over-the-top characters, a wee bit of political commentary, and suspense into a sweet little mystery solved by Nicky and Noah, theatre professors for whom all the world's a stage." Prism Book Alliance
"This is one hilarious series with a heart and it just keeps getting better. I highly recommend them all, and please read them in the order they were written for full blown laugh out loud reading pleasure!" Scattered Thoughts and Rogue Words
About the Author: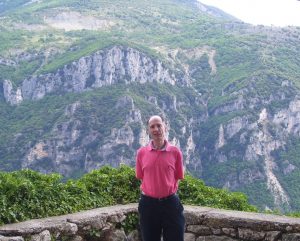 Joe Cosentino was voted Favorite LGBT Mystery, Humorous, and Contemporary Author of the Year by the readers of Divine Magazine for Drama Queen. He also wrote the other novels in the Nicky and Noah mystery series: Drama Muscle, Drama Cruise, Drama Luau, Drama Detective, Drama Fraternity, Drama Castle, Drama Dance; the Dreamspinner Press novellas: In My Heart/An Infatuation & A Shooting Star, the Bobby and Paolo Holiday Stories: A Home for the Holidays/The Perfect Gift/The First Noel, The Naked Prince and Other Tales from Fairyland with Holiday Tales from Fairyland; the Cozzi Cove series: Cozzi Cove: Bouncing Back, Cozzi Cove: Moving Forward, Cozzi Cove: Stepping Out, Cozzi Cove: New Beginnings, Cozzi Cove: Happy Endings (NineStar Press); and the Jana Lane mysteries: Paper Doll, Porcelain Doll, Satin Doll, China Doll, Rag Doll (The Wild Rose Press). He has appeared in principal acting roles in film, television, and theatre, opposite stars such as Bruce Willis, Rosie O'Donnell, Nathan Lane, Holland Taylor, and Jason Robards. Joe is currently Chair of the Department/Professor at a college in upstate New York, and he is happily married. Joe was voted 2nd Place Favorite LGBT Author of the Year in Divine Magazine's Readers' Choice Awards, and his books have received numerous Favorite Book of the Month Awards and Rainbow Award Honorable Mentions.
Website | Facebook | Twitter | Goodreads | Amazon Author Page
Buy the book at
Amazon
,
Smashwords
, or
Barnes and Noble
.