Long and Short Reviews welcomes Tara Lain who is celebrating the recent release of Rome and Jules. Enter the Rafflecopter at the end of the page for a chance to win a $10 Amazon gift card.
Captured by Ashland!
Hi and welcome. I'm Tara Lain and today I'm happy dancing over the release of my new paranormal romance, Rome and Jules. Long and Short Reviews asked me to share a little about myself and specifically suggested I might tell you a favorite vacation destination. Well, that gives me an excuse to share with you a huge, impending change in my life.
You might know that I love plays and theater, and a number of years ago, I heard about the Oregon Shakespeare Festival. OSF takes place in the beautiful Oregon town of Ashland, and my hubby and I planned a trip to spend several days immersed in plays. The theater is quite a big deal. It runs 9 months a year in five theaters including an outdoor Elizabethan stage, and tackles many more things than Shakespeare. We loved our trip. The theater was first rate and the town is totally charming. It's southern Oregon, so not so rainy as the north, but it's hilly and packed with trees. The town hosts a university and of course the OSF, so while the base population is small, it accommodates many, many tourists and students every year and provides the services that tourists like – wonderful restaurants, adorable shops – things I personally like a lot.
We went back to Ashland a few times, once taking my husband's father. He loved the town too. There's a beautiful creek that runs through it, a gorgeous park, not much traffic, its near an airport, and altogether support life as we like it. Though we had no idea then, when we started casting around for areas where we might make a retirement type move (he's retiring, not me!!) we settled on Ashland. As I write this, we've sold our house in California, my husband is in Ashland looking at a property we like, and we'll be Oregon residents in less than 60 days! It seems appropriate that Rome and Jules is based on Shakespeare, because old Will will be playing a very important role in my next phase of life.
Two werewolf households, both alike in dignity….

Rome Siracusa, youngest son of the alpha of the nouveau-riche Siracusa pack, wants to be a faithful son and pack member, but he's got two big secrets. One, he's blessed with enhanced hearing, vision, strength, and the ability to shift at will. Second, he's gay, a fact he can't admit to his deadly homophobic father.

Rome crashes a party at the mansion of his pack's greatest enemy, the ancient, pure-blooded Havillands. Jules, the gay son of the drunkard alpha, is being married off to a rich entrepreneur. Smitten and moved by the beautiful male's plight, Rome tries to find a way to save Jules—while digging himself deeper into pack politics and navigating his own arranged marriage. Secrets climb out of the caves as the werewolf gods speak through the mouths of their children, and the two great families clash, suffocating the hopes of star-crossed lovers.
Enjoy an Excerpt
Excerpt 2 – Rome and Jules by Tara Lain
Crawling through the balcony window wasn't exactly nonconfrontational. He plopped on the grass and pressed his back against the trunk of a tree. Maybe pebbles on the window? And if it's not his room, dumbass? It made sense he'd have the one balcony on this side of the house. Do I risk it? He's probably still out with Asshole Anderson. Man, that idea nauseated him. He closed his eyes and bumped the back of his head against the scratchy bark.
Lights shone against his closed lids, and he flicked his eyes open. Somebody's in that room. He rolled up to a crouch and stared at the french doors. Like he willed it, one of them opened and out walked Jules.
Whoa. Rome sucked a breath, and his alpha-advantage eyes focused clearly on the scene, even though he was many feet away. Jules's fair hair hung onto his shoulders, shimmering in the moonlight. He'd left his shirt open, and the white fabric barely contrasted with his pale chest—the chest that showed off those surprising muscles. He leaned on the parapet and sighed. Though hardly a whisper, Rome heard it clearly. He slipped a step closer.
Jules's head snapped up. "Is there someone there?"
Wow. Could he hear that? Think fast. "But soft. What light through yonder window breaks?" Rome stepped out from under the tree branches and stopped. If Jules was going to scream, he needed a head start on the pursuers.
Instead, Jules gave that head cock, full of curiosity and unselfconscious charm. "I've always liked the sun."
Rome let his smile break free. "I thought when I saw you that your hair looks like a great fall of sunlight."
"How poetic."
Rome walked slowly to the foot of the balcony and gazed up at Jules. Wild overgrown vines grew on trellises, some of them hanging away from the wall with the weight of the unkempt greenery. Rome pointed toward the window in front of him. "Is there someone sleeping inside?"
"No. There's no one else in my end of the wing on either floor."
"How nice."
Jules rested his forearms on the balcony rail and leaned his chin on them. "When you broke in the other night—and I still don't know how you did that—you said you wanted to be my friend and that you were worried about me being a pawn in a political game."
"Yes. That's all true."
"Umm. But I don't have any friends who recite Shakespeare to me. At least not Romeo and Juliet." He smiled ever so slightly.
Rome's heart beat hard. "And what does that suggest to you?"
"That the youngest son of the rich, powerful, and very homophobic Siracusa clan… is gay."
About the Author: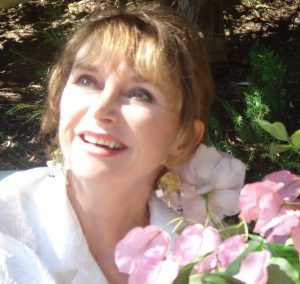 Tara Lain writes the Beautiful Boys of Romance in gay romance novels that star her unique, charismatic heroes. Her first novel was published in January of 2011 and she's now somewhere around book 40. Her best-selling novels have garnered awards for Best Series, Best Contemporary Romance, Best Paranormal Romance, Best Ménage, Best LGBT Romance, Best Gay Characters, Best Romantic Suspense, and more. In her other job, Tara owns an advertising and public relations firm. She often does workshops on both author promotion and writing craft. She lives with her soul-mate husband and her soul-mate dog near the sea in California where she sets a lot of her books. Passionate about diversity, justice, and new experiences, Tara says on her tombstone it will say "Yes"!
Website | Blog | Twitter | Facebook | Goodreads | Pinterest
Buy the book at Dreamspinner Press, Kindle, iBooks, Kobo, or Barnes and Noble.