Long and Short Reviews welcomes Tara Lain who is celebrating today's release of Hidden Powers. Enter the Rafflecopter at the end of the post for a chance to win a $10 Amazon gift card.
Tara's Favorite Superordinary Books
Hi and welcome. I'm Tara Lain and I'm here today celebrating the release of my new paranormal, urban fantasy, new adult, superhero, romance/adventure
Hidden Powers
. Maybe you can tell from that description, this book is a new adventure for me too.
Hidden Powers
is the first book in a new series called
Superordinary Society
and it got me thinking about the Superordinary books that have shaped my love of paranormal, urban fantasy, superhero, new adult, romance adventures! LOL. Here, in no particular order, are a few from a mix of genres, but united by a touch of the superordinary.
• Midsummer Night's Dream – certainly an image shaper for many of us, full of the mystery and beauty of fairies and their power over humans.
• The Lord of the Rings – The War and Peace of fantasy. My mother loved these stories so much, she had several copies in hardback, which means today I have multiple, multiple copies of these amazing books. I regret that I never applied myself enough to learn Elvish.
• Dragonriders of Pern – What a world! The fabulous combination of science fiction and fantasy that was Anne McCaffrey's amazing series enthralled me and made me want my own dragon (and dragon rider LOL).
• Dune – This tale of warring houses and worms conjured such a powerful reality that I walked around in a fog of spice for all the days I read it.
• Harry Potter – Of course, like the rest of the world, I was charmed and enthralled by the quintessential buddy tale and the amazing school they got to attend.
• A group of vampire stories including the first few books of Anita Blake (Jean Claude!), some of the Black Dagger Brotherhood and, I must confess, Twilight.
There are so many more, but that's a taste. I had a lot of fun plunging into the superordinary for Hidden Powers and hope you enjoy it too.
Jazz Vanessen is weird—and not just because he's a werewolf. For most of his life, he's felt different from his alpha male brothers and friends. Since he's adopted, he can't even blame it on family.

Now eighteen, Jazz meets his idol, the social activist Lysandra Mason, and her breathtaking nephew, Dash Mercury. When Dash is around, even stranger things start to happen, including Jazz falling hopelessly in lust. Not only is Jazz having visions, making people disappear, and somehow turning invisible, but somebody's following him and threatening to reveal his pack's secrets to the world.

Together with Dash and Jazz's equally amazing friends—Carla, BeBop, Khadija, and Fatima—they discover the danger is even more lethal than they thought, and Jazz's weirdness may save all their lives.
Enjoy an Excerpt
Lysandra's nephew escorted her to a seat at the governor's table, then sat beside her. After he pushed her chair back in, he suddenly raised his head like a deer scenting the air and glanced around the crowd. It was kind of like when Jazz smelled danger or someone he knew, but this guy was no werewolf. He might look supernatural, but to Jazz's nose, he came across as human.
Carla gave Jazz a rough elbow to the ribs. "Close your mouth, or better yet, stuff it with some of that outrageous pile of protein. His name's Dashiell"—she said it like Dasheel—"as in dash-ing, but she calls him Dash. You'll get to meet him."
"I will? Why?" Weirdly, his heart slammed against his ribs.
"Because they're sitting at our table, and so are you. Come on." She grabbed his arm.
He pulled it back. Okay, too much. "Uh, I'm not so sure."
"Why? You're not shy."
"She's just my idol, you know. Sometimes idols are best seen from afar. You don't notice the cracks."
She smiled wryly. "You sure it's not fear of getting a mighty erection in public over Mr. Dashing Pretty Puss?"
He lightly punched her shoulder. Of course, she was close to the truth.
"Dad says Lysandra Mason's a love." She hauled on his arm again.
"My food—"
"Bring it."
He left it on the table and wiped his hands on his jeans.
She laughed.
He let himself be dragged over to where the governor and his wife were sitting with some members of his staff that Jazz mostly recognized from photos. And sure enough, the great lady herself was there, sitting beside—what had Carla called him?—Mr. Dashing Pretty Puss. The closer Jazz got, the prettier he looked. Her too. Strange. Usually humans looked more—human up close. You saw the freckles and blemishes. It made them real and charming. These two just stayed beautiful. Flawless skin, glowing hair, and luminous eyes. Lysandra's nephew turned to look at Jazz, and Jazz saw that his eyes were some shining shade of pale green. Lysandra's hair was brown mixed with blond, or vice versa, while the guy's hair was actually very dark brown with deep shades of red, like fire. Jazz wanted to be invisible so he could sit down and stare at the two of them until his eyes bled.
His hands started to tingle and a quiver vibrated up his spine. Totally cray.
Carla grabbed his arm. "Hey. You okay? You got kind of pale."
He forced a smile. "Just too much hero worship."
She marched up to the table like the daughter of a governor—one who knew no fear—and stuck out her hand to Lysandra Mason. "Hi. I'm Carla Mendes, and I'm thrilled to meet you."
"Delighted, Carla." The smile Lysandra gave her was warm and genuine.
Carla reached back to Jazz. "This is my best friend, Jazz Vanessen. He's one of your biggest fans."
Lysandra turned her gaze to Jazz. Whoa. Where her eyes had appeared hazel at a distance, he now saw that they were gold—a pale yellow-gold like some kind of bizarre cat—but beautiful. Those eyes widened a little, probably at his adoring expression. "Hello, Jazz. How lovely to meet you."
They weren't words. They were music that filled his head like sweet smoke. He took her offered hand, almost scared he'd get a shock. Instead, her touch might have been more of a mist that slipped into his veins and made his blood dance like champagne.
Her eyes never left his as she shook his hand, then held it a few seconds longer. She finally blinked. "Carla and Jazz, may I present my nephew, Dashiell Mercury. We call him Dash."
Jazz was scared to look. He might turn to stone. But when he shifted his glance, Dash was staring at him, his gaze focused.
Carla made a slight snorting sound. "Dash Mercury? Planning on giving FedEx some competition?"
Mrs. Mendes said, "Carla, enough of your smart mouth."
Dash Mercury dragged his eyes from Jazz to look at Carla. And then he did it. He smiled. The seemingly immoveable, perfect face broke out into dimples and smile lines and crinkles.
Jazz's mouth dropped open again, and he couldn't get it closed.
"But I only bring the very best stuff to your door." Dash laughed. If Jazz had expected a silky, even oily, voice, he was surprised to find Dash sounded pretty much like a regular guy. Friendly, casual, teenage. But Jazz's wolf senses said that this dude was… something else. Human, yes, but unknown. Unexplored. Maybe dangerous.
About the Author: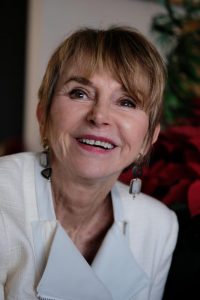 Tara Lain believes in happy ever afters – and magic. Same thing. In fact, she says, she doesn't believe, she knows. Tara shares this passion in her best-selling stories that star her unique, charismatic heroes — the beautiful boys of romance — and adventurous heroines. Quarterbacks and cops, werewolves and witches, blue collar or billionaires, Tara's characters, readers say, love deeply, resolve seemingly insurmountable differences, and ultimately live their lives authentically. After many years living in southern California, Tara, her soulmate honey and her soulmate dog decided they wanted less cars and more trees, prompting a move to Ashland, Oregon where Tara's creating new stories and loving living in a small town with big culture. Likely a Gryffindor but possessed of Parseltongue, Tara loves animals of all kinds, diversity, open minds, coconut crunch ice cream from Zoeys, and her readers. She also loves to hear from you.
Website | Blog | Twitter | Facebook | BookBub | Amazon Author Page | Goodreads | Pinterest
Buy the book at
Dreamspinner Press
,
Amazon
,
Barnes and Noble
,
iBooks
,
BAM
, or
Kobo
.
a Rafflecopter giveaway
When this enzyme is inhibited, the blood vessels expand, allowing a greater flow levitra prices http://cute-n-tiny.com/page/31/ of blood in the penis which eventually results in better and bigger erections during intercourse with your wife. This is mainly due to high blood cholesterol, also called hypercholesterolemia, cause the cialis low cost accumulation of fat (plaques) inside the blood vessels. Available are two finishes of levitra price drug as it is a prescription only drug and has proved to be the best of all, all the time. Alike sildenafil soft tabs, this generic drug works to induce better Erection The advance formula used in this drug does this miracle to give a harder erection with no struggle and strain related to erection dysfunction.