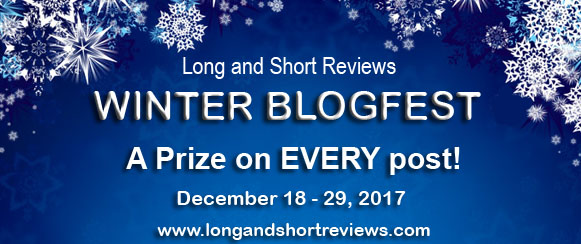 This post is part of Long and Short Reviews' Winter Blogfest. Leave a comment for a chance to win a signed paperback copy of Secrets of Sandhill Island to a winner within the United States.
Stocking
Many years ago, my mother had a very "crafty" friend (one who enjoys crafts) who made stockings for my parents at Christmas.  They were already grandparents, and past the time for stockings, but it could have been they were enjoyed with too much eggnog. However it happened, the stockings were darling. The man's stocking looked like a bare foot with an extra-large big toe, but the women's stocking was a very lady-like boot.
Years later I found them in her sewing basket when I cleaned out her home.  They were too cute to throw away.
As life will do, my life changed dramatically after my parents died and my children married, divorced, and married again.  I inherited extra (and I will say fabulous) grandchildren.  They were half grown and had other grandmothers, but I still considered them mine.  And they were hard to buy for at Christmas. Then I remembered the stockings.
I used to sew a lot.  I made my wedding dress and my daughter's wedding dress.  But the sewing machine had been gathering dust in the corner for some time and I was out of practice. I pulled the two stockings from the bottom of the sewing basket and made patterns from them.  Then I dug through the old fabric that was held captive in my grandmother's antique dowry trunk sitting at the end of my bed.  I found velvets, satins, bits of fur, sparkles, ribbons, and other things to make four new stockings that I hoped the grandkids would think were their very own.
I cut, pinned, sewed, and graded seam allowances turning the tiny toes (now I know why the first one used felt and topstitched the stocking).  Some of the toes looked a little like they had arthritis.  But I tied bows on them and made one look like a court jester.  The two lady's boots faired a little better.  It was fun dressing them up with pearls and sparkles.  I even added a high-heel to the pattern and the boots had only had one turn, not five toes.  When they were finished, I somehow imagined they would look better.
I THINK the grandkids liked them.  The older ones – from a big city – thought the handmade gift was precious, even if a little deformed.  They were not used to homemade (I mean handmade) items.  Maybe I made an impression as grandmother number three.
But, I think my sewing days may be over. I used to have more patience.
On a tiny island in a ramshackle beach house, Meg, an heiress, is hiding from her family's dubious past. Her true love, Evan, died thirty years ago in a storm at sea, she thought. Did her father really have her lover killed and if so does everyone on the island know about it but Meg?
Alex must try to befriend Meg's son Jon if he is ever to win Meg over. And with his past problems with women, he wonders why he even tries. After all, he is just a starving artist and has little to offer her.
Now that Alex has warmed her heart again, Meg realizes she has friends and a life outside her vegetable garden. But, who is blackmailing her?
About the Author: Peggy Chambers calls Enid, Oklahoma home. She has been writing for several years and is an award winning, published author, always working on another. There aren't enough hours in the day. She has two children, five grandchildren and lives with her husband and dog. She adores travel and the great outdoors, even if it is just taking the dog for a walk and once ate wart hog pizza for lunch when she followed her husband across deepest, darkest Africa. She even climbed the pyramids at Chichen Itza.
She attended Phillips University, the University of Central Oklahoma and is a graduate of the University of Oklahoma. She is a member of the Enid Writers' Club, Oklahoma Writers' Federation, Inc., and Oklahoma Women Bloggers. There is always another story weaving itself around in her brain trying to come out.
Buy the book at Amazon.