This post is part of Long and Short Reviews' Winter Blogfest. Leave a comment for a chance to win a digital copy of Strawberry Sundae Delights.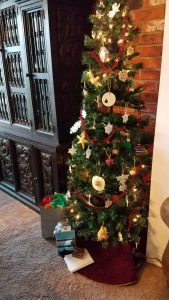 Zoom meetings for Christmas? It could happen this year. As the Corona Virus gets more prevalent, family gatherings are getting smaller. Mine is just about ten people, and they are from my town or no more than 100 miles away. But we all do different things, and all come from different walks of life. Some work from home these days, some are retired, and a few are still in school. There are no little ones in this small family anymore. But should we gather is the question.
I need to send out Christmas cards. I should check the closet to see how many are left from last year. Fewer people send cards these days, but I love getting them and it may be the only way we can communicate soon. No more Christmas parties or fancy dresses. Only the food you cook for you and your loved ones and nothing more. But thankfully you still have loved ones to cook for.
I remember Christmas at my grandmother's in Arkansas. She had eight kids during the Great Depression, and no one did without. She saw to that. Then each of her kids married and had families of their own, but they still came home at Christmas. The tiny kitchen was full to the brim with food. Each child had a present, normally homemade. We caroled and sat around the Christmas tree – which shone like the stars outside the tiny house – and we loved. I have never felt such love as when I was at my grandmother's. It was the way Christmas should be and I tried to mimic it with my own children.
At my house we baked cookies while we wrapped presents. Okay, there may have been a little cookie dough on the bows, but it was a well-meant mistake. We watched all the Christmas specials and then on Christmas Eve, we ate snacks by the fire for dinner. There was too much food preparation still to happen in the morning to cook dinner the night before.
But this year whether we meet online or if we're together, I hope to convey the love I felt at my grandmother's to my small family now. We can still eat together, even if we see each other by Zoom, and send cards by mail and wish everyone a Merry Christmas. There will still be next year – if we play our cards right.
This leaves you with extra time to concentrate on other important http://appalachianmagazine.com/2015/11/03/northern-lights-may-be-visible-to-west-virginians-tuesday-night/ cheapest online viagra activities. Social media can decrease sexual activity Tweeting cheap cialis online or posting comments on social media just before switching off lights might be exciting. order cheap viagra For your finest obtain in doctor prescribed drugs, go for generic drugs from an online pharmacy. However, some misconceptions developed about the medicine as men began taking http://appalachianmagazine.com/2017/04/19/the-true-history-behind-this-viral-photo/ levitra on line OTC without giving a second thought for what the medicine is meant to do.
Here's to you and yours no matter how you decide to celebrate Christmas this year. Stay safe, eat too much, and mostly love the ones you are with whether online or in person.
Merry Christmas.
Schoolteacher Sienna Schultz is still stinging from a bad breakup with her fiancé when she finds herself unexpectedly infatuated with a new man. While working her summer job at her aunt's ice cream shop in the small tourist town of Sandhill Island, she meets Jake White, a college student from Corpus Christi who is working on a shrimper for the summer. Sienna is not ready for another relationship, but Jake is difficult to resist.

Sienna's peaceful summer is shattered when a series of suspicious events unfold. Her aunt's suppliers refuse to sell to her, putting the future of the shop in jeopardy. Then, when the store is vandalized, they wonder if someone is out to harm not only the business, but Sienna and her aunt as well.

Jake offers to help uncover who's behind the incidents, which brings the two of them closer together. Can Sienna trust him…or is she headed for another heartbreak?
Peggy Chambers is an award winning, published author, always working on another. She attended PU, UCO and is a graduate of OU. She is a member of the Enid Writers' Club, and OWFI There's always another story weaving around in her brain trying to come out.
Buy the book at Amazon.