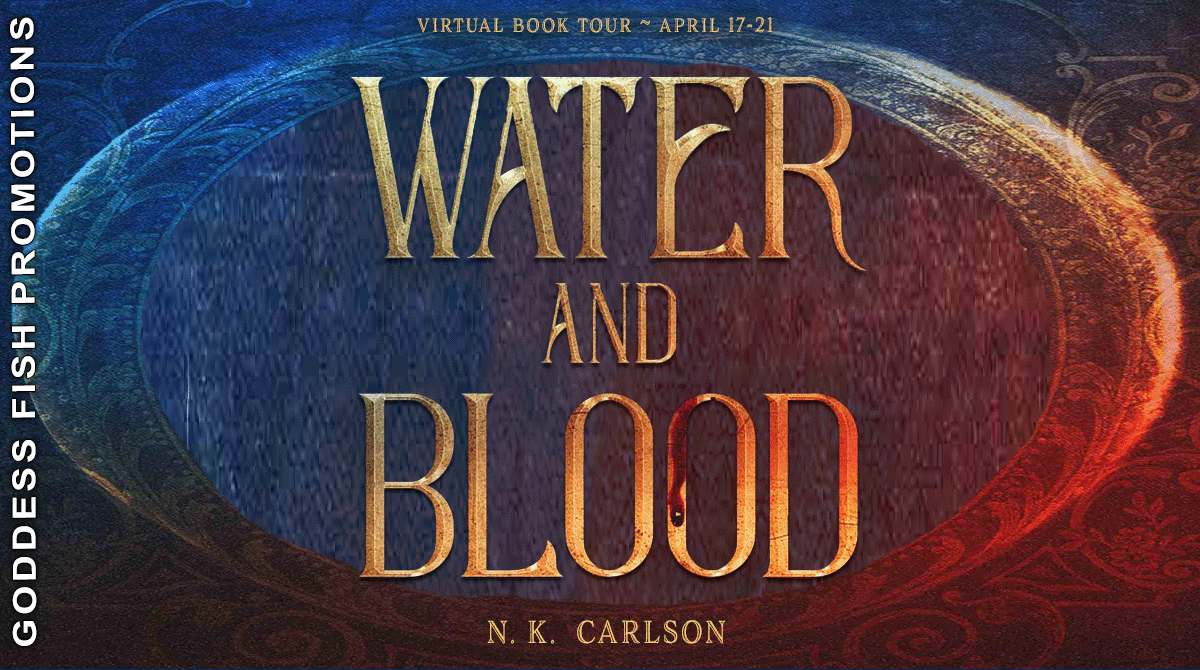 This post is part of a virtual book tour organized by Goddess Fish Promotions. N. K. Carlson will be awarding a $10 Amazon/BN GC to a randomly drawn winner via rafflecopter during the tour. Click on the tour banner to see the other stops on the tour.
Character Creation
Thanks for having me on the blog! Today, I'd like to talk a bit about character creation. As a fantasy author, character creation is right up there with world building and plot development in terms of importance. You can create a wonderfully engaging world with great plot devices, but if the characters aren't realistic or unique, you don't have a good story.
There are a few things I use to help get inspiration for characters. First, I find personality profiles to be very helpful when crafting a character. Myers-Briggs and the enneagram are two that I have used to shape characters. I have found Myers-Briggs to be helpful when describing the sort of things a character does, while the enneagram is very helpful to identify motivations and the internal life of a character. For main characters, if you're in their head at all, it's important to know those motivations and what's going on in their head, so I always know my main characters' enneagram numbers. For background and secondary characters, it's generally fine to simply know how they present to the world, without getting into the nitty gritty of their enneagram, so their Myers-Briggs type is good to know.
Second, dialogue is very important. If every character has similar speech patterns, all of the characters start to blend together. Unless you have a full cast audiobook, it's hard to get accents to come across, which is one of the ways we differentiate people in real life. As such, on the page, each character needs their own vocabulary and syntax. In a fantasy world, those things need to make sense regionally within the world, so that similar characters from the same place should talk the same, while someone from another part of the world should speak slightly differently. That's a hard one to get right, and I usually "hear" the characters speaking their dialogue in my head, which helps me as I write.
Third, characters need to have believable character arcs. If a character is a coward all through a series, it doesn't make sense for them to do something utterly heroic in the climax. There needs to be small steps toward whatever that big character development piece is for their character. Neville Longbottom in "Harry Potter" is a very well developed character for someone who stays in the background for so long. When he stands up to the three main characters in "Sorcerer's Stone" it's a natural progression of him becoming more assertive throughout the story.
Thanks again for having me on! Readers, if you'd like to chat more about character creation, I am very findable on Twitter, Facebook, and Instagram! Talk to you soon!
Clashes on a pirate ship, battles on a castle wall, and an ancient secret unfolds. When life or death is at stake, one side must make a sacrifice to win.

After fleeing the Elven capital, Reith and his friends must race across Terrasohnen to warn the dwarves of the Shadow's long reach. Each new revelation brings even more questions and Reith has so much to learn about Shadows and his mysterious sword. Time is against Reith. Death stalks him in the desert, mountains, and sea, and the ever present darkness looms large over all.

Will they reach the dwarves in time to prevent more death? Or will the Shadow's destruction be too great, consuming everyone in the kingdoms of Terrasohnen?
Enjoy an Excerpt
"So, if a fight is coming, what then? What does find me mean?" Reith asked.
"I have no idea," Romulus said. "I have a suspicion that the Voice belongs to a Guardian of Light, or even the God of Light. You have a destiny, Reith."
"Why me?"
"All chosen by the God of Light for one task or another ask that question. It is beyond our wisdom. The God of Light has purposes and plans we can know nothing about. He has written the story of Terrasohnen on the world, and we are following along as best we can, though the ending is hidden from our eyes. But as for your question, I do not believe the God of Light calls someone unless he purposes to accomplish something in and through them."
"So you think I will be successful in whatever this is?"
"I don't think it, I believe it. I have faith in the God of Light. I think he or someone speaking for him is speaking to you, so I trust that he will be with you."
"Easy for you to say," Reith said, "You're not the one facing fighting and finding."
"Perhaps not finding, but certainly fighting."
They rode on in silence for a few minutes.
"You promised to return the favor," Reith said. "Tell me about you."
"I am Romulus, firstborn son of King Koinas, heir to the throne of the elves. My mother died seven winters ago. I am the only remaining child of her and my father. He shall be furious that I have gone, but it is for the best. I was raised in the palace of Sardis and had the greatest tutors in history, mathematics, law, military strategy, astronomy, jousting, archery, and swordplay. As prince, I felt a great concern for my people, that all would be treated with fairness and justice. I have taken an interest in hearing the grievances of my people against one another and against the crown, which I did my best to decide equitably. I know rulers do not choose their monikers, but Romulus the Just has a nice ring to it. I hope to live up to it. And now, I am afraid that the greatest threat to the kingdom and my people is my father, and so I am on this quest beside you, fleeing from his wrath to a foreign land to beg for aid."
"Sounds bleak," Reith said, not really knowing what to say to the prince.
"It's not as bleak as one might think. The God of Light is with us. We saw that at the funeral pyre for Kydar. And when the God of Light is with us, who can oppose us?"
About the Author:
N. K. Carlson is an author living in Texas. Originally from the Chicago area, he graduated from the University of Illinois before studying at Logsdon Seminary, where he graduated with a master of divinity degree. He has published two books.
The Things that Charm Us and the Smelly Gospel (which was co-written with Drew Doss) both came out in 2020.
His love of writing began in elementary school when each student was given a blank white book to fill with a story. In college, he took an interest in blogging and writing novels.
Website | Facebook | Twitter
Buy the book at
Barnes and Noble
or
Amazon
.