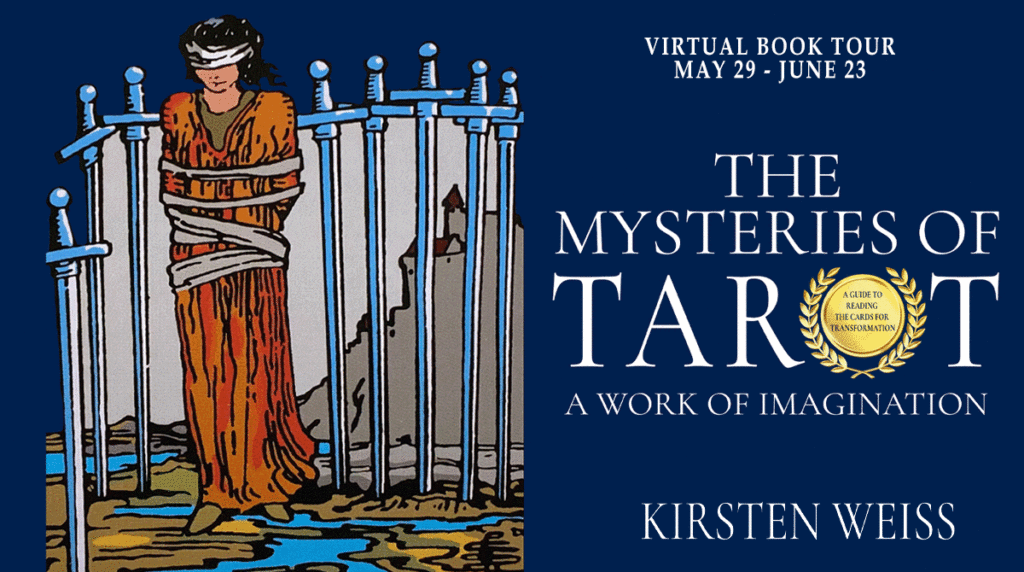 This post is part of a virtual book tour organized by Goddess Fish Promotions. Kirsten Weiss will be awarding a $10 Amazon or B/N GC to a randomly drawn winner via rafflecopter during the tour. Click on the tour banner to see the other stops on the tour.
Secrets of the Cozy Mystery Genre: A Journey into Whodunits with a Twist
My favorite genre to read and write is the cozy mystery—a world of charming small towns, clever amateur sleuths, and tantalizing puzzles that keep readers captivated until the final page. It all started when I picked up my first Agatha Christie, the queen of cozies.
Here are some of the secrets that make cozy mysteries so uniquely beloved among readers.
The Quaint Setting: One of the signature elements of cozy mysteries is the idyllic and picturesque setting. Whether it's a cozy coastal town, a charming English village, or a quaint countryside, the setting becomes an integral part of the story, almost like a character itself. Readers are transported to a place where neighbors know each other, tea is always brewing, and a sense of community pervades the air.
The Amateur Sleuth: Unlike traditional mysteries, cozy mysteries feature amateur sleuths who stumble upon crimes and take it upon themselves to solve them. These relatable and endearing protagonists may be librarians, tearoom owners, Tarot readers, or even retired school teachers—ordinary people with an extraordinary knack for uncovering secrets. Their amateur status adds an extra layer of charm and authenticity to the stories.
Whodunit with a Twist: While the cozy mystery genre typically eschews graphic violence and gore, it compensates with intricate puzzle-solving and engaging plot twists. Readers are challenged to unravel the mystery alongside the amateur sleuth, sifting through clues and red herrings, until the final reveal leaves them gasping with surprise and satisfaction. Cozy mysteries are all about the intellectual thrill of putting the pieces together.
An Engaging Cast of Characters: From quirky best friends to eccentric town residents, cozy mysteries are populated with a colorful array of characters who add depth and humor to the narrative. These secondary characters often have their own secrets and quirks, creating a rich tapestry of relationships that enhances the overall storytelling experience.
Themed Coziness: Another secret ingredient of cozy mysteries is the incorporation of cozy elements that readers can't help but fall in love with. Whether it's the inclusion of mouthwatering recipes, tea rituals, knitting circles, book clubs, or gardening tips, cozy mysteries offer readers an escape into a world of comfort and relaxation, where everyday activities become an integral part of the narrative.
The Power of Connection: Cozy mysteries foster a sense of camaraderie and connection between the reader and the characters. As we follow the amateur sleuth on their journey, we become emotionally invested in their lives, their triumphs, and their struggles. We celebrate their victories and feel their heartache, forging a bond that keeps us coming back for more.
Whether you're curling up on a rainy day or seeking a comforting escape from the hustle and bustle of life, cozy mysteries offer a delightful refuge where puzzles are solved, justice is served, and the human spirit triumphs.
My newest book, The Mysteries of Tarot, is experimental mystery fiction: part Tarot guidebook/part murder mystery. It's a supplement to my Tea and Tarot cozy mystery series, which begins with Steeped in Murder. And it's ostensibly written by Hyperion Night, the Tarot reading half of the series' amateur detecting duo.
Happy sleuthing!
The Mysteries of Tarot: A Work of the Imagination

How to Read the Cards for Transformation
When Tarot reader Hyperion Night sent his manuscript, The Mysteries of Tarot, to a friend to edit, it was a simple guide to reading Tarot. Hyperion couldn't anticipate that his editor's notes would evolve into a murder mystery, or that his friend would go missing. Shockingly, the annotated manuscript eventually made its way back to Hyperion, who forwarded it to the authorities.

Now this astonishing Tarot guide is available as a book. The Tarot guidebook features:
• Tarot basics―How to manage different interpretations of cards in a spread, how to read court cards, and a clear and simple method for dealing with reversals.
• Detailed card breakdowns― Keywords, flash non-fiction narratives, and a deep dive into the symbols of each of the 78 cards of the Major Arcana and Minor Arcana.
• Questions to apply to the cards for transforming your life―Insightful questions for each card to help you dig deeper into your Tarot reading practice.

Bonus feature: the guidebook also includes his editor's comments on the more esoteric and philosophical interpretations of the Tarot, as well as his notes on the baffling mystery that engulfed him.

Gain deep insight from the cards, transform yourself, and solve The Mysteries of Tarot with this work of experimental fiction that's part Tarot guidebook, part murder mystery.
Enjoy an Excerpt
The Moon
Messages from the unconscious. Mystery. Confusion. Dreams. Illusion.
Last night, I dreamt of a departed aunt I'd had a contentious relationship with. She walked down the hallway of my apartment and sat beside me in the living room.
Suddenly I remembered she was dead and understood I was dreaming. But instead of the dream ending, like it usually does when I become aware, we talked—the kind of talk we'd never been able to have when she was alive. She apologized for some things she'd said and done and helped me understand why she'd said and done them. And her reasons weren't awful. They made a lot of sense.
I apologized too, because I hadn't been innocent in the turn our relationship had taken. We forgave each other. I woke up feeling lighter. Free.
The Symbols
I'm still not sure if it was "only" a lucid dream or a visitation from my relative. I don't know if it matters. It was all very lunar, very moonlike. And not just because the Moon card can represent dreams. Moons with their waxing and waning also represents illusion and confusion, messages from the subconscious crawling up out of the muck like that lobster creeping from the water in the card. A dog and a wolf, representing the refined conscious and the more primitive subconscious, howl at the moon's light.
And all of those things had been at play in my life. I'd created a false—or at least incomplete—story in my mind of the cause of my estrangement from my relative (illusion/confusion). But the truth bubbled up from my subconscious in last night's dream. If it hadn't, I'd still be carrying that burden.
What Does This Card Mean for You?
When the Moon card appears in a Tarot reading, it suggests we may not be seeing things clearly. But the truth is out there — or in there, as the case may be.
How can you bring your subconscious impulses or knowledge into conscious light? The road between the two towers in the card is long, dark, and winding. Have patience. Be brave.
Notes: The Moon
44 As to The Moon, I feel like I'm swimming in it. At first my father's death seemed like an accident, a fall from the balcony outside his bedroom. He's been drinking more than usual lately. But the servants swear he wasn't drinking that night. And the balcony railing is low. He could have fallen by accident.
I keep replaying our last conversation. Had he been thinking then of taking his own life? Was that why he'd come to see me? Because he knew I'd been a failure when I'd tried my hand at self-deletion? Maybe he wanted me to talk him out of it?
I don't understand. But I'll try to keep up with the daily edits, where I feel I have something to add. I need to keep my mind busy. -T
About the Author: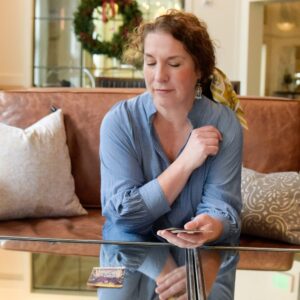 Kirsten Weiss writes laugh-out-loud, page-turning mysteries, and now a Tarot guidebook that's a work of experimental fiction. Her heroes and heroines aren't perfect, but they're smart, they struggle, and they succeed. Kirsten writes in a house high on a hill in the Colorado woods and occasionally ventures out for wine and chocolate. Or for a visit to the local pie shop.
Kirsten is best known for her Wits' End, Perfectly Proper Paranormal Museum, and Tea & Tarot cozy mystery books. So if you like funny, action-packed mysteries with complicated heroines, just turn the page…
Twitter | Website
Buy the book at Amazon, Barnes and Noble, Google Play, Kobo, or iBooks.