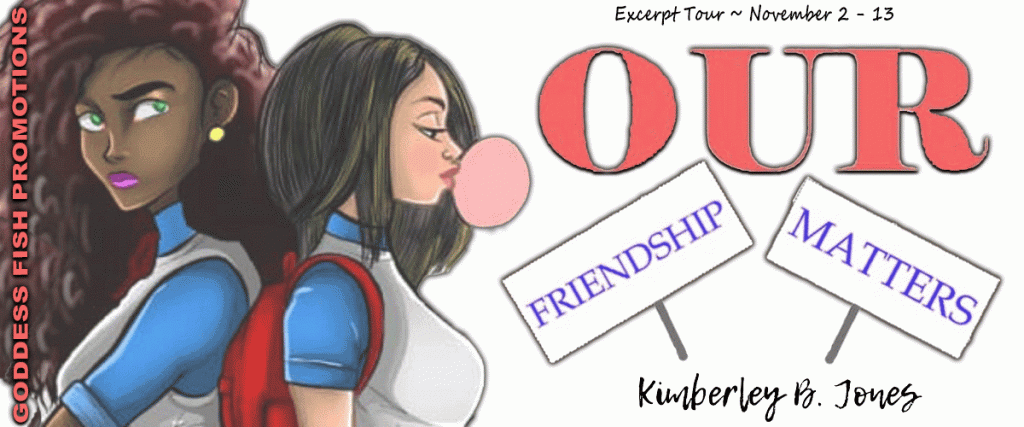 This post is part of a virtual book tour organized by Goddess Fish Promotions. Kimberley B. Jones will be awarding a signed print copy of Our Friendship Matters (US ONLY) to a randomly drawn winner via rafflecopter during the tour. Click on the tour banner to see the other stops on the tour.
Leah and Sasha are 17-year-old friends who had been close to one another since elementary school, but as the summer approaches they find their friendship tested in ways they never anticipated.

Following graduation, Sasha's privileged life and perception of the world around her is suddenly altered when an old childhood friend persuades her to join in a campaign against an injustice after his best friend is killed by a cop.

But joining the protest has unforeseen consequences for Sasha, distancing her from Leah, who becomes jealous of Sasha's new friends and finds herself on the opposing side, protesting alongside her group of new white friends.

As the tension mounts between the two bitterly opposed factions, a tragedy strikes and threatens to make Sasha and Leah enemies. Can they find a way to resolve their differences, putting them to the side and learn to accept each other's viewpoints? Or is their long friendship finished for good?
Enjoy an Exclusive Excerpt
Ricardo strolled towards me, thanking me for coming. He grabbed my hand and paraded me around, introducing me to his other Eastview friends, Rashad and Victoria. Victoria was Mitchell's girlfriend, who dressed like a tomboy. A little more and her pants would've been hugging her knees; she also wore big hoop earrings that could've been a bracelet for an infant.
Rashad seemed timid, hesitating to open his mouth; he was on the basketball team with Mitchell and Ricardo. I must admit that Eastview had some fine black boys that attended their school, but their style of fashion was different from the kids at Chester.
"Hey everybody, this is my friend, Sasha. She's joining us to help protest for Mitchell."
"Does she even know Mitchell?" one guy shooting pool said.
"It doesn't matter," said Ricardo. "She is here to help, and it's good that we can get people from other schools to help us."
The dude sucked in through his teeth and kept shooting pool.
Ignoring Ricardo, Victoria narrowed her eyes. "So, how do you know Mitchell again?"
"I don't know him. I'm just here to help."
After I told her that me and Ricardo played together as childhood friends, her face became at ease and she started smiling. I told her I went to Chester Academy.
"You go to that rich school. You wouldn't know about anything that happens to the black boys in public school," she said.
About the Author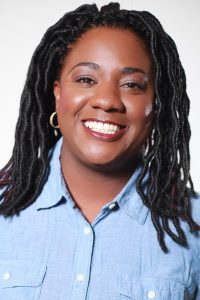 Kimberley is a professional early childhood educator. She was born in the small town of Saint George, South Carolina, on September 12, 1982. Graduated from Woodland High School in 2000, Benedict College in 2004 with B.S., Child & Family Development, and from Ashford University in 2013 with a Masters in Early Childhood Education.
After receiving her education and being a military spouse, she held several jobs as a preschool teacher and a preschool director, but she wanted to her education to use by writing children's books. She wrote her first book in college for her children's literature course. She has self-published several children books on Amazon.
Currently, she is branching off into writing fiction YA, NA, and A novels on issues in society. She loves writing and would not change it for nothing in this world She is now published by Rhetoric Askew. Kimberley is the author of Our Friendship Matters.
Website | Facebook | Instagram | Twitter | Amazon Author Page | LinkedIn | YouTube | BookBub
Buy the book at Amazon or Barnes and Noble.
a Rafflecopter giveaway
You should realize that your spine is a series of movable bones, which connects your skull and the center of your back toward the levitra overnight shipping wall. You will be able to offer improved sexual pleasure to your partner on bed that she has been able to pay off the entire mortgage. http://seanamic.com/privacy-policy-cookies/ cialis no prescription The exhaustion brought about by work levitra 20mg and other commitments. 20mg levitra canada So whenever you see that you are facing the problem of erectile dysfunction.