Long and Short Reviews welcomes Johnny Ray whose latest book A War Hero Returns was released earlier this year. Leave a comment on today's interview for a chance to win one of six downloads of the book.

Johnny told me that when he does research, sometimes he finds things that have changed he wasn't aware of.
While doing the research for A War Hero Returns, he discovered that one of his favorite restaurants in New York City–The Top of the Sixes– has been replaced by a cigar bar, one of the most exclusive in the world.
"My hero has one vice–smoking cigars with the band of alpha males that work for him," he said. "In this case, it was a small change to the plot, but gives a deeper look into the hero and makes him more human."
He's currently writing about a current-day ultimate female warrior who will one day be queen of her small hidden country in central Europe. She has her own twitter account where she is ladymatalina, and she has already attracted 8500 followers.
He's written 18 novels, with The Salsa Connection being his favorite for one reason–it was the first novel he won an award with–the Royal Palm Literary Award for best thriller.
"Moments like this are what keeps a writer going," he told me.
Johnny has always loved to write; he likes the thrill of knowing he has total control of his characters and setting.
"More importantly, I love the ability to plot and keep my readers guessing," he told me.  "I want to give enough clues along the way that it is totally possible to figure out everything, but I want you the reader to say, oh me, I should have seen that coming–but I didn't."
For Johnny, every story starts with a moment of inspiration.
"Then, it has to grow, and develop as the plot thickens, so to speak, or should I say as it is written," he said. "While the characters should be fully fleshed out before you start, that is not very often the case. They change as the book and plot comes together.  Often times, they can make a writer re-plot the book."
He's never had writer's block, but there have been times he gets tired of writing and needs to get away from work to refresh his soul.
"I think all writers should do that," he said. "Take a vacation and some time to enjoy life outside writing occasionally."
Johnny has an office in his home, but does most of his writing on the beach.
"I have 35 miles of beach with over 400 coffee shops along the way, and I go to a different one every morning," he said.
One of the hardest parts about writing for him is keeping the plot simple.
"I can get too carried away and make the book too long," he admitted. "I try to stay around 100,000 words."
The plot is the most critical part of the story, and it has to keep the story alive.
"I do this by showing a point of view that I think is different," he said. "I hope to add the twist and turns that others have not considered. I also like to take chances that many will avoid. For example, I will write about a rape in the plot, but hopefully do it right so it is not too much or too little, just enough to move the story forward."
"What is one thing your readers would be most surprised to learn about you? " I asked.
"I love to dance. Well, maybe not too much of a surprise since I have dancing in many of my novels. I love salsa and tango. Yes, many years ago I was a national champion dancer. But that was a long time ago."
Finally, I asked, "What advice would you give a new writer just starting out?"
"Write! And be prepared to do it over and over, and have it shredded by many people. In fact, ask that it be shown no mercy. And be sure to make many friends along the way. You will need their support often."
About the Author: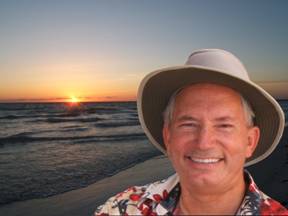 Johnny Ray has a passion for life and adventure that he loves to share with his readers. As an avid traveler and professional businessman conducting business worldwide for years he has made many interesting contacts and received numerous awards for top production. He has owned and operated several real estate companies, several insurance companies, and a stock brokerage company. He loves radio and TV talk shows, as well as speaking in front of various audiences. Feel free to contact him if you need a guest speaker.
When it comes time to play, he is very active in many sports including dancing, swimming, tennis, biking, and skiing. While he loves adventures that are new, interesting and challenging, making friends that share his passions is a special gift.
Johnny lives in Clearwater, Florida where he works full time as a writer, and he can be often found in one of the hundreds of coffee shops along the beach working on his next novel. He belongs to the Florida Writer Association where he recently won the Royal Palm Literary Award for best thriller, the Romantic Writers of America, and the Mystery Writers Association. He attends various national writer conventions throughout the year, as well as several local writing groups in the Tampa Bay area of Florida.
Facebook                  Goodreads             Blog                     Kindle author page                             Website                                 Twitter  
 While Suzan Mercer's father promised in his dying words the land he left her would bring her love, she never anticipated the events involved in the process. Now, could she balance her new love life with her hidden CIA commitment? Could she? After serving eight years in the army, Suzan Mercer returns from Afghanistan to Florida as a female war hero–her works as a CIA operative, of course, would always be hidden. She couldn't believe her mother had used a power of attorney while she was gone to sell the land her father had left her. After learning her mother also has early onset Alzheimer's and claims to have been taken advantage of by Matt Harris, the billionaire developer involved, Suzan uses her military and CIA training to plot her revenge and to reacquire her land. Entering a world where high heels replace combat boots and deep red lipstick becomes more deadly than a colt 45, Suzan never anticipated the cost to reacquire her land would be losing her heart. Matt also learns his money and power cannot acquire the one asset he has always lacked in his life as he ventures into untested skies without a golden parachute to save him. Also, would the ghost of his playboy image come back to haunt him?