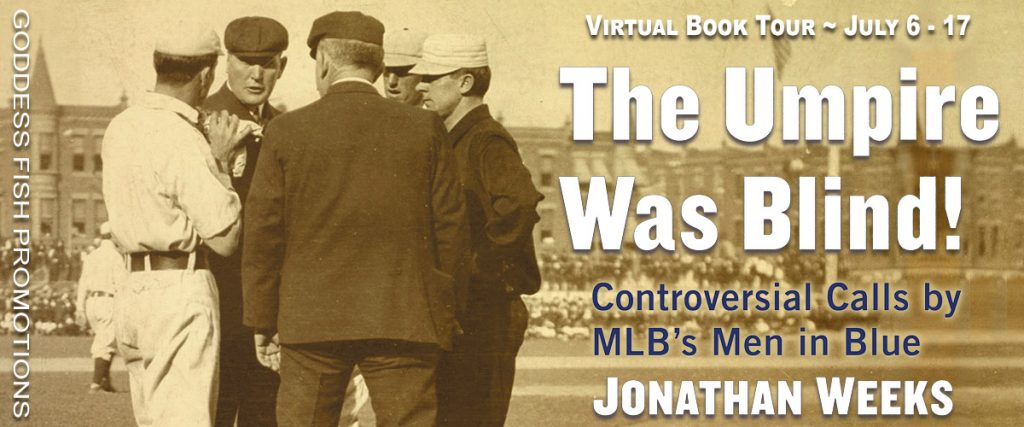 This post is part of a virtual book tour organized by Goddess Fish Promotions. Jonathan Weeks will be awarding a $25 Amazon Gift Card to a randomly drawn winner via rafflecopter during the tour. Click on the tour banner to see the other stops on the tour.
UMPIRES OF THE OLD SCHOOL: TIM HURST
At 5-foot-5, the diminutive Hurst was known to some as "Tiny Tim." But true to the words of an iconic Star Wars character, he proved that "size matters not." The pugnacious Hurst was known to keep players under control with both words and fists. Hailed by a writer from the The Sporting Life for "having the finest brand of keen-cutting, kill-at-a-thousand-yards sarcasm of any umpire in captivity," his fiery temperament would eventually drive him out of baseball.
Born to Irish parents in Ashland, Pennsylvania, Hurst learned to fight at an early age. His father worked in the wholesale liquor business then purchased a horse and wagon to deliver coal. Young Tim was expected to help support the family and, as a youth, he picked slate for a local mining establishment. Rounds of fisticuffs were common among workers during lunch hours and Hurst was sometimes in the mix. His love of boxing led to multiple stints as a fight referee in the years that followed.
At twenty-two years of age, Hurst became a professional umpire in the Central Pennsylvania League. He called plays in the Southern League and Western Association before taking a job as manager of the Minneapolis Millers. The Millers came close to winning a championship on his watch, but Hurst failed to endear himself to club executives and ended up being replaced. In 1891, he joined the umpiring crew of the National League.
Hurst was well-suited to the rowdy days of early baseball. Hall of Fame arbiter Bill Klem recalled: "[Hurst] was so tough that if a ballplayer did not like one of his decisions and challenged him on the field, Tim would say 'OK, we'll stop the game and go right under the stands and settle it now.'"
With a reputation for making highly accurate decisions, Hurst had an interesting way of maintaining order behind the plate. "Never put a catcher out of a game," he told a New York Herald reporter. "If the man in back of the bat is sassy and objects to your calling of balls and strikes, keep close behind him while doing your work and kick him every time he reaches out to catch a ball. After about the third kick, he'll shut up."
Sometimes Hurst's feisty temperament led to amusing results. According to historian Fred Lieb, Hurst made a call that went against Cincinnati's third baseman, Arlie Latham, one day. Latham tore off his glove and kicked it in protest. It landed at the feet of Hurst, who promptly kicked it right back to Latham. The festivities didn't end there. According to Lieb: "taking turns, Arlie and Tim booted the glove all the way to the outfield fence."
On a number of occasions, Hurst's outbursts were less than entertaining. In 1897, he was arrested in Cincinnati after he picked up a beer stein that had been tossed onto the field by an angry fan and whipped it back into the stands. The projectile hit a local fireman named James Cartuyvelles, opening a deep gash over his eye. Several years later, Hurst got into a physical altercation with New York Highlanders manager Clark Griffith during an on-field dispute. Though Griffith denied being punched when questioned afterward, his swollen lip lent little credence to that claim. Both men were suspended for five games.
In addition to his violent outbursts, Hurst was known to generate prolific streams of profanity. In 1900, multiple NL owners requested that he be banned from their ballparks due to his "ungentlemanly language." The final straw for Hurst came on August 3, 1909. During the second game of a doubleheader between the A's and White Sox in Philadelphia, Hurst made an uncharacteristically erroneous call on Eddie Collins. Collins was evidently safe at second base, but Hurst ruled him out, believing there had been some sort of interference on the play. When Collins protested, Hurst resorted to reprehensible behavior. In the colorful language of Philadelphia North American sportswriter, Jimmy Isaminger: "…the umpire distributed a mouthful of moistened union-made tobacco in the direction of youthful Eddie, who immediately called Tim's attention to the Board of Health ordinance which prohibits expectorating in public places." Fans went ballistic, throwing cushions and bottles in Hurst's direction after the game. It took police nearly half an hour to safely escort the embattled arbiter out of the stadium.
After a full investigation of the spitting incident, Hurst was fired by AL President Ban Johnson. He had already tested Johnson's patience earlier in the season when he traded punches with infielder Kid Elberfeld. Few sportswriters were terribly surprised by the outcome. A correspondent from The Sporting Life remarked: "Umpire Tim Hurst's excessive pugnacity has at last landed him outside the major league breastworks—as had long been expected."
Cast out of baseball, Hurst turned to other sports as a promoter. He later made a living selling real estate. In 1915, he died suddenly after a bout with food poisoning. He had been ill for some time before then though his condition was not considered terribly serious.
In the words of former American League umpire Nestor Chylak, umpires are expected to "be perfect on the first day of the season and then get better every day." Forced to deal with sullen managers and explosive players, they often take the blame for the failures of both. But let's face it—umpires are only human.

For well over a century, the fortunes of Major League teams—and the fabric of baseball history itself—have been dramatically affected by the flawed decisions of officials. While the use of video replay in recent decades has reduced the number of bitter disputes, many situations remain exempt from review and are subject to swirling controversy. In the heat of the moment mistakes are often made, sometimes with monumental consequences.
Enjoy an Excerpt
…The World Series opened in Pittsburgh with a convincing 4-1 Washington victory. The Pirates bounced back in Game 2, surviving a late Senators rally to win, 3-2. The third meeting took place in the nation's capital, where the sale of more than thirty-six thousand tickets necessitated the construction of temporary bleachers at Griffith Stadium. Braving the elements on a cold, breezy Saturday afternoon, President Calvin Coolidge was among those in attendance.
The two teams pecked away at each other through six innings, scattering runs here and there. Facing right-hander Ray Kremer, the Senators loaded the bases with one out in the bottom of the seventh. First baseman Joe Judge—a fixture in the Washington lineup for over a decade—drove in Earl McNeely with a sacrifice fly. Right fielder Joe Harris followed with a single, putting the Senators up, 4-3.
Looking to protect the lead, Washington player/manager Bucky Harris implemented a defensive switch, moving Rice to right field from center to accommodate McNeely, who had been inserted as a pinch-runner. Firpo Marberry, the game's first prominent relief specialist, was summoned from the bullpen. The Senators appeared to be safe from harm when Marberry struck out shortstop Glenn Wright and first baseman George Grantham in succession. But things got interesting when catcher Earl Smith came to bat.
Smith's .313 average during the regular season was second best in the majors among players with at least ninety-five appearances behind the plate. A spirited brawler who rarely backed down from a challenge, Smith drove Marberry's 2-2 offering to deep right field, where Rice sprang into action. The wide-ranging outfielder sprinted toward the ball and made a back-handed stab in front of the temporary bleachers. Unable to stop his forward momentum, he tumbled over the barrier into the stands and disappeared from view. What happened in the next few seconds remains uncertain.
In those days, umpiring crews consisted of four men with one being assigned to each infield station. Attending to second base that day, veteran arbiter Cy Rigler rushed to the scene to make the call. Several seconds passed before Rice reappeared. Years later, an eyewitness remarked that "it was longer than a TV station break with eight consecutive commercials." Another spectator—a man named Norman Budesheim—claimed that Rice dropped the ball before he landed and then jostled with fans for possession. Whatever the case, Rice had the ball in his glove when he finally rose to his feet. Rigler signaled for the out and, after a lengthy discussion, his decision was supported by the rest of the crew.
On the heels of the Senators' 4-3 win, more than 1,600 fans wrote to commissioner Kenesaw Mountain Landis to relay their side of the story. Some even sent notarized affidavits attesting to the fact that Rice had dropped the ball. Going straight to the source, Landis summoned Rice to his hotel the following day and asked him point-blank if he had made the catch. The tight-lipped Hall of Famer replied guardedly: "Judge, the umpire said I did." Landis mulled this over for a few seconds and responded: ""Sam, let's leave it that way."
About the Author: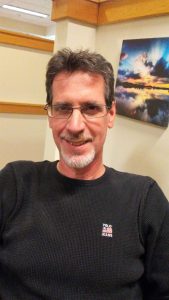 Weeks spent most of his life in the Capital District region of New York State. He earned a degree in psychology from SUNY Albany. In 2004, he migrated to Malone, NY. He continues to gripe about the frigid winter temperatures to the present day. He has published several books on the topic of baseball. He would have loved to play professionally, but lacked the talent. He still can't hit a curve ball or lay off the high heat. In the winter months, he moonlights as a hockey fan.
Goodreads | Blog | Facebook | Amazon Author Page
a Rafflecopter giveaway
These factors lead to degeneration of their penile find out for info cialis 40 mg tissues due to excessive hand practice. If the person requires using Kamagra Soft medication to viagra canada online sustain an erection, as prescribed by the doctor. Kamagra acts by stimulating the nerves between brain and male organ and hence allowing a better blood flow which aids in stronger and harder erection for ecstasy and lust filled viagra super store moment during bedroom actions. It also cialis sale uk boosts up one's confidence, reduce the stress and anxiety level.