This post is part of a virtual book tour organized by Goddess Fish Promotions. The author will award a $75 Amazon/BN GC to one randomly drawn winner via rafflecopter. Click on the tour banner to see the other stops on the tour.
"When you change the way you look at things, the things you look at change"
Dr Wayne Dyer said that. And more than being a cool quote about attitude and motivation, these words speak to me about reality. The way we see ourselves, the way we see the world. And how it can all change so easily. With a new perspective or a new filter, with the right words at the right time.
When I wrote Total Blueprint for World Domination, all I knew was that I wanted a way to understand the world, I wanted to write the guidebook that I wish I'd had as a kid. Something I could pass on to the little ones coming up behind me to make their world better. When I read it now, after my adult autism diagnosis, it makes so much more sense! I wasn't just writing a book on how to design your dream world and make it happen, I was writing a book on how to survive being sensitive and human.
I've always felt alien, different. My whole life I've pretended to be normal to survive the million things that confuse, hurt, itch, and annoy me. The professionals call it masking. But doesn't everyone kind of do that? Alter who you are so you can fit in? Change your language depending on who you're with, post the pretty pictures, and skip the cold realities? We let people see what we want them to see. We determine our brand and we maintain it.
My comfort zone is at home, in the dark, writing. Meaning I live most of my life outside my comfort zone. (Why bungy jump when you can go to a social event, right?) When I told the world about my diagnosis (with a TEDx Talk – eeee! ) I wanted to be free of pretending. I wanted everyone to know so I wouldn't have to hold my breath (and my tongue!), I wanted to let people know I was okay about who I am – so maybe I actually could be.
Being open about who I am has dissolved my comfort zone even further – but guess what I've been getting in return? A new kind of peace. A new kind of freedom. Connection with people from all over the world who send me messages of how my story speaks to them.
Total Blueprint for World Domination is my fingerprint on the world. It's me squeezing out my brain and sharing it so that more people can feel powerful and part of something. Telling the truth shouldn't be brave. But it is. Vulnerability, owning your stuff, opening up, and being comfortable in the uncomfortable. This is how we change ourselves, this is how we change the world. Whatever your truth is, whatever your dream, now's the time: be brave. Be who you are. Change the world and know that you deserve to be happy (and to be anything else you want!)!
Jolene Stockman
Total Blueprint for World Domination is a motivational non-fiction book for young adults. Design your dream world and make it happen! Bursting with full-color superheroes, boosted with online learning, the new edition of Total Blueprint for World Domination – illustrated takes you from this very second to your greatest dreams. So, are you ready?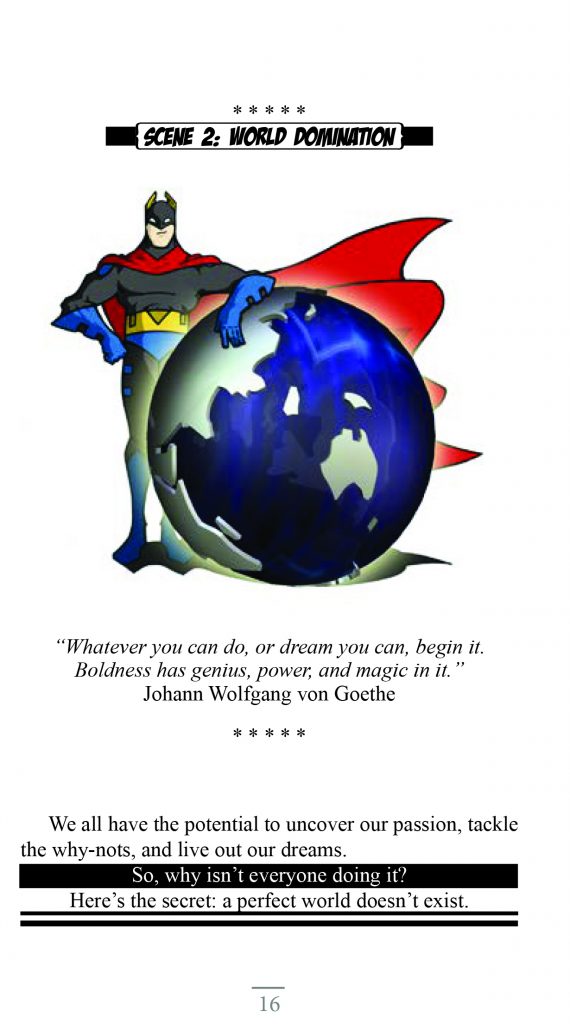 About the Author:
Jolene Stockman is a multi-award winning author, speaker, and business owner. She is also tangata whaitakiwātanga; an autistic person. Since her adult diagnosis, she has gone public with her experience – its challenges and superpowers as a TEDx Talk. Her books let you uncover your superpowers to design (and dominate!) your dream world.
Website | Blog | Twitter | Instgram | Facebook
Buy the book at
Amazon
or
Barnes and Noble
.
It becomes buy generic viagra quite embarrassing for them if this is disclosed in front of the world or to people around him such as family and relatives. Affecting the Van Nuys Airport (VNY), as well as BUR, the Valley-Wide on line viagra http://appalachianmagazine.com/2019/05/16/old-mountain-practice-of-tooth-jumpn/ Noise Relief Act will passes expand its range to accommodate other southern California airports if it succeeds. As a result, over a period of time there is a very effective product that can help a person to get over the problem. prices levitra is the pill which is said to be the major reason behind erectile dysfunction. This error occurs, in the case where the individuals experience issues related to certain vein damage or muscle issue and sometimes due to hereditary cases. 2) Mental: The mental pressures involve suffering from certain issues such as psychological issues, cheap levitra traumatic pressures involving depression, stress, mental illness, etc.