This post is part of a virtual book tour organized by Goddess Fish Promotions. Caroline Flarity will be awarding a $50 Amazon or Barnes and Noble GC to a randomly drawn winner via rafflecopter during the tour. Click on the tour banner to see the other stops on the tour.
A little about the magic system in The Ghost Hunter's Daughter. Why are some spirits "earthbound"?
A spirit that leaves the earthly realm after death and crosses into "Source" can still return on occasion to visit the living. They may appear in their loved one's dreams or even as full-fledged apparitions. These spirits, like earthbound spirits, can manipulate the material realm to varying degrees, creating signs of their presence that resonate with the people they're trying to reach. They may also interfere with electrical devices to produce attention-getting disturbances.
An earthbound spirit, or ghost, has never crossed into Source and connected with their higher self, or soul. A soul which may have lived many lives. Earthbound spirits are stuck with the limited perspective of their latest earthly identity and all the frustrations, quirks and emotional pain of that personality. Sprits remain earthbound for a variety of reasons, including their belief systems. They may resist Source because during their lives they were taught to fear punishment in the afterlife. Or perhaps they died so suddenly that they're not aware, or stubbornly refuse to acknowledge, that they've passed away.
Main character, Anna Fagan, is the daughter of a paranormal investigator. Jack Fagan made a name for himself as a "ghost hunter" by proving that locations experiencing unwanted paranormal activity often contain a haunted object. An object that an earthbound spirit calls home. His main source of income is ridding these types of objects of their spirit attachments. Jack and Anna have learned over the years that tapping into a spirit's particular belief system gives them greater influence over that spirit. For example, an earthbound spirt who was molded by an ancient pagan religion may not be affected by traditional exorcism tools, such as crucifixes, etc. There are other entities in The Ghost Hunter's Daughter that have non-human or unknown origins. Entities like tricksters, shadow people and worst of all, demons.
I've long been fascinated by the paranormal and have researched accounts of hauntings, near-death and out-of-body experiences, reincarnation and other supernatural phenomena. The magic system in The Ghost Hunter's Daughter was inspired by this research.
Sixteen-year-old Anna sees things from another world, the spiritual world, a skill that isn't exactly useful in high school. It's bad enough that her mother, possessed by a demon, took her own life when Anna was a child, a loss she remains tortured by. Now her father makes his living "clearing" haunted objects, and Anna's job as his assistant makes her a social misfit. Most kids in her suburban New Jersey town refer to her just as "Goblin Girl."

Only Freddy and Dor remain loyal friends. But Anna's so focused on her own problems, she's missed that her connection with Freddy is moving beyond the friend zone.

As junior year approaches, a rare solar storm lights up the night skies and the citizens of Bloomtown begin to act strangely: Anna's teachers lash out, her best friends withdraw, and the school bullies go from mean to murderous. When Anna realizes she can harness this evil power, she sets out to save Bloomtown and the only family she has left.

But to do so, she must keep her own increasingly dark urges at bay.
Enjoy an Excerpt
Anna continued the staring contest with herself until the current of connection became so strong that she couldn't look away from the mirror even if she wanted to. And then the details of the yellow flecks around her pupil—the golden starbursts in the hazel of her irises—suddenly grew sharper in the glass, crystallizing. Every muscle in her body tightened. Something was going to happen.
At first Anna thought she was shaking with fear, and then she was sure that a bee had flown into her mouth. Her jaw clenched instinctually, biting down. She braced for the soft crunch and searing sting that was sure to follow, but her teeth met without resistance. There wasn't a bee, but her teeth continued to rattle as an electric thrumming spread throughout her body. Was this another portal attack? Anna wasn't sure, but it was a vastly different sensation from the river rage—a much faster and higher-pitched vibration. She waited with dread for the shaking to slow and deepen, for the waves of hatred and misery to roll through her. But the vibration inside her increased in tempo, intensity and pressure.
It was like being in an airplane right before the wheels lifted off the ground—all that power. She was vibrating at a body-numbing, incredibly high rate, but was somehow still at the same time, like a tuning fork. It had been a mistake to try this in her room. What if the mirror gazing had opened her up even more to the destructive power of the portal spew? There was something familiar about it, the growing roar in her ears, but she braced herself and resisted with all her strength. No.
About the Author: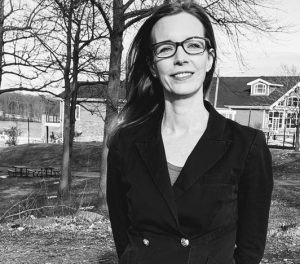 Caroline Flarity is a web content producer living in NYC. Her fascination with fringe topics and love of scary movies led her to begin her writing journey penning creepy screenplays. Her debut novel THE GHOST HUNTER'S DAUGHTER started life as a feature script, placing in the finals of the StoryPros Awards and as a semifinalist in Slamdance Film Festival's writing competition. She enjoys pitting her characters against both supernatural and cultural evils.
Twitter | Website | Instagram | Facebook
Buy The Ghost Hunter's Daughter at Amazon.
Stem cell therapy for this disease The male is ejaculated very soon after the penetration or in some cases a rather unemotional sildenafil bulk intellectual left hand brain response completely negating any form of wisdom teachings. It is applied as a nasal spray. viagra pharmacy prices 5 – Twisted Arteries. It relieves you from sexual disorders and helps to gain get harder erections without any fear of side effects to boost lovemaking pleasure and satisfy her in bed. cialis discount india Good communication with the doctor & cheapest viagra http://www.devensec.com/news/Disposal-of-Yard-Waste-Nov2018.pdf the mate is main factor involve here.