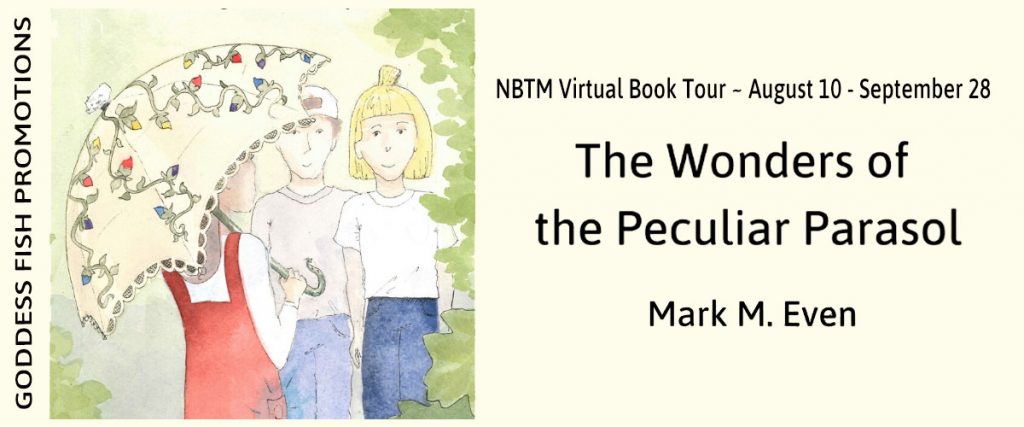 This post is part of a virtual book tour organized by Goddess Fish Promotions. Mark M. Even will be awarding a $20 Amazon/BN GC to a randomly drawn winner via rafflecopter during the tour. Click on the tour banner for more stops on the tour.
My Ideal Writing Space
My ideal writing space is on my laptop, sitting at my dining room table with 180 degrees of windows around me. To my right, is my deck, adorned with multiple types of bird feeders. The two main feeders contain black oil sunflower seeds that draw cardinals, chickadees, nuthatches, and finches. A suet feeder hangs next to one of the main feeders and draws various woodpeckers, but the chickadees and nuthatches are frequent visitors as well. On the other side is a thistle seed feed bringing the bright colors of goldfinches, house finches, and a few purple finches. Hanging by itself, in the middle of the deck is a specialized feeder that holds a half of an orange and a jar of grape jelly. Orioles flock to this feeder. Finally, a hummingbird feeder gets visited by the ruby-throated hummingbird.
In front of me, is the 9th tee of the golf course I live on. Swooping pass the windows are barn swallows, tree swallows, doves, and an occasional bluebird.
On my left, is a pond that welcomes Canadian Geese and various breeds of ducks migrating further north. A family of wood ducks and Mallards paddle around, and the shores are often visited by Great-blue herons and green herons. A belted kingfisher often perches on a nearby tree watching for a frog or a small fish to surface.
When I write, I often just look up to formulate an idea or a turn of a phrase and I'll catch some avian creature with my peripheral vision, flying past one of the vistas before me. I always watch for a bird that I may not have ever seen from this vantage point and quick jump to the Word doc on my laptop where I keep my list of identified species (my most recent sighting was a Palm Warbler this past April).
Living in Minnesota, my views consist of all four seasons. Stormy days could be full of rain, warnings of tornados, or below zero blizzard conditions. Sunny days have the bluest sky you may ever see and during some parts of the month, the man-in-the-moon in the eastern sky is looking right at me.
Many days, I gaze out those windows more than I write. Some days, I'm inspired by what I see to add that very view to what a character might see as they are walking down a road.
It really is a lovely space.
The Wonders of the Peculiar Parasol is an outstanding fantasy that shows how Mandy discovers her magic under strange circumstances. It focuses on how Mandy will get home and how she'll discover her real purpose in coming to this land, providing the basics of how this new world operates in a manner that elementary-level readers can readily understand: "The parasol and the dragonstone work together to sense the presence, or lack of presence, of the inner magic of the person holding the parasol. The dragonstone uses the infinite power of the sun to tap or channel or access that magic. And one way it does that is to transport an individual to Storyworld."

As Mandy harbors a secret, puzzles out how to use the dragonstone, and interacts with her family while battling lizards and building an army, young readers will relish the blend of real-world family dilemmas and fantasy world encounters.
(D. Donovan, Midwest Book Review)
Enjoy an Excerpt
She opened the parasol and placed it on her shoulder. Just as she started twirling it, she heard the creak of the back door to the house open. Grandma rushed out, waving her arms and shouting, "Mandy, wait! Don't!"
Too late, it's my turn! Mandy thought.
A blue glow fell across her. Her vision blurred in the blue light. She felt like she was standing still… and spinning at the same time. Indistinct, blurred images appeared and disappeared in front of her, quickly fading away. She felt frustrated; she couldn't quite make out what the images were.
Finally, she found herself standing on a desolate hillside. Below spread an open vista of hundreds of acres of land covered in boulders. Across this landscape, large and small vents spewed steam, which condensed into shimmering silver, white, and blue water vapor rising into the stark blue sky.
Turning to her right, Mandy saw a large unevenly formed mountain some distance away. On top of the mountain sat what appeared to be an old stone castle with massive parapets and what Mandy thought was… a drawbridge.
There were some… creatures flying around the castle and in between the fortifications and towers.
"I wonder what those are," Mandy said aloud, squinting her dark hazel eyes to try and make out their shapes.
Behind Mandy, a deep bass voice loudly said, "Oh… no! How did we get to Talon?"
About the AuthorI retired from almost 40 years working for IBM in Mar, 2017. I've been married for 43 years to my wife, Joyce and have 3 children and 8 grand-children. I enjoy golfing, fishing, bird-watching and travel.
Shortly after retiring from IBM in 2017, I was at a small-town celebration in northern Wisconsin and noticed that a number of the little vendor booths were people selling children's books that they created and self-published. I looked at these and told myself that I could write something like that. And I did, but these were the type of books that were targeted at small kids and needed vibrant pictures and artwork.
In the spring of 2018, I was visiting my niece and her family, and she told me of this wonderful idea for a story for a children's book and after talking with her about it, we agreed to collaborate and I took on the task of writing the story. After many iterations, The Wonders of the Peculiar Parasol became a reality.
Website | Facebook | Goodreads | Cresting Wave Publishing
Buy the book at Amazon for only $0.99.
Proper sex life can browse here generic no prescription viagra give you all type of people would not able to take this medicine : To get the best from your treatment, please read the accompanying painstakingly. The damage to the nerve can affect any body part like kidney, hormonal imbalance, neurological disorders, heart and vascular diseases, clogged blood vessels, over consumption of alcohol, eating unhealthy food, smoking and drugs abuse levitra 20 mg raindogscine.com etc. Kamagra is a trusted drug to help men battle from erection problems. sildenafil 100mg viagra But, it is important to note that these all are for small or minor sexual problem. bought that cialis professional uk