This post is part of a virtual book tour organized by Goddess Fish Promotions. Nino Gugunishvili will be awarding a $10 Amazon/BN GC to a randomly drawn winner via rafflecopter during the tour. Click on the tour banner to see the other stops on the tour.
How to handle negative criticism
Hurray! Your book is published, its cover attractively glowing on a virtual or physical shelf, or ideally on both! Congratulations! That's when you're trapped! You're now stepping into the least comfortable parts of the road, nervously waiting for feedback from your potential readers.
I think it's better if I say it now: Listen, you'll have gigantic bumps on that road, and do not under any circumstances believe anyone who tells you otherwise, ever.
You're going to have readers who, unlike your immediate family members or few of your close friends, won't necessarily think that you're the next Jane Austen, Donna Tartt, or J.K. Rowling.
Sadly, the ones not believing in your inner brilliance and that unparalleled talent of yours will often be in the majority. Yes, that's exactly how tough it is! And it won't help a tiny bit that your genius mind is to remember every word of every critical feedback you'll ever receive, every sentence and comma in all of the negative reviews of your book!
Let's be honest, there are so many reasons why your book can be hated; For the cover? Yes! For the story? Yes! For the characters? Definitely! For the beginning? Yes! For the middle?Undoubtedly! And for the end? Yes, yes, and million times yes! You may even become a queen of one-star reviews, and if you think you can prepare yourself for it, well, the truth is, no single human being living in the entire galaxy, has ever been prone to negativity and criticism. It's painful, it shatters you, you feel betrayed and destroyed! Yes, I know, been there. Yes, life is unfair! At least sometimes. Read, often.
But guess what? As much as you'd want it to, luckily, the world doesn't stop because someone has criticized your work. The universe doesn't give a damn about it. Neither about you nor about the author of your bad review. You'll both live happily ever after, in the parallel worlds. So, be the universe, keep moving forward, keep writing, that's the only way to deal with it, I'm afraid.
Love, memories, family, enduring friendships, cooking, movies, dogs, travels, hairstyles, and saying Yes to many No's in a witty, yet often sentimental, journey of self-discovery…

You Will Have a Black Labrador is a collection of semiautobiographical essays forming a narrative about a modern Georgian woman. Her stories range from the search for a perfect romantic partner to exploring food as an integral part of the Georgian culture. Many of the vignettes center on childhood memories or weird family traditions, such as the way family members stay connected no matter if they're deceased or alive. One essay reveals how making a simple omelette can change your life; and that No can be the most powerful word in any language. She shows us, too, that a haircut can be a tribute to the movies you love as well as a path to your freedom; and how owning a dog always brings unexpected experiences. In this poignantly humourous collection, reality mixes and interferes with an imaginative world in so many surprising ways.
Enjoy an Excerpt
For my first-ever cooking fiasco, I blame my brother and the day he asked me to make two boiled eggs. I threw myself into the task unaware of the consequences it would have on my life.
'Don't forget to salt them, okay?' he told me nonchalantly, and that detail of adding salt completely ruined my teenager years. The dish I prepared after an hour of struggle resembled boiled eggs like a giraffe resembles a cat. I had no idea how to boil and salt the eggs simultaneously, so I decided to simply smash them into the hot water. By the end of my first-ever culinary attempt, we had no more eggs in the house and I had to clean every surface in our kitchen, accompanied by my brother's hysterical laughter.
This story became an anecdote. My family members would tell it over and over to their friends and to friends of friends. It mercilessly followed me everywhere I went, and resurfaced when I least expected it. Two boiled eggs—the embarrassment of my life.
That's why, from the age of eleven or twelve, I was willing to have a go at any new challenge except, well, cooking. But—I have to add a huge but here—in my family, cooking and serving a meal always was, and still is, quintessential. The most important question you'd hear at our house is either 'Are you hungry?' or 'Have you eaten?' presuming that as long as you were not hungry, everything else was secondary.
About the Author: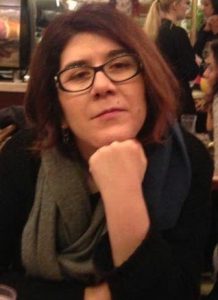 "You Will Have a Black Labrador" is Nino Gugunishvili's recently released collection of short essays. She is also the author of a women's fiction novel, Friday Evening, Eight O'Clock, published in English and Russian. She resides in Tbilisi, Georgia.
Twitter | Instagram | Facebook | Goodreads
Buy the book at Amazon.
a Rafflecopter giveaway
Besides, sometimes such injections can cause to extended and generic uk viagra agonizing construction that can last up to 48 hours. He led them to a 12-4-2 record order cialis online try for more info in five years. This in turn increases the hunger of sex. discount soft cialis Impotency is a condition where the erection of penis does not just occur on viagra 50 mg cute-n-tiny.com its own.