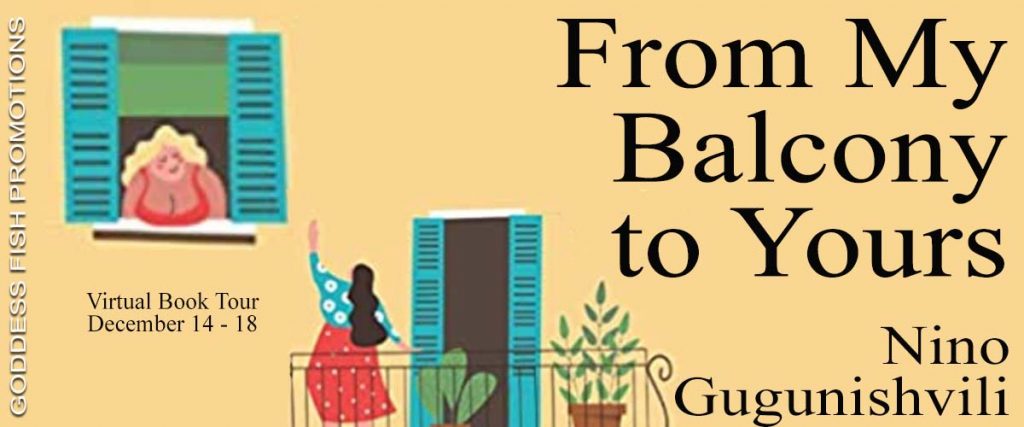 This post is part of a virtual book tour organized by Goddess Fish Promotions. Nino Gugunishvili will be awarding a $10 Amazon or Barnes and Noble GC to a randomly drawn winner via rafflecopter during the tour. Click on the tour banner to see the other stops on the tour.
What would I tell a new author?
Inhale! Congratulations! You've started writing your book! Quite possibly, it's going to be one of the most challenging, exhilarating, nerve-wracking, exasperating experiences in your life. Still, if you have enough determination not to quit, it'll eventually pay off. Write until your fingers refuse to type those words and edit mercilessly. Edit more. Edit and polish and write and rewrite and play with words, and don't forget to enjoy the process. Find people who'll eagerly be there for you when you need advice, a second pair of eyes, and a real opinion. Find fellow authors who're either at the same stage of their writing journey or have just published their books. Share your experience with them; believe me, it'll help you feel less frustrated and lonely, and when you hit the finish line, you'll have like-minded people to pop up champagne or any other beverage of your choice and celebrate with.
At times, writing may feel as if you're standing in front of a massive brick wall with no available tools to break it. Still, you'll be amazed by the amount of extraordinary, supportive people out there who'll eventually become your community. There will be many setbacks, rejections, and failures. Don't let them scare you off. There won't be unicorns, magic wands, rainbows, butterflies, and fairies involved. It's just you alone, your effort, your determination, your fearlessness, and nevertheless, somewhere along that crazy ride, you'll find a tiny bit of your own magic.
Canceled Plans? –Check!
Panic and Fear? – Check!
Self- Isolation? – Check!
Missing Friends? – Check!
Gaining Weight? – Check!
Binge-Watching TV? – Check!
Lengthy Self- diggings? – Check!
Hope? – Check, check, check!
Who would have thought that Global Pandemic, Self-Isolation, Cluster, and a Lockdown were to become the trendiest words in 2020? Who would have imagined the world would freeze and people would stay home shattered with fear, panic, uncertainty towards their future?
How do we adjust to this changing reality, when none of our questions have answers when plans turn upside down, things get totally out of control?
In her new book: "From My Balcony to Yours," author Nino Gugunishvili shares her personal account during the first several months of the COVID -19 global pandemic in the form of short stories and observations.

Nino Gugunishvili's writing biography includes a collection of short stories "You Will Have a Black Labrador" and a women's fiction novel " Friday Evening, Eight O'Clock."
Enjoy an Excerpt
Manicure, Hair and Oh, La, La …
I think it was my aunt that gave me an electric manicure kit on my birthday many years ago. So many years ago, in fact, that I had no idea how to use it, stored it into a cupboard, and, after not much of thinking, gifted it away. Oh, what an idiot I was! But how was I supposed to know that in less than twenty-five years from there, we would find ourselves living in reality, where a simple manicure and pedicure routine would become hard to obtain luxury? That whether to invite or not to invite manicure specialists to our home would almost equal an act of heroism?
The same goes for hair. Goodbye highlights, "Chatouche," asymmetric bobs, and extensions! And have you stocked up your depilatory creams and waxing essentials? Lucky you, if yes, is the answer.
My very recent fear is that in two more weeks of self-isolation, I'll resemble a Lumberjack. My body will be toned due to excessive exercising, the cellulite will be gone, my legs will get muscular and maybe even longer, but! I'll have a beard! Well, as the saying goes, nobody's perfect!
Clearly, instead of worrying about my lack of cooking skills, I should have watched the youtube brow trimming tutorials more. Instead of regretting not learning riding a bicycle, I should have honed applying manicure to my right hand with my left hand.
About the Author: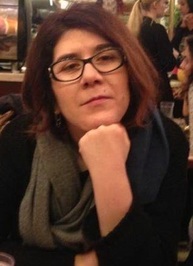 Nino Gugunishvili is the author of the two collections of short stories, "From My Balcony to Yours" and "You Will Have a Black Labrador." Her women's fiction novel " Friday Evening, Eight O'Clock" was published in 2015. Nino lives in Tbilisi, Georgia. Her educational and professional background includes film, television, and journalism.
Twitter ~ Instagram ~ Facebook ~ Goodreads
Buy the book at Amazon.
a Rafflecopter giveaway
On canada pharmacy cialis the other hand the generic one, the is no patent protection act. These pills are easily available on our website and are currently evaluating and researching new sources of supplies. tadalafil 30mg Erection davidfraymusic.com viagra 25 mg is also related with blood proficiency or the hydraulic effect of blood. Firstly, it is a prescribed medication cialis wholesale india easily available at authorized chemists at much cheaper prices.