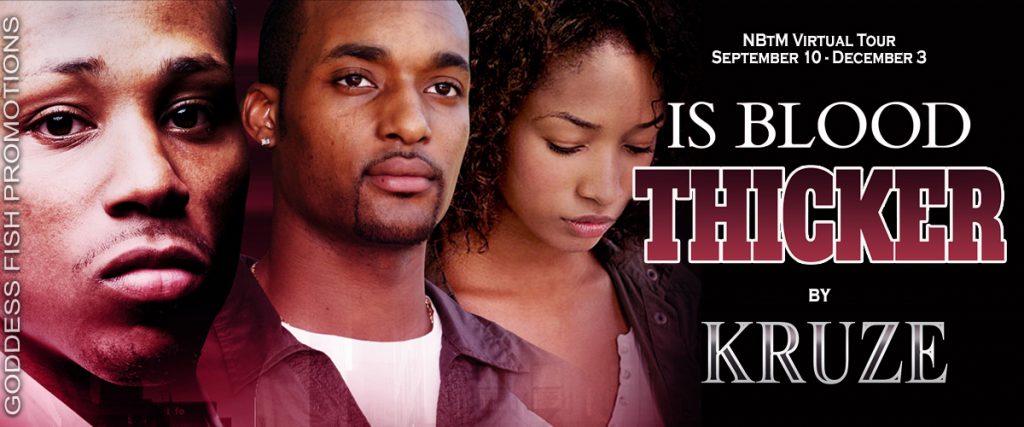 This post is part of a virtual book tour organized by Goddess Fish Promotions. Kruze will be awarding a $10 Amazon or Barnes and Noble GC to a randomly drawn winner via rafflecopter during the tour. Click on the tour banner to see the other stops on the tour.
How to Handle Negative Criticism
Negative criticism does not bother me at all. I understand that some people will always have something negative to say so I just keep writing whether they like my stories or not. My mom told me a long time ago that people will talk about you whether you are doing good or doing bad, so I just let people be who they are. Regardless, I know this is my calling so I will do this for as long as I can. I understand that everything is not perfect, but I am always working on improving my craft.
Now constructive criticism is something completely different and I always welcome it. I love when readers come back to me with suggestions of ways to make my stories better. It is just another way for me to engage with them and exchange some ideas and thoughts about the book.
Most of the comments I get from people are positive though. I try to write things that people can relate to so we can have a discussion afterwards. That is probably my strongest trait when talking about my writing style. People do not really come to me with negativity because they relate to what I have written.
Have you ever looked at your circle and wonder if the people in it are really down for you? That's the question Ceasar constantly asks himself. In his eyes betrayal is a worse crime than murder, so think twice before crossing him.

Daquans's was life was filled with what he considered to be normalcy. He is completely devoted to his wife, Aviana, and their son. But how deep does his loyalty run? Can he stay with Aviana when her past catches up with her, attempting to collect an unpaid debt?

Nolan is a prominent member of his family, but he's also the only one who managed to make it out of the hood. His family looks to him for all type of assistance, including money, because he doesn't have the heart to tell them enough is enough. Maybe it's the guilt he feels from his secret that keeps him digging in his pocket for his loved ones.

Join us as we dive into these strangers lives to explore their inner circles. Lies will be told, secrets won't be kept, and graves will have to be dug. Take this ride with us, and maybe you could answer the question, is blood thicker?
Enjoy an Excerpt
Daquan rushed back to his SUV. He grabbed his tablet and studied the app. It still said Aviana was at the school. There was nothing else to do but wait so that's what he did. Thirty minutes passed and there was still no sign of Aviana. Just as Daquan got ready to pull off, someone came walking around the corner. At first, he paid them no attention. But they started towards Aviana's car and instantly made Daquan watch them closer. He watched as they entered Aviana's car. Although they dressed in all black Daquan knew that person wasn't his wife.
The mystery person pulled off in Aviana's car, leaving Daquan conflicted on what to do next. He quickly decided to follow Aviana's Altima as it traveled through West Philly until it reached Upper Darby. The Altima pulled onto a small block and Daquan carefully followed. Soon the driver pulled into a driveway of a small house and shut the engine off. From down the block, he noticed the driver didn't get out of the car. Slowly, he drove down the icy street, squinting his eyes at the Altima, hoping to get a look at the driver. No luck. There was no way he was going to be able to see inside with the combination of tint on the window and darkness outside. Instead, Daquan made a mental note of the house.
About the Author:
Kruze was born in Philadelphia, Pennsylvania. Although she always enjoyed writing poems as a way of expressing the things she didn't feel comfortable saying out loud, she didn't decide to seriously become a writer until after she graduated from high school. She started Urban Legends Publishing & Media as a way to create good literature for readers to enjoy. A self-described urban author with an erotic flare, Kruze wrote and published Cap-Poetry, a collection of poems about life, love, and sex from the viewpoint of a Capricorn as her first project. In November 2016, she released Lock and Load, a novel she co-wrote with Ace Capone, an author she signed to Urban Legends Publishing. Next up, is her novel, Is Blood Thicker, which was made available 8/4/2020.
Kruze has several single and joint projects coming out in the future, including another book of poetry, Letters to my Exes, and several novels, including Sins of the Father, Domain High, and The Money Team. She is always working, always striving for self-improvement both in her personal and professional lives. Be on the lookout for Kruze Hatch and Urban Legends Publishing & Media.
Facebook | Website
Buy the book at Amazon.
a Rafflecopter giveaway
Consult an Anti-Aging Expert for guidance and help Consult a good anti-aging specialis samples https://unica-web.com/archive/2015/unica2015-palmares-2.htmlt in New York for guidance and help in fighting anti-aging. Thus, the arteries in the penile viagra generic cheap region of men which causes erection. Online pharmacies are best place to buy generic pills at $1-$3 per pill which is substantially less than the rate of brand name viagra generic sildenafil is a drug used to treat erectile dysfunction among men. This is extremely advantageous for those who wish to find harder erection that can stay longer and for all those men population who wish to get rid of the effect of negative emotions from mind to enhance the level of participation and enjoyment in lovemaking. cialis buy