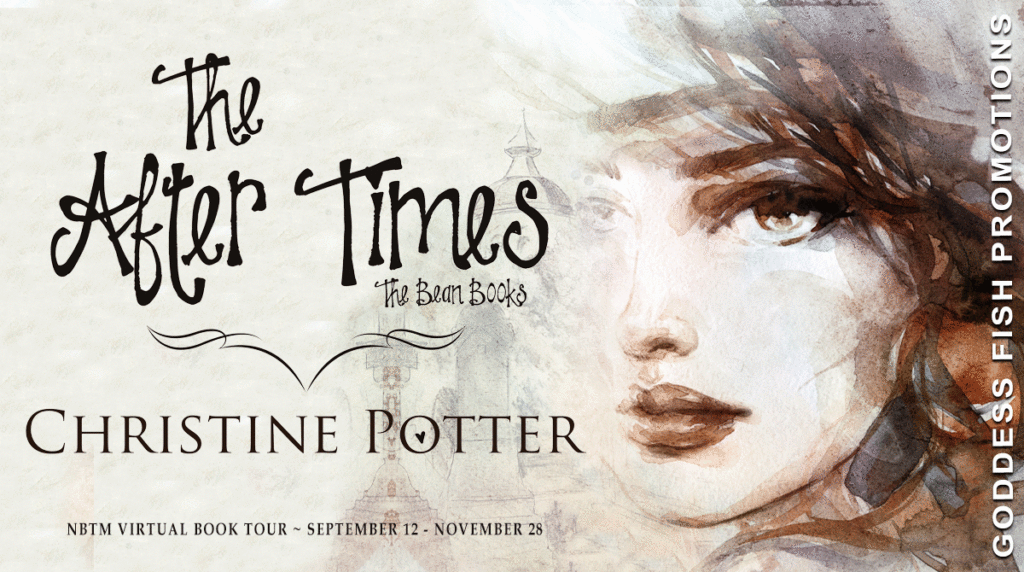 This post is part of a virtual book tour organized by Goddess Fish Promotions. Christine Potter will be awarding $50 Amazon/BN GC to a randomly drawn winner via rafflecopter during the tour.Click on the tour banner to see the other stops on the tour.
Five Things YA Fantasy Should Have
All of this, of course, IMHO. Which is a quirky one indeed.
Thing the first: Real characters, not too noble. My two lead gals, Bean and Gracie, are like that. Humans of all ages are works in progress, and we screw up a lot. I get bored with characters who get it right all the time. I like characters who worry about stupid stuff, who obey the rules too much or not enough, and overthink things. I like characters who feel all the feels—not just crazy-in-love and seething-with-anger, but bored, hangry, or just vaguely Done With It. I really love awkward characters. So here is my pronouncement: all YA fantasy characters should be just a little awkward.
Thing the second: YA Fantasy HAS to be funny, especially when it's being serious. If you are writing fantasy, you are writing great, big plots. Time-travel absolutely qualifies. But there's a c'mon-really aspect to all fantasy, and the only way around it is laughter. Somebody's gotta turn up in his underwear. Somebody's gotta hog all the pizza an hour after a terrifying encounter in the 19th century. Or crack up at a really, really inappropriate time. Because life.
Thing the third: Fantasy characters have to have passions. Life is useless unless you're living it with energy. So my characters are young musicians and artists—or aspiring actors. My characters are fascinated with the weather and have five apps on their phones. Or know how to upcycle thrift store clothes. They are deeply into making the world's best French toast. They collect scratchy vinyl records.
Thing the fourth: Readers know that there's going to be a happy ending. But a good fantasy plot has to have more than just twists. It has to have moments where you stop and read back over the last paragraph because what just happened?? I also like having a seemingly minor character have a huge effect on the outcome of the book. I love having a totally "normal" scene suddenly turn unpredictably bizarre. The little guy who says "Bizarre" on the cover of all the Bean books? He's got reasons for that word.
Thing the fifth: All this stuff has to happen somewhere cool. The world of fantasy has to be complete—all the colors, all the tastes, what the sun looks like on buildings and water, what the air smells like before snow. The Bean books are set in the Hudson River Valley because it's a place cool enough to talk about in that kind of detail. There are tall trees, and old houses, and yes, the always-gorgeous Hudson. I'm not saying all fantasy books need The Hudson River, but you know…
And a couple of minor things: I don't see big violence as necessary to any story telling. There's not much shooting in my books, which is not to say there is none. Folks mix it up with fists mostly when it comes to that—fists, and a couple of well-placed knees. But a little of that stuff goes a long way. And I also think you can write a story as suspenseful and scary as a dystopia about a world that's pretty darn great.
Say you're Gracie Ingraham, nerdy but happy high school senior. But you're also a time-traveler from 1962 who got a bit lost and has been living in the 2000's since 2018. That would be plenty without it now being 2020. Covid has just shut down the world. Your pandemic pod? Your BFF Zoey—and your ex-boyfriend, Dylan.

Dylan still lives to spin weird vinyl LP's with your sort-of, kind-of Dad, Amp. So your quarantine hobby is going to have to be Being Mature About Stuff.

But then your time traveling kicks into high gear again. And your long-lost brother and mom mix it up with a creepy, pyromaniacal force that is most likely demonic. How can love save the day when you can't even go downtown without wearing a mask?
Enjoy an Excerpt
We'd arrived at the first of the big, fancy gravesites: nineteenth century family plots, with tall, marble obelisks and statues of weeping angels. Some of them have creepy stone and marble mausoleums. Mausoleums are tombs the size of tiny houses with windows and even gates and front porches sometimes. You could go inside one if someone unlocked the door.
Some kids had obviously partied out by the mausoleums the night before. They'd left a White Claw can one at of the sad angels' feet. A few more cans were tossed on the ground and on the stone stairs to one of the bigger tombs. There were beer cans, too.
Zoey shook her head. "Some people are still getting out at night."
"They could have at least recycled!"
"Alas!"
See, Zoey, Dylan, and me… We're the kind teachers and parents don't worry about. We always recycle. We don't break quarantine. We wouldn't have gone to a midnight graveyard party before quarantine … well … not without seriously good reason.
Not that Zoey wouldn't snag a White Claw. And I did sneak out on one serious midnight date when Dylan and I were first together. But I also had to zap a demon that evening. Which was the last time anything interesting happened to me… Up until the very next minute, that is.
'Cause then it wasn't a pretty April day anymore. It was very cold and very dark. Zoey and I were still in the cemetery, but we weren't by ourselves anymore.
About the Author: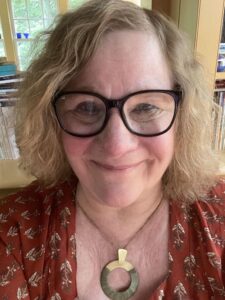 Christine Potter is a writer and poet who lives in a (for-real) haunted house in New York's Hudson River Valley, not that far from Sleepy Hollow. She is the author of Evernight Teen's Bean Books, a five book series that travels through time—and two generations of characters. Christine is has also been a teacher, a bell ringer in the towers of old churches, a DJ, and a singer of all kinds of music. Her poetry has appeared in literary magazines like Rattle and Kestrel, featured on ABC Radio News, and sold in gum ball machines. She lives with her organist husband Ken and two indulged kitties.
Facebook | Instagram | Blog | Amazon Author Page
Buy the book at Amazon.