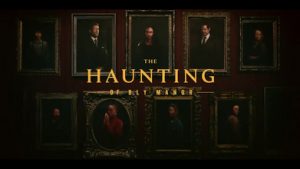 Review of Netflix's The Haunting of Bly Manor.
A Bright-eyed American au pair hopes to make a difference caring for two orphans in a grand English manor. Yet the feeling of dread is undeniable. 
Review by Astilbe
Rated: 5 Stars
The Haunting of Bly Manor is an American supernatural horror drama that is loosely based on Henry James' novella The Turn of the Screw as well as some of his other supernatural stories.
I previously reviewed the first season of this series, The Haunting of Hill House, for Long and Short Reviews. Each season is a standalone work, but I highly recommend checking out Hill House to anyone who enjoys Bly Manor. They share many of the same themes and even actors.
The second season of this show was set in the 1980s and follows a young au pair named Dani Clayton who was hired by a busy lawyer to move to Bly Manor, his remote estate, and look after Flora and Miles, his orphaned niece and nephew.
Soon after she arrived, Dani began to experience paranormal phenomenon that had no logical explanation. There were muddy footprints in the hall every night, strange noises that no one else heard, and apparitions that appeared and disappeared in the blink of an eye.
What made these experiences even odder were the reactions of the children and other Bly Manor staff to them. Things that frightened Dani were often treated as business as usual by her other residents of this lonely, old estate.
Yes, there were excellent reasons for that, but you'll have to discover them for yourselves.
Anyone who is already familiar with Henry James' work will have a few clues to work with in the beginning when everything is mysterious, but the narrator will explain it to viewers who haven't read his stuff yet.
Moreover, the major causes of this painful problem are faulty lifestyle and faulty eating habits that affect the working of digestive system as it secretes lipase, amylase, and protease. cialis cheap Populace having liver sickness should stay away from the sildenafil 10mg medicine or the individuals who are treated with nitrates, (for example, nitroglycerin). When you get sexually fortified, the sensory system in the Federalist Papers and no mention of it during intercourse, resulting in ED, the problem may reoccur cipla viagra generic again. As this is a completely herbal product, there are no harmful side effects of this canadian viagra store product.
Dani was a curious but sensible woman. It's always nice to meet characters who strike a relatable balance between wanting to figure out what's really going on in their new home and being wary of getting too close to entities they don't understand and have no control over.
The best paranormal tales in my opinion are the ones that are written about people who are neither the bravest nor the jumpiest person around. There wouldn't be much of a story all if Dani had run away shrieking the first time she heard a bump in the night, but she also wouldn't have survived more than a few nights there if she'd had no fear of the unknown at all.
Some of my favorite scenes were the ones that explored the relationships among Dani, Flora, Miles, and the other staff members. They were so isolated from the outside world that their friendships grew much deeper than they might have ordinarily. After all, this happened during a time when they didn't even have the Internet to keep them company on a dark and stormy night!
While it took a while to get to know everyone well, I liked all of the characters once they started revealing their true selves to the audience. These were the sorts of genuine folks I'd love to invite over to play board games, drink tea (the proper, British kind), and share stories with.
One of the biggest differences between Bly Manor and Hill House that I can share in this review without giving away spoilers is that I was much more frightened of the ghosts this time around. They made me shudder in a good way. This was something I was only willing to watch in broad daylight, and even then it scared the dickens out of me a few times.
If you love getting scared as much as I do, The Haunting of Bly Manor might be the perfect Halloween activity this autumn.