Long and Short Reviews welcomes Victoria Roberts, whose newest book Kilts and Daggers releases tomorrow. Enter the Rafflecopter at the end of the post to win a copy of the book.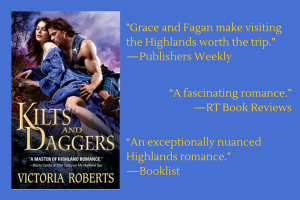 Creating Characters
It's kind of fun to do the impossible.
—Walt Disney
As a writer, isn't that statement the truth? That's one of my favorite quotes by Walt Disney.
Imagine my surprise when I finished my first manuscript in September, submitted a full to an editor in October, and then received an offer for a Scottish historical romance series from a traditional publisher right out of the gate. Believe me, I was an exception to the rule. That rarely happens to anyone. A friend of mine submitted her manuscript through the slush pile and landed a deal with the biggest publishing house in the United States her first time out. And yes, that rarely happens to anyone. But as Walt Disney said, "It's kind of fun to do the impossible."
Since the writing business is all subjective, that's what makes our efforts so darned hard. What I think of your writing style, what your family thinks, what your critique partner thinks, is not necessarily the way the publisher, editor or agent thinks.
So how do you survive the ever-changing tides of the industry?
Follow your gut. Do you remember the books you've read that have literally blown your mind away? I'm sure you do. Now think back to the doozies that you've read and try to figure out why the story didn't work for you. What would you have done to fix the pages from within?
Characterization and plot elements are extremely important when penning your novel or short story. A few weeks after my first novel was released, I received several e-mails from readers who told me they were so wrapped up in the story that they actually cried. That moved me, and apparently my characters moved them. If we can touch a few readers with our words, isn't that the reward we seek? That's every author's dream.
Determining how we can make readers fall in love with our hero and heroine can be a grueling task, but the answer may be a lot closer than you think.
What are some characterization strengths that you would list to define a hero?
If I break down the hero from my first book, his characterization strengths would be as follows: (I'll list five to keep it short and simple.)
1. Highland laird who has a duty to his clan above all else
2. Protector, defender, provider
3. Natural leader
4. Compassionate
5. Honorable
Those are some pretty admirable strengths of character. You may find the task of writing character conflict to be a lot simpler if you take the strengths and test your hero's resolve. After all, that's what makes us human. Think about the strengths of our hero and how his character would react/change when placed in a conflicting situation.
1. Our hero is a Highland laird who has a duty to his clan above all else, but what happens when the neighboring clan forces him to break the king's command?
2. Our hero is a protector, defender, provider, but what happens when he has to leave his younger reckless brother in charge of the clan in his absence?
3. Of course our hero is a natural leader, but what happens when things don't go according to plan?
4. Oh, this guy's compassionate, but what happens when he can't wed the love of his life?
5. Our hero is honorable, but what happens when he offers to escort a woman to the northern Highlands and then realizes he doesn't want to let her go?
Those are examples of how outside influences impact characterization.
Remember when I wrote that determining how we can make readers fall in love with our hero and heroine can be a grueling task, but the answer may be a lot closer than you think?
Don't rule out family dynamics. We all have them. Use them. Family dynamics play a large part in all my books. After all, falling in love is easy. It's all the outside influences that drive characterization. Who didn't love the Starks from Game of Thrones? And who didn't cry when they were massacred? I felt for every single one of them. Make your characters realistic in actions and behavior. If your characters are somewhat "off the wall," let us know why they act the way they do.
There are no guidelines that will tell you what kind of character strengths and conflicts will make a successful novel or short story. But whatever genre you write, get into the heads of each of your characters and experience what they experience. How would you act in a certain scenario? What would you say? The hero from my second book had me so angry at times that my blood pounded, my heart thumped, and my fingers couldn't keep up on the keyboard. You want that love/hate relationship with your characters. Keep it real.
One of the hardest things to accept is the fact that not everyone will love your work. Our stories are like people. You care for some and do not care for others. What I firmly believe is to stay true to your path. Whether you write poetry, science fiction or historical fiction, write your passion. Do not let anyone tell you differently. If you put your heart and soul into your words, readers will feel that too.
I'll leave you with another one of my favorite quotes.
All dreams can come true if we have the courage to pursue them.
—Walt Disney
I'm living proof of that fact. If my words meant something to one of you, I've done my job.
Happy Writing!
Ever since Lady Grace Walsingham discovered her uncle and sister are spies for the Crown, she has yearned for adventure. She's counting the days until she can leave barbaric Scotland behind, even if she must endure Highland captain Fagan Murray's company for weeks.

Fagan has a simple mission: escort the haughty Lady Grace back to England. But nothing is ever easy. The sharp-tongued woman needles him at every turn. But when a menacing threat follows them on their journey, Fagan's grudging tolerance for Grace turns to respect…and into a perilous attraction that could seal their fate.
Enjoy an excerpt:
"Mister Murray, I don't feel at ease discussing these subjects with you."
"Then call me Fagan. Mister Murray was my father's name anyway."
Grace looked around and then softened her voice. "Now is that truly appropriate?"
"I told ye before. Ye're a long way from England, lass. Lest ye forget, ye're in the Highlands now. We do things differently here."
She lifted a brow. "How could I forget?"
"Ruairi said ye'll be staying with us for a few weeks. More to the point, I already call Ruairi's wife Ravenna." He turned up his smile a notch. "Ye and I are practically like family. Ye will call me Fagan, and I will call ye Grace, or I could always call ye bhana-phrionnsa. I'll be kind enough to give ye a choice."
"Ravenna may permit you to call her by her Christian name, but I certainly do not, Mister Murray. Although you do make me laugh, I'm afraid you and I are far from family."
***
When Grace's eyes smoldered, Fagan knew he shouldn't get too close to the flame for fear of getting burned. There was still enough time to take his leave. Otherwise, he'd be verbally sparring with a lass in the middle of the great hall. Ruairi would no doubt have his head for causing mischief with his kin so soon after the wedding.
Fagan slapped both hands on the table and casually stood. Instinctively, he took another step back in case the lass suddenly had a strong urge to reach across the table and throttle him—or worse. Nevertheless, once she heard what he was about to say, the table wouldn't provide enough space between them.
"Verra well then. I think bhana-phrionnsa suits ye quite nicely." When Grace's cheeks turned scarlet, Fagan smiled. "Donna say I didnae warn ye. Remember I did give ye a choice." He winked at her and then turned on his heel.
"Wait!"
He had a hard time trying to mask his smile. He turned around slowly and lifted a brow. "Aye?"
Grace flew to her feet, walked around the table, and closed the distance between them. She lifted her head, and by the way she was unsteady on her feet, he swore the daft lass was standing on the tips of her toes in a futile attempt to look him level in the eye.
"England and Scotland have been warring for centuries, Mister Murray, yet somehow Scotland has never won." Lifting her skirts, she brushed his arm with her shoulder and took a few steps away from him.
That was until he called after her and stopped her dead in her tracks. "Cuine a chì mi a-ris thu, Grace?" When will I see you again? He made certain he said the words as though he spoke to his lover, which obviously had the desired effect because her whole body stiffened, and then she left him without a backward glance. Fagan's mood was suddenly buoyant. He wasn't exactly sure why he loved to unnerve Princess Grace, but he had one hell of a time doing it.
About the Author: Victoria Roberts writes sexy, award-winning Scottish historical romances about kilted heroes and warriors from the past. Prior to ever picking up a single romance novel, she penned her first young adult novella at 16 years old. Who knew her leather-studded motorcycle hero would trade in his ride and emerge as a kilt wearing Highlander wielding a broadsword? Victoria lives with her husband and their two beautiful children in western Pennsylvania.
Website | Facebook | Goodreads
Buy the book at
Amazon
,
Apple,
B&N,
BAM,
!ndigo,
or
IndieBound
.
Buy the first book in the series, My Highland Spy, at Amazon, Apple, B&N, BAM, !ndigo ,  IndieBound, or  Kobo.