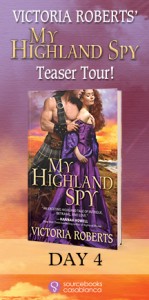 It's wonderful to be here today at LASR, the fourth stop on the My Highland Spy Teaser Tour!
My Highland Spy is the first book in my new Highland Spies' series, and I hope you enjoy the story as much as I enjoyed writing it. We left off yesterday meeting Ravenna's tenacious younger siblings.
Excerpt Four/Chapter One:

"Uncle Walter, what a pleasant surprise. I'm so glad you're here with us on such a lovely morn," said Ravenna, pulling out her chair.

He swallowed his oatmeal and smiled. "I have to meet with His Majesty later this morn and I thought to pay you girls a visit."

Lord Walter Mildmay, her mother's brother, had been appointed the Walsingham family's guardian, but their situation was more pretense than anything. Uncle Walter had his own estate and family, while he permitted Ravenna and her sisters to stay under their own roof. At twenty-five years old, Ravenna handled all the accounts, managed the servants, and had served as a mother figure to the girls since the deaths of their parents.

Uncle Walter, with his dark hair and tanned skin, was the complete opposite of Ravenna's fair-skinned mother. No one would ever think they were of the same relation, especially because his hair was as black as night. Ravenna always thought the man looked like a bloody pirate.

Ravenna's father, Lord Francis Walsingham, had been Queen Elizabeth's principal secretary until his death. Little did anyone know that her sire had also been the queen's spy. Given that Ravenna's father had handled all of the royal correspondence and had determined the agenda of the council meetings, he had been a very influential man in his time, which fortunately now worked in Ravenna's favor.

In short, she was a spy for King James and the Crown, the same as her father had been under Queen Elizabeth's reign. When Ravenna was old enough to show an interest in political matters, her father had educated and conditioned her to one day take his place. She lived in a man's world, but that's why she was so proficient at doing what she did—a mere woman was the last thing anyone would expect. Her family meant everything to her, and she was deter¬mined to keep her siblings sheltered and protected for as long as possible.

Especially from unsavory establishments like the one last eve.

After everyone finished their meal and polite conversation, Ravenna and Uncle Walter excused themselves and met behind the closed doors of her father's study. With the dark wooden furnishings, the large desk, and her father's books lining the wall, the room always reminded Ravenna of her father. At times, she could swear she even smelled his scent, almost as if he wanted her to know that he still watched over her.

"What did you find out?" asked Uncle Walter, tapping his fingers on the desk.

Ravenna sat in her father's chair. "I followed Lord Cobham into the Devil's Tavern. The man he met with was Charles Paget. I thought he was still in Paris."

Her uncle sat forward, his eyes narrowing. "I suppose it should come as no surprise. His Majesty gave Paget back his manor of Weston-on-Trent and his other homes in Derbyshire, but we'll be sure to keep an eye on him. As usual, I'll pass along the information to the king's advisors. You did well, Ravenna."

"Grace is questioning my sudden disappearances, and I don't know how much longer I'll be able to keep the truth from her."

"You know as well as I do that it's better she doesn't know what you do. Perhaps we should start thinking about arranging a marriage for her."

Ravenna rubbed her fingers over the bridge of her nose. "I really want to give her some time. She doesn't show an interest in anyone at the moment, and I'm not quite ready to force her into a marriage." She paused. "Let me think about it."

He bobbed his head. "There is another assignment from His Majesty."

"So soon? I just completed this one." She sat forward, frowning. "What is it this time?"
Sourcebooks will give away one copy of My Highland Spy to a lucky commenter (US and Canada only, please.) Did you ever spy on anyone as a child?
This Highland Laird won't bow to the Crown

Laird Ruairi Sutherland refuses to send his only son away to be educated by the English. And he most definitely will not appear in Edinburgh to pay homage to a liege who has no respect for Scotland. So he does what any laird would do—he lies to the king. The last thing Ruairi expects is a beautiful English governess to appear on his doorstep.

But this lady spy might make him…

Lady Ravenna Walsingham is a seasoned spy who is sent to the savage Highlands to uncover a nefarious plot against the Crown. Playing the part of an English governess—a job easier said than done—she infiltrates the home of Laird Sutherland, a suspected conspirator.

If she doesn't betray him first

Ravenna soon discovers that the only real threat Sutherland poses is to her heart. But will the proud Highland laird ever forgive her when he discovers the woman he loves in an English spy?

"An exciting Highland tale of intrigue, betrayal, and love."

—Hannah Howell, New York Times bestselling author of Highland Master

"Roberts' newest features a surprise-laden, quick-paced plot, replete with unconventional and fiercely independent characters. Her lyrical prose grabs readers' attention, and the high level of emotional tension simply adds to the depth of the story. This book begs to be read and reread."

—RT Book Reviews
About the Author: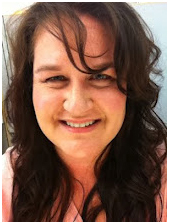 Victoria Roberts writes sexy, award-winning Scottish historical romances about kilted heroes and warriors from the past. Prior to ever picking up a single romance novel, she penned her first young adult novella at 16 years old. Who knew her leather-studded motorcycle hero would trade in his ride and emerge as a kilt wearing Highlander wielding a broadsword? Victoria lives with her husband and their two beautiful children in western Pennsylvania. Visit her at www.victoriarobertsauthor.com.
Website: http://victoriarobertsauthor.com/
Facebook: https://www.facebook.com/victoria.roberts.395
Goodreads: https://www.goodreads.com/author/show/5763317.Victoria_Roberts
Buy: Amazon | Barnes & Noble | Books-A-Million | IndieBound | !indigo | iBooks