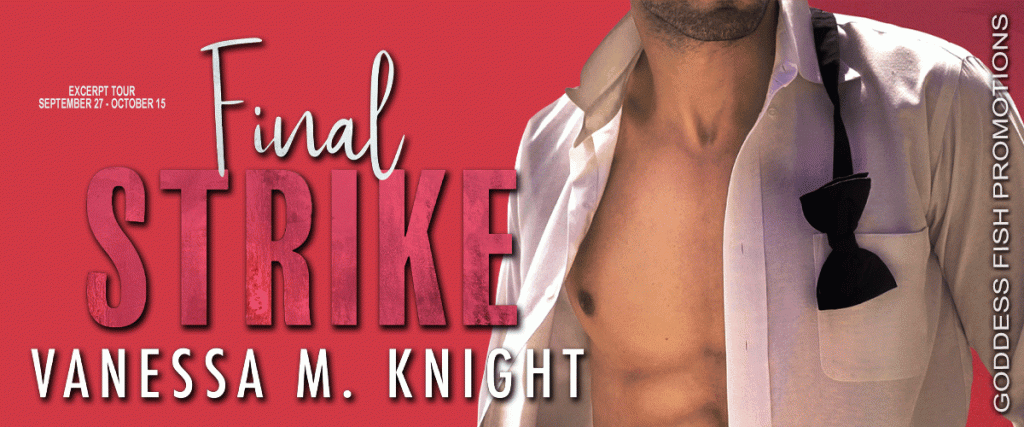 This post is part of a virtual book tour organized by Goddess Fish Promotions. Vanessa M. Knight will be awarding a $20 Amazon or B/N GC to a randomly drawn winner via rafflecopter during the tour. Click on the tour banner to see the other stops on the tour.
Julie Connolly thought she had perfected the art of emotional eating, but ever since she learned of her father's passing, she's taken it to new heights. The bastard has figured out how to destroy her life from the grave.

Her father's proposal—abandon her son Cody, so someone else can raise him, or lose her inheritance. The outrageous condition doesn't deserve a response but the lawyer her father hired demands an answer. Before she can tell the ambulance-chaser exactly where he can shove his demands, her worst fears come alive: Cody is kidnapped. Her only hope comes from Ben Mooring, a man she hates nearly as much as her father.

Though Ben Mooring lost his chance with Julie years ago, she and Cody still mean the world to him. He practically raised the kid for years when he was with Julie. When Cody goes missing, Ben drops everything to search for him. He might never win a spot in Julie's life again, but he can't rest while Cody is in danger and Julie needs him.

Julie and Ben join forces to find Cody, but they have to work quickly. If she doesn't find him soon, she might lose her son forever.
Enjoy an Exclusive Excerpt
Julie stepped into the stomach-holding, never-to-be-seen-by-anyone panties. Safety in granny-panties. After pulling, prodding, and briefly writhing on her bed to get the waistband over her hips, she was appropriately sardined and ready for an outfit.
She whipped open the door to her closet, and a black-hooded battering ram came at her. Her arms flailed. She grabbed for their arm, but her fingers slid off the black cotton jacket.
Down. Down she went. Whoever it was left the closet and moved toward the sliding glass door.
No. Julie grabbed the intruder's left leg with one hand. Not enough. She clamped on with both hands, and her body banged against her dresser. Everything on top of her dresser fell to the floor. Bottles slapped against the wood and shattered. Her fabric jewelry box slammed into her shoulder. Julie flinched, and the intruder pulled away. She kicked her legs to get closer.
Yank. The body dropped to the floor with a groan. A deep groan.
The criminal's right leg barely missed Julie's face, skinning her neck. She pulled back as that right leg tried another pass. Dammit.
"Stop!" Julie gasped, struggling to roll her half-naked body over both legs and pin them down. The criminal's shoe caught on the thigh-band of her Spanx. The bad guy jerked like a landed fish, and Julie finally angled her body over their legs, pushing them to the floor.
Another groan.
The bad guy wiggled. Julie held on. Her breathing erratic. Her heart beating out of her chest. "Why. Are. You. Here?"
About the Author: Who is Vanessa M. Knight? Well, I'm an author. Wow. After years and years of wanting to use those words, that is fun to say. It's almost as fun as supercalifragilisticexpialidocious. Did I spell that right?
I write contemporary romantic suspense.
I live in Chicagoland with my family and menagerie of four-legged friends. In my mind, these lovely animals do everything as they should. I'm the alpha, keeping peace and harmony amongst my humble servants. In real life, they own me. I'm the maid, here for their feeding pleasure. Well, that and to clean up their messes.
When not catering to the needs of adorably-furry faces, I slug through the nine to five grind and head home so I can write. Of course, that's after I make dinner and clean the house and all the other tasks that go into family life. So really, I work, cater to animals and my family… and then, if I don't fall face first into bed, I write. I love putting my characters into crazy situations and watching how they react. I hope you love reading about them.
I love to hear from fans.
Twitter | Facebook | Instagram | Amazon Author Page | Website
Buy the book at Amazon, iBooks, Barnes and Noble, Kobo, or Smashwords