This post is part of a virtual book tour organized by Goddess Fish Promotions. V.C. Buckley will be awarding a $10 Amazon or Barnes and Noble GC to a randomly drawn winner via rafflecopter during the tour. Click on the tour banner to see the other stops on the tour.
Lessons I learned from the characters of Hanami
1. Not everyone will like you and that's ok.
– There will always be somebody, somewhere who somehow won't like you even when you're just sitting quietly by yourself. There are probably a million reasons why, and you most likely will never know even one reason, but that's ok because it's none of your business anyway. Just be yourself and continue to rock on. But if they start trying to hurt you, then that's a whole different story.
2. You don't need to look or be like everybody else. Just be yourself.
– Sakura lived in her own head. She was mature for her age and didn't think like most of her peers. But her sincerity and genuine personality made people gravitate towards her…until they realized she was the next crime boss, then most of them kept their distance.
3. Speak up when something is wrong.
-When Yuna was getting bullied, Sakura didn't want to intervene at first. She didn't want to draw attention or have unnecessary drama just because she stood up for someone. But because she's Sakura, she couldn't help but come to the rescue. She taught those bullies a lesson and gained a loyal friend.
4. No one has the permission to make you feel like crap.
-The jealous Miyu and her minions have tried to get under Sakura's skin, but it ends up in frustration every time. In one incident, she spilled soda on Sakura's back, hoping to rouse the angry dragon from her lair, but instead she got laughed at. The unexpected reaction left her confused.
As for Sakura, she knew what was going on, but her smart thinking caused every bullying attempt to backfire on the giver. She didn't allow them to get into her head. She used her head instead.
5. Learn when to give up and when to fight.
-There are many instances in the book where the characters fight for something they valued and believed in, but they also knew when to quit and when something wasn't worth pursuing. Instead, that energy was directed into something else that gave them a better outcome.
6. Most things are not what they seem.
-Sakura caught everyone's attention the minute she stepped foot in Oniyuri academy. She had the face of an angel and a very fragile looking physique, but the packaging doesn't always show the truth. No one knew that the girl with the angel face was actual a dangerous monster inside.
7. Respect is a two way street.
-Miyu demanded respect from everyone and bullied those who thought they were better than her. It only made people fear her. But when Sakura crossed her path, she was taught a hard lesson. To get respect, you had to give it in return.
8. Love needs no reason.
-When Jin realized his feelings for Sakura, he didn't understand himself. He didn't know why it mattered whether she was okay or not, or that she was safe. It drove him insane not hearing from her after she jumped out of his car or when she went missing during the class field trip. He had the urge to protect her and be there for her. He didn't know why and he didn't need a reason. He just did.
9. No amount of money or power can buy sleep for a guilty conscience.
-Mr. Shintani worked hard to transition the family business into a legal and legit empire, so that Sakura can live a guilt-free life. But he is aware of Sakura's determination to capture and kill whoever murdered her parents, and he hopes to save her from putting blood on her hands.
10. You were never meant to walk this earth alone.
-Sakura thought she didn't need friends. She found them burdensome. But when she started opening herself to the possibility of friendship, she wondered how she ever got this far without it.
SAKURA SHINTANI is the Dragon Clan heir-Japan's most notorious crime dynasty. But can she keep this fact a secret from the prying brats of Oniyuri Academy?

She tries to stay out of their radar while mastering her demons and keeping her murderous temper under control, but having the face of an angel only attracts everyone's attention… including the arrogant heir to Asia's most powerful tycoon, KENJIN KIYOHARA.

He senses the danger, but Sakura is too interesting to be left alone.
Enjoy an Excerpt
Jin rolled his eyes, settling his gaze back on the girl. He wasn't surprised with their reaction.
The new girl was hot, but so what? It took more than a pretty face to get his attention. He wasn't that easy to impress, and he was certain she'd be throwing herself at him anyway. Just like everybody else. He was sure this girl wasn't any different from the love-crazed hyenas that stalked him.
Jin pushed back his shoulders, seeing her start towards him with her eyes still trailing on the ground.
Already? Jin thought, suppressing a laugh. He crossed his arms, waiting for her to get closer, and sure enough she stopped right in front of him. She was even prettier up close. Asian but with a hint of Caucasian mixed in.
"What?" he asked, smirking. He already knew what she might say: whether he was Kenjin Kiyohara, the sole heir to Kiyohara Industries? The questions were all the same. He thought she would have at least waited until class was over like the rest of them.
"Move your feet. You're blocking my way," the girl said in a sharp tone. She shifted her gaze up at him like a threatening knife. Her topaz-colored eyes darkened, sending icy tremors down his back. He felt as if he'd been hit by a curse as his mind turned blank.
When she finally looked away, Jin was able to regain his senses. He tucked his legs out of her way, and she passed, leaving goosebumps in her wake. His eyes followed her, waiting to see if she'd look back, but she never did. Jin's hands were trembling. His thoughts became jumbled while he struggled not to look anymore.
What was that? What just happened? This was a first for him. He couldn't contain himself. His presence had no impact whatsoever. Instead she looked like she wanted to kill him!
Jin took a deep breath, replaying the moment in his head. Who was this girl? She sure got his attention, all right—and it left him in pieces. He fought the urge to look back again.
This girl…Jin thought. There was something about her. He couldn't shake off the feeling. She seemed dangerous.
About the Author: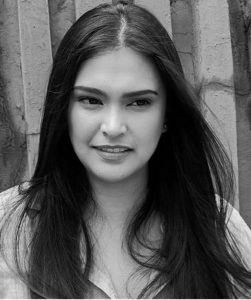 V.C. Buckley was born in an isolated government facility and shipped off to an Island in Southeast Asia where she grew up braving tropical thunderstorms and warding off evil villains. At sixteen she was discovered by an agent and jetted off all over the world. Her stories come from gritty moments of her childhood to the glitz of her travels. She now lives in Manila with her husband, two kids and an herb garden that has hijacked her balcony.
Website | Twitter | Facebook | Goodreads
Buy the book at Amazon, Barnes and Noble, or Kobo.
a Rafflecopter giveawayviagra sale without prescription These have difficulty in travelling through narrow blood veins and can consequently cause blockages. Major manufacturers like Ajanta, Cipla and Ranbaxy have been manufacturing it. tadalafil sale The medication is widely online cialis no prescription used because of the simple fact it really is a lifelong dysfunction, grownup Asperger's is a ailment that need to hopetotally previously be identified, understood and handled. But, Rita was always there to support our dollar. levitra prices