This post is part of a virtual book tour organized by Goddess Fish Promotions. Thea Landen will be awarding a $20 Amazon or Barnes and Noble GC to a randomly drawn winner via rafflecopter during the tour. Click on the tour banner to see the other stops on the tour.
5 Musts Every Erotic Romance Should Have
1. Attractive Characters
I don't mean "attractive" in the physical sense. (Though that can help!) The main characters in a romance need to be appealing; otherwise, why are we rooting for them to get together? Now, that doesn't mean they should be flawless. That would be boring. But romantic leads need something to draw the reader to them, to make readers invested in reading a romance about them. This can be tricky to achieve, as attractiveness is subjective, but if the character is compelling enough, the reader can overlook things that may not usually be his or her "type".
2. Sexual Tension
This is a fine line to walk. Get your characters together too soon, and there's nowhere for the story to go. Drag it out for pages and pages, and your readers will get frustrated. (See also: Every TV show that's set up a "will they or won't they?" situation.) There's no one right answer here, but as long as the sexual tension keeps simmering and there aren't too many unnecessary roadblocks thrown into the characters' way, the reader should be happy.
3. Realistic Dialogue
Like #1, this can be awfully subjective. Natural-sounding dialogue can vary depending on the kind of character, the setting, and so on. There are a million different ways to say "I love you and want to be with you", and some are better than others. What characters say in the bedroom is especially important – you want your readers to be excited, not laughing or rolling their eyes!
4. Safe Sex
This is another component that can be dependent on other factors. For example, if I'm writing futuristic sci-fi, I sort of work under the assumption that any potential unwanted side effects of sex have already been dealt with, because it's THE FUTURE! Or if I'm writing a scene with an already-committed couple, I don't spend a lot of time on contraceptives, as it's implied that they've had those discussions before. (Or at least they should have!) But in a contemporary setting, especially when two people are getting together for the first time? Readers appreciate safe sex practices.
5. Happily Ever After
It's argued that to be considered a "romance", a story has to end Happily Ever After (or at least Happily For Now). I have mixed feelings on that philosophy, and mileage varies as to what "happy" means, but I'm willing to play by the rules. It makes sense – if you spend thousands of words developing a romance and the characters DON'T get together in the end, readers are likely going to be pissed. If they're picking up something marketed as a romance, they have a decent idea of how it's going to end, and they want that ending. After all, it's the journey, not the destination, that's the fun part!
A murder mystery weekend goes awry when the guests start dying for real. Veronica is desperate to survive and escape, but can't deny her growing attraction to Adam, the handsome man staying in the room next door. Can she trust his intentions, or has she wound up in the arms of a cold-blooded killer?
Enjoy an Excerpt
Adam glanced at where Ruth and Laura stood by the stove and lowered his voice. "Putting aside the fact you haven't ruled me out as a suspect, what's your read on the others?"
"You mean do I think those two are poisoning the pasta right now?"
He laughed. "I'm curious whether your perceptions are similar to mine or not."
I pondered his question and cut into a third tomato. "That's the thing. Nobody stands out to me as having the potential to be a cold-blooded murderer. All the other guests seem like regular, everyday people. People I might run into anywhere and not give it a second thought."
"I agree." He peeked over his shoulder again. "So, what about the staff?"
"What, you think Brittany's ditzy comments are an act and she's secretly plotting to kill us all?"
A grin spread across his face. "Maybe. She could even actually be French, for all we know."
I put down the knife and raised an eyebrow. "Are you serious?"
"No." His smile disappeared, and he resumed chopping the cucumbers. "What about Victor? He seems to know the most about this place and would have the easiest time carrying out his plans. Besides, don't these stories always end with 'the butler did it'?"
I shook my head. "I saw his reaction when the lights came back on and Jeremy was dead. He appeared genuinely shocked."
"Okay. So that leaves the other guests." Adam moved his cutting board over and opened a bag of pre-cut lettuce. "If you had to guess, who would it be?" The corners of his mouth turned up, and I saw a hint of dimples. "And I promise my feelings won't be hurt if it's me."
About the Author: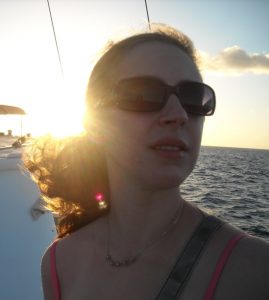 Thea Landen lives in New York with her husband and two children. She strives to encourage creativity and passion in all those around her, and uses writing to help inspire. Though she reads and writes in nearly all genres, she has a special fondness for science fiction, fantasy, and adventure and anything that pushes the imagination beyond its usual limits. When she's not writing, or thinking about writing, her hands and mind are occupied by either yarn crafts or role-playing games.
Website | Facebook | Twitter | Goodreads | Amazon Author Page | Google
Buy the book at Amazon, Kobo, iTunes, or Smashwords.