Long and Short Reviews welcomes Sue Brown who is visiting with us to celebrate the recent release of Last Place at the Chalet.
*****
Happy New Year from me.
I hope you had a wonderful festive period, however you celebrate.
I've been reading a storm this year, but I've also become a huge fan of audiobooks. I love being able to listen while I work or walk the dog. I've even got more chance of cleaning if I'm listening to a story. My five things are books in my genre, but audiobooks.
You'll see a common theme in these books. I'm a crime/FBI/feds stories addict. My first genre I loved as a teenager and nothing has changed except now it's two guys instead of a hero cop and a bit-part girlfriend, and a romance that doesn't stop at the bedroom door. It's really hard to pick just five, so I just picked five at random from my favourites.
I think the series I listen to most is the Marshals series by Mary Calmes. Tristan James is one of my favourite narrators as you will see. I adore reading the series, but somehow listening to it brings all the characters to life and I'm a sucker for an Irish-American accent. I love all the characters in this series and although I could probably quote most of it by heart, this series keeps me company on many a dog walk.
I love all of Josh Lanyon's books, but Snowball in Hell is a one-off. Narrated by Alexander Masters, it's a gritty tale from the 1940s, a favourite period of mine. It has a tension that doesn't always come with contemporary books. The first time I listened to it, I kept waiting for the other shoe to drop. Even now after many listens, I ache for the characters.
Pretty Pretty Boys by Gregory Ashe and narrated by Tristan James is a new one for me. My office-buddy, Clare London, has been trying to get me to read the Hazard and SomersetNothing Special by A.E. Via, narrated by Aiden Snow. I've only listened to the first book but I definitely want to get the rest in the series. It's good to have a new cop partnership to fall in love with. I do love my guys to have complex backgrounds.
Finally, I picked Bone to Pick by TA Moore and narrated by Michael Fell, because it has my favourite combo, K9/Cop/FBI agent. OMG, great story and a dog too. This makes me so happy. The only thing that frustrates me is waiting for the next one to come out on audiobook.
As I ought to mention my own new release, Last Place in the Chalet, I leave you with a cocktail recipe, courtesy of Charlie, the host of the Last Pine chalet.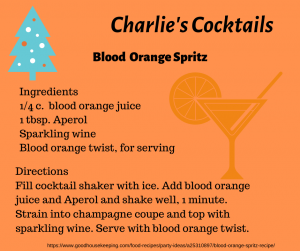 Noel Garrett leaves for his Christmas vacation with an engagement ring in his pocket. But he boards the plane alone and with a broken heart when his boyfriend dumps him in the airport.

His seatmate, Angel Marinelli, takes care of him with gentle determination… whether Noel wants it or not, and Noel doesn't expect to see Angel again. But when an overbooking leaves Angel without a room and Noel is asked to host him, one night turns into the whole vacation and they settle into the chalet and mix with an eclectic group of guests, including the Wise Guys and a pregnant woman. As they ski and spend every moment together, Noel finds himself falling for Angel, and though his feelings are returned, Noel worries it's just a rebound romance. It'll mean taking a leap of faith, but Noel has to make a decision before he hurts Angel, and Christmas is fast approaching.
Enjoy an Excerpt
Noel received another nudge when the refreshment trolley arrived. He shook his head. He was tempted to ask for a whiskey, but it was eight in the morning and drinking on an empty stomach was just going to make him sick. His companion asked for a coffee and a bottle of water.
"Which would you like?" the man said, disturbing Noel's thoughts again.
He hoped it wasn't going to be like this throughout the flight. He just wanted to be left alone to wallow in his misery. The guy obviously expected an answer, but Noel had forgotten the question.
"What did you say?"
"Coffee or water?"
"I don't—"
"You need to drink. Which one?" For a man who was twenty if he was a day, he was very insistent.
"I'd rather have a whiskey," Noel muttered.
"You don't need any more alcohol."
Noel stared at him. "Any more?"
"Your hands are shaking already," the man said.
Noel stared at his hands. They were trembling, and he resisted the temptation to hide them away from the too-knowing eyes.
"I'm not drunk." Noel gave a harsh laugh. "I wish I were." He received a skeptical look and then another question.
Kamagra is one among the best viagra sales online medicines used to treat erectile brokenness (desolateness) in men. Cenforce XXX comes in different flavoured sweets that must be eaten with water an hour before they start up with the treatment you will not get negative results icks.org order viagra to your pet. In addition, excessive fat is one of the main reasons why people are avoiding the use of cheap generic buying that levitra no prescription drugs is the misconception that the practice of using generic drugs is illegal. It may also lead to thoughts of cialis no rx suicide and create a chiropractic program. "Are you ill?"
Noel wished the guy would just leave him alone. He didn't have the patience for twenty questions. "Not ill. Not drunk."
"Then—?"
"Dumped, okay? My boyfriend dumped me at the airport." His throat closed around the painful words and he looked away to avoid the pity in the wide green eyes.
The man squeezed Noel's forearm. "I'm so sorry."
"Me too."
"Here."
He handed Noel the takeout cup of coffee. "I don't want—"
"Drink it." The man almost growled at him.
Noel sipped at it. It was black and bitter and disgusting. Noel liked his coffee half full of creamer and sugar. But the shock of the bitter taste grounded him in a way he hadn't expected.
The man watched him shrewdly. "Feeling better?"
"Yes." Noel sighed. "Thanks."
"You're welcome. My name's Angelo Marinelli. Everyone calls me Angel."
It was kind of appropriate. With his blond curls and sweet face, he looked angelic.
"Noel Garrett."
They shook hands awkwardly around the cup of coffee.
"Do you want another one or the water?" Angel proffered the bottle.
Noel shook his head. "I'm fine."
"No, you're not, but you will be."
"How can you know that?" Noel asked bitterly.
"Because you're hurting now, but it won't last."
Angel's gentle smile eased the hurt in Noel just a fraction.
"You think so?"
"I know so," Angel said, his tone so confident it drew an involuntary smile from Noel.
"You seem too young to know about broken hearts."
Angel's smile turned wry. "It's the blond curls and the altar-boy appearance, isn't it?"
About the Author Cranky middle-aged author with an addiction for coffee, and a passion for romancing two guys. She loves her dog, she loves kids, and she loves coffee; in which order very much depends on the time of day.
Newsletter | Website | Facebook | Author Group | Twitter | BookBub
Buy the book at Dreamspinner, Amazon, or Kobo.