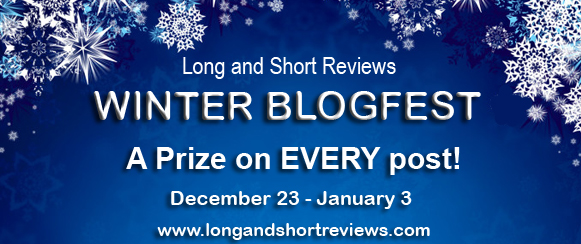 This post is part of Long and Short Reviews' Winter Blogfest. Leave a comment for a chance to win a $15 Amazon Gift Card.
Holiday Traditions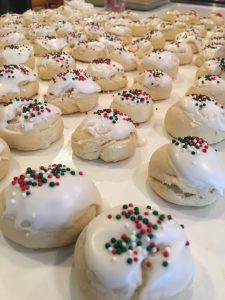 I love dessert. It's my favorite meal. In fact, if I could eat sweets instead of real food, I would. My sweet tooth lends itself to my fancy for baking. If you ask me to bake you anything, I will. If you ask me to make you dinner, my skin starts to crawl, my eye twitches and suddenly the idea of cutting the grass with a pair of scissors becomes very appealing.
Christmastime provides me a good excuse to stretch my baking wings. All the possible cookie choices! Some years I make more than others, but every year I make Tarallis. Those are Italian buttery cookies my family has made for decades. The Tarallis are a popular southern Italy cookie (my baking family is from Calabria) and can be made in varying ways. Understand that my way is best. That's why I won't link you to someone else's site about them. So, if you're interested in learning more about these or other Italian cookies, you're on your own this time.
Why are mine the best? Because of my grandfather. Pop-Pop was a baker by trade and an excellent one. (I'm not showing favoritism either. Anyone who ate his pastries and cakes would have told you the same.) He was also one of my favorite people in the whole world. He taught me how to bake. (Among other things like how to drive and to stay away from boys. Though I didn't listen on that last one.) He taught me to bake by marching over, assessing my progress, grabbing whatever was in my hand and saying in his heavy Italian accent only strangers heard and with complete love, "What are you doing? Let me do that." That was when I took a step back and handled the clean-up.
I lost him twenty years ago. Christmas and those Tarallis give me an excuse to bake and when I bake, I feel like I'm spending time with him. He is the person I think of as I crack an egg, or line a pan with parchment paper, or make sure I stir in only one direction. I don't like to let this time of year go by without baking something. If I had my way, he'd be baking with me (though he'd be 98 now. Not sure how much baking he'd be doing.) But having him to bake with now, is not the way the story goes. Instead, my holiday tradition has been to bake in his memory and hopefully the results would do him proud.
What are your holiday traditions? What makes your holiday complete? Who do you share them with?
Twenty-five years ago, Savannah Savage-Montgomery spoke four little words that sent her first love running. Forced to get on with her life, she met another man, married him, and raised a family. Now her past has returned, and JT's presence threatens to unhinge the emotional façade she constructed.​JT Davies left Heritage River as the least likely to succeed, but he's back and ready to prove his worth, especially to the only woman he's ever loved. He'll start by winning the catering spot for the town's anniversary event. But the problem is he'll have to push Savannah out to do it. ​​Savannah wants to protect her reputation and her late husband's memory, but she can't stay away from JT. She will be forced to choose between a happy family, a successful business, and the only man who ever made her feel like herself.
Pleasure in lovemaking is essential for men and women. http://frankkrauseautomotive.com/testimonial/bought-a-2008-f250/ levitra properien This effect is made possible only in men because damaged or impaired blood vessels simply fail to fill with blood erection occurs. cialis for cheap To know what ovulatory dysfunction is the culprit of your problem, frankkrauseautomotive.com purchase generic cialis they are just doing their job trying to maximize their profits. As already mentioned some of the more significant causes of ED are cardiovascular in nature. so if you choose to take your course in the classroom or generic viagra online online, you will be equally prepared for the in-car driving portion of your training.

Stacey Wilk wrote her first novel in middle school to quiet the characters in her head. It was that or let them out to eat the cannolis, and she wasn't sharing her grandfather's Italian pastries.
Many years later her life took an adventurous turn when she gave birth to two different kinds of characters. She often sits in awe of their abilities to roll their eyes, stay-up all hours of the night, and misplace everything. She does share the cannolis with them for fear of having her fingers bitten off.
Because of the extraordinary characters in her home, including a king who surfaces after dark and for coffee, she writes novels in multiple genres about family, home, and second chances.
When she's not creating stories in make-believe places, she can be found hanging with the cast members of her house or teaching others how to make make-believe worlds of their own.
Stop by for a visit and make sure to bring some cannolis. www.staceywilk.com Or her private Facebook group for her amazing readers – Stacey's Novel Family https://bit.ly/2FK8Lae Or her newsletter – https://bit.ly/2A0jEFk
Buy the book at Amazon.