Hello, and welcome to my second ever blog tour, celebrating Riptide Publishing's release of Shadows & Dreams, the sequel to Iron & Velvet. Yay! Thank you so much to Long and Short Reviews for hosting me. And, to you, dear reader, for stopping by. If you'd like to come with me and keep me company on my virtual wanderings, you can find a full listing of when and where I am.
There's also some kind of contest type thing happening. I had a bit of trouble choosing a prize for this one because most of the things Kate likes (booze, cigarettes, knives, women) are illegal to ship internationally. I thought about a fedora, but then I remembered people had differently shaped heads and there was no point sending somebody an item of clothing they wouldn't be able to wear. So, basically, that leaves coffee and Bovril and nobody likes Bovril except people from the North East of England. I'm therefore going offer 250g of Jamaican Blue Mountain, the nicest coffee in the known universe, purchased from a wonderful speciality shop, ground or beaned to your specification. If you don't like coffee, I'll replace it with an equivalently lovely tea. I'll also throw in a hard copy of Iron & Velvet (or the other thing I wrote) if that's the sort of thing you'd like. I can even scribble stuff in it, thus reducing its re-sale value … or, y'know, not do that. I'll announce the winner a handful of days after the end of the tour.
Actual Freakin' Research
I have a very sporadic approach to research. Sometimes I'll just make things up as I go along, sometimes I'll get an idea for a story, read a bunch of books about Christopher Marlowe or the history of Venice or something, and then completely fail to do anything about it.
Because the Kate Kane books are very much grounded in the physical geography of London, a large part of my research for the series is to do with specific places. A lot of the time I cheat with Google Streetview, but I do sometimes go and actually look at stuff. In particular, several of the major villains in Shadows & Dreamsare based in specific locations around the city, and I wanted to make sure I'd seen those locations first hand.
The first major location I had to consider was Highgate Cemetery. The "vampire of Highgate" was a myth I'd always wanted to incorporate into the series, and I decided early on that I wanted the plot of the second book to revolve around a struggle against an ancient, powerful vampire, so making them one and the same seemed sensible. This did lead to some problems, since Highgate Cemetery only dates back to the 19th century, and powerful vampires in the Kate Kane series tend to be a good deal older than that. Getting a Neolithic-era vampire into a Victorian-era graveyard required a bit of wrangling, but I like to think it more or less makes sense.
I visited Highgate in January 2013 in order to get a sense of its layout. It had been a cold winter that year, so the whole place was buried in thick snow which really added to the sense of atmosphere. The place is basically nuts – it's still in use to this day, but it positively screams Victoriana. It's all obelisks, sculptures of angels, marble tombstones and – famously – Karl Marx. The Karl Marx section is particularly interesting, because there seems to have been quite a long period of history during which it was fashionable for high-ranking communists from regimes around the world to be buried alongside him, so every grave nearby belongs to a comrade somebody from somewhere. Often from somewhere a thousand miles from Highgate.
The tomb Kate tracks the villain back to is a real tomb, just inside the entrance to the cemetery. As the man in the green puffer jacket explains, it belongs to Lord Dalziel of Wooler – an MP notable primarily for having a really, really blingy mausoleum. Which I suppose is sort of the reason people build really blingy mausolea in the first place.
The other location that I went to some effort to check out was Syon Park (which really was where Henry Percy, Wizard Earl of Northumberland had his London home). It's an honest-to-crap stately home set inside a massive chunk of private parkland in an otherwise quite ordinary bit of Brentford. It's a really weird transition, walking off a perfectly normal street opposite a Majestic wine lodge, down a walled alleyway and into something that looks perilously like the Shire, complete with woods, fields and little rivers, all surrounding this mad old building which the Dukes of Northumberland still live in even now.
The layout of the house is more or less as it is described in the book – including the garden centre and the wax replica of the mangosteen. Since the book required Kate to break into the building, my research visit to Syon Park did involve actually – well – casing the joint. Walking around a posh house trying to work out how you'd break into it, where you'd get in and where you'd come out once you had, makes you feel a little bit self-conscious. Fortunately nobody called the cops on me.
Much like Kate, I always find something a bit alienating-slash-mind-blowing about places like Syon. It's the fact that actual human beings not only lived but continue to live in them. The real Syon House actually has photographs of the current Duke and his family scattered around the place, and it's really jarring to see these comparatively normal family pictures in a location that has things like vaulted ceilings, genealogies stretching back to Charlemagne, and actual secret doors.
About AJH
Alexis Hall was born in the early 1980s and still thinks the twenty-first century is the future. To this day, he feels cheated that he lived through a fin de siècle but inexplicably failed to drink a single glass of absinthe, dance with a single courtesan, or stay in a single garret. He can neither cook nor sing, but he can handle a seventeenth century smallsword, punts from the proper end, and knows how to hotwire a car. He lives in southeast England, with no cats and no children, and fully intends to keep it that way.
You can also find him all over the internet, on his website, Facebook, Twitter, BookLikes, and Goodreads.
About Shadows & Dreams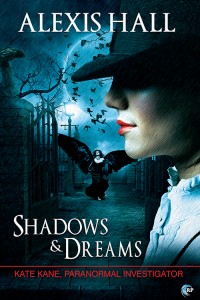 Second rule in this line of business: be careful who you kill.
My name's Kate Kane. And right now, I don't know which is more dangerous: my job, or my girlfriend. My job makes me the go-to girl for every supernatural mystery in London. My girlfriend's an eight-hundred-year-old vampire prince. Honestly, I think it's probably a tie.
A few weeks ago, I was hired for a simple missing person case. Next thing I know, I'm being arrested for murder, a vampire army is tearing up London, and even my dreams are out to get me. Something ancient, evil, and scary as hell is on the loose and looking for payback. The vampires are in chaos, the werewolves are culling everything, and the Witch Queen can't protect everyone.
Which means it's down to me. And all I've got to hold back the shadows is a stiff drink, a quirky sidekick, my creepy ex-boyfriend, and the woman who left me for a tech startup. It's going to be another interesting day.
You can read an excerpt and, y'know, cough, buy the book, if you want, at Riptide Publishing.