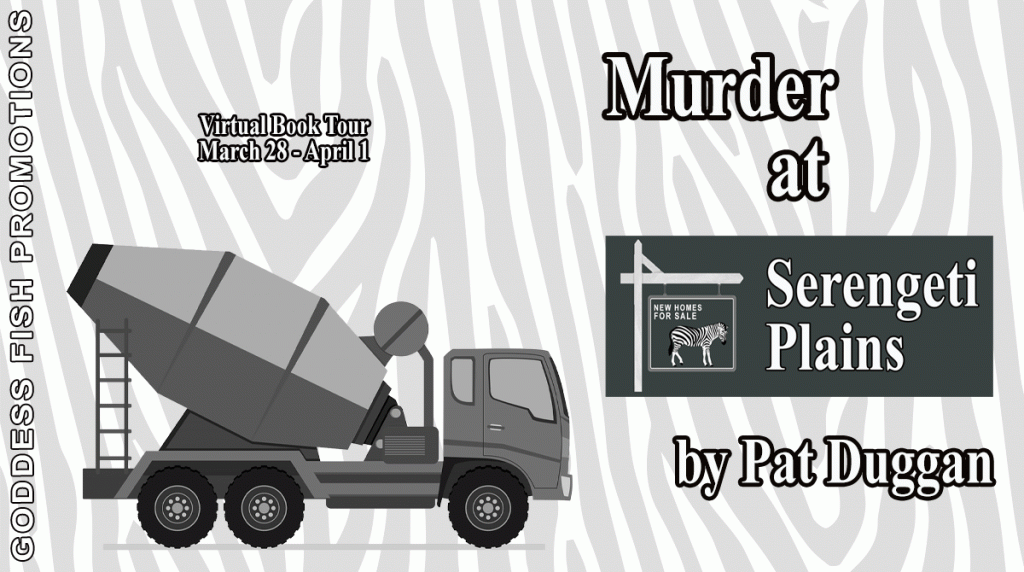 This post is part of a virtual book tour organized by Goddess Fish Promotions. Pat Duggan will be awarding a $20 Amazon GC to a randomly drawn winner via rafflecopter during the tour. Click on the tour banner to see the other stops on the tour.
The Hardest Part About Writing and the Ideal Writing Space
I guess the hardest part I found about writing was getting started. Unfortunately for me at least, this happens multiple times in the course of writing a book. Let me try to explain! I do not plan out my book in advance. When I sit down in front of my laptop, I have only a basic idea about the content of my book – I know someone will die; some idea of how; not sure why; but usually I know who. Based on this sketchy information, I have to decide where to start. When the introduction forms in my mind, the writing begins to flow. In time, I reach a sticking point and have to stop and determine the next step. If I find that I am missing something, I have to go back and insert or reorganize the story to make it fit correctly. This process continues throughout my book and this is what I mean by 'the hardest part is getting started and it happens multiple times throughout the book.'
The ideal working space was a different challenge. For several years while I was writing, we were on the road, living in a motorhome. I was fortunate that I could choose when to write and I did not have a daily work schedule. During our travels, we had several places where we chose to stay for several months and that is when I could turn my attention to writing. At these times, I would usually write for several hours a day over a period of weeks or months. A motorhome does not have space for a cozy exclusive office with a desk, chair, filing cabinet, and bookcase, cut off from the outside world.
My ideal working space was simple and unsophisticated. Most important was quiet and my partner respected that fact. I always sat in the front passenger seat of the motorhome. It provided a comfortable seat, and I could rest the computer on my lap. The dashboard in front of me provided space to spread out any documents I was using, and provide a place to put my feet up. The windshield in front of me was a window to look out on the world when I needed a momentary distraction. I am sure this is not what most people would consider ideal but most of the time when I write, I am lost in the world I have created, so my physical location is not relevant.
Murder at Serengeti Plains is the third mystery novel in the series, featuring amateur sleuths Hazel Davies and Anna Kohl. The earlier novels are Murder at Eagles Nest and Could They Be Twins?

The book is set in a new residential subdivision, Serengeti Plains, built by the renowned local builder, Zebra Homes. It is located in the peaceful, historic town of Centerville, Ohio. However, peace is shattered when the new residents are awakened one morning by the sound of police sirens. The procession of police cars, come to rest in their own neighborhood. A body has been discovered! Was it an accident or was it murder?
Hazel Davies and Anna Kohl have recently moved into this new subdivision. They have previously helped the police to solve murders in both Florida and Ohio, but they did not expect to find one on their own doorstep. When the police begin to look at their friend as the perpetrator, they find themselves drawn into yet another murder investigation.
Enjoy an Excerpt
The National News on television led off with a headline about house prices and the shortage of homes for sale throughout the country. In Centerville, Ohio there was a growing, new sub-division, Serengeti Plains, being built by Zebra Homes. The builder named the development after a district in Africa where zebras roam wild. His company was well respected and recognized for building beautiful single-family homes, laid out to form desirable neighborhoods and the Serengeti Community was fast becoming a gem amongst their many projects in the area.
The construction site was a hive of activity, with multiple homes in various stages of completion as demand for new homes pressured the builder to construct his properties as quickly as possible. There were contractors of various disciplines swarming all over the building site, working feverishly to complete each unit while maintaining the builder's required quality and standards.
All of this activity invariably led to disagreements and friction amongst the workers. One man in particular, Larry Cox, who worked for the excavation company and held an inflated opinion of himself always seemed to be at the center of much of the unrest. He liked to 'throw his weight around,' and talked down to the other workers on the site. He continually bragged about his thirty years' experience and seemed to think this cemented his superiority over anyone and everyone on the building site, including buyers who frequently visited the site to watch the progress of their 'soon to be' new home.
About the Author

Originally from Manchester, England, Pat Duggan moved to the U.S. in 1985. After a career in finance, which included running her own book-keeping and tax business, in the Cincinnati area, Pat and her partner retired and moved to Oregon. Years later, they embarked on a five-year journey, traveling across the country in a motorhome.
Writing was a whole new direction for Pat, which began with two non-fiction books – The Power Within and Finding God in an RV. Then she branched into writing fiction as she turned to her love for solving murder mysteries and the challenge to figure out 'whodunit!'
Sadly, their traveling days are over, but settling down has brought its own reward as it inspired this latest novel.
Facebook | Amazon Author Page | Goodreads
Buy the book at Amazon.