Enter the Rafflecopter below for your chance to win a $100 Amazon/BN GC and more!
What's Not to Love About the Heat? by Nina Pierce
What is it about the summer that draws people? Oh, some will tell you they love the spring, when the world is fresh and new. Others like the fall (especially in warm climates) because of the cooler temps and beautiful foliage. And then there's the group of psychotic …er, um … I mean the insan … no, I mean the few crazy people who will tell you winter is their favorite season.
But if you poll the beach crowd or the outdoor concert crowd or the picnic at the park crowd (of course I'm stacking the deck here), without a doubt they'll tell you summer is their favorite season!
What's not to love about enjoying the outdoors in shorts and a tank top, bare toes tickled by fresh mown grass? The smell of a soft summer rain? A cold beverage on the back deck watching the fireflies? And then there's all those miles of bronzed skin we get to drool over! Or enjoying a sultry night snuggled up close to your lover? Yee haw. Now that's what I'm talking about! I don't think there's anything hotter than getting nekkid with my man. slipping between those sheets that were dried in the summer sun and working up a sweat. *wink wink*
Of course if you don't have someone special to share a summer night with, I've got just the solution. How about 11 hawt stories brought to you by 11 amazing authors and all that for only $0.99!!!?? Yep, you read that right.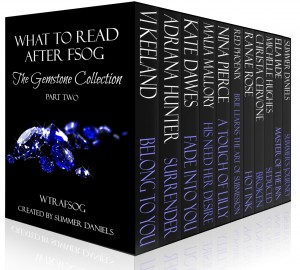 Check out our release WHAT TO READ AFTER FSOG (Fifty Shades of Grey) Boxed Set #2!
Belong To You by Vi Keeland — New York Times and USA TODAY Bestselling author. My honeymoon was almost everything I dreamed it would be…a tropical paradise, turquoise water, romantic walks on the beach, and loads and loads of mind shattering sex. The only thing missing was the groom.
Surrender by Adriana Hunter — New York Times and USA TODAY Bestselling author. When Jake agrees to take Abby as his submissive she must give him all that he demands of her until she has surrendered completely. But when he pushes her to her limits she wonders if she'll ever be the same again.
Fade Into You by Kate Dawes — New York Times and USA TODAY Bestselling author. Olivia Rowland moves to Los Angeles to work for a Hollywood talent agent. Life in L.A. is a culture shock, but nothing compared to the jolt she gets when Max Dalton enters her life.
His Need, Her Desire by Malia Mallory — New York Times and USA TODAY Bestselling author. Tabitha didn't come to Hawaii to be spanked, but that's the cost of being saved from drowning by Marcus and the start of an affair so intense they must decide – is this a holiday fling or the real thing?
A Touch of Lilly by Nina Pierce — USA TODAY Bestselling author. Detective Lilly D'angelo has given up finding a soul mate and thrown herself into her career. That is, until she captures the wrong alien and is shipped into deep space. Now she's working as a bounty hunter and hell-bent on revenge.
Brie Learns the Art of Submission by Red Phoenix — This #1 Bestselling erotic novel follows the sensual journey of Brie Bennett as she attends the Submissive Training Center – an institution famous for its elite instruction. Brie will discover her deepest desires, darkest fears, and the intense love of several of the Center's talented Doms.
Hot Ink by Ranae Rose — Mina never meant to fall for her sexy tattoo artist, Eric, or to become a model. But when she's asked to pose with him in a photo shoot for the Hot Ink tattoo studio, she can't say no. In a few breathtaking moments, an on-camera kiss turns the passion they're asked to fake into something very real, leaving them both wanting more.
Broken by Christa Cervone — After four years of no contact and lots of self-destruction, Garrett's back in her life. Can they put back together the pieces of their shattered hearts? Or are they destined to remain Broken?
Seduced by Michelle Hughes — Four gorgeous billionaires and one woman who believes that pleasure is the biggest lie men use to get women into bed. Welcome to Fantasy's Bar & Grill. What we're serving up behind closed doors is hotter than anything on the menu.
Master of the Inn by Ella Jade — Pleasure Inn… Where all of your fantasies become reality. Elyse gets more than she bargains for when she meets Logan a sexy, reclusive innkeeper. Logan's dominance in the bedroom makes all of her fantasies a reality.
Summer's Journey, Vol. 1-4 by Summer Daniels – Join Summer on her journey of sexual self-discovery; a well written, intelligent and sexy series about the beginning of her sensual, sultry love affair with life, and all the joys of being a woman.
About the Author: USA Today Bestselling romance author, Nina Pierce, grew up in a house full of readers. Nina's discovered the passionate side of romance with her sexy stories. For her, it's all about the sweet scent of seduction mixed with the heartwarming aroma of romance.
Nina resides in New England with her high school sweetheart and soul mate of thirty-something years and several very spoiled cats who consider her ""staff"". When she's not writing she enjoys spending time with her three grown children, one love-sick son-in-law and a heart-melting grandson.
Website ~ Blog ~ Facebook ~ Twitter
Amazon:
http://amzn.com/B00KUTGATG
Barnes & Noble: http://www.barnesandnoble.com/w/what-to-read-after-fsog-vi-keeland/1119693857?ean=2940149531134&cm_mmc=AFFILIATES-_-Linkshare-_-Vt9Qu*BF9FI-_-10:1&r=1
Kobo: http://store.kobobooks.com/en-US/ebook/what-to-read-after-fsog-the-gemstone-collection-wtrafsog-book-2
iTunes: https://itunes.apple.com/us/book/what-to-read-after-fsog-gemstone/id886775935?mt=11