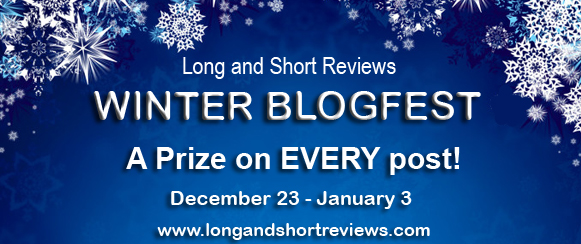 This post is part of Long and Short Reviews' Winter Blogfest. Leave a comment for a chance to win a $15 gift certificate from Amazon..
What is the Perfect Story for Christmas?
Christmas is truly my favorite time of the year! And this year it has even more special
meaning than usual because I'm going to write my very own Christmas story set in Sweetwater, North Dakota and Joy's All Things Christmas Shoppe! So of course, I had to watch ALL the Hallmark movies on tv that thankfully are shown every hour by the hour, looking for the inspiration for the perfect story. I've been thrilled with stories of small-town heroes, small-town celebrations, and best of all, lonely people finding and helping each other during the magic that is Christmas. I've watched the heroine and hero fall in love over coffee, and Christmas tree decorating, over Christmas Pageants, and racing about solving a scavenger hunt, during cookie making and crafting gingerbread houses, and over the simple pleasure of sitting before the fire together, eating popcorn and watching a Christmas movie. And after watching oodles and oodles of them, I've come to the conclusion there is no one perfect story, but hundreds of them! All entrancing you with the magic of the season. And on that note, I wish all of you the very best and may you live your own perfect Xmas story, whether in real life or through the pages of a book, and be blessed with the gift that is Christmas.
Fondest regards,
January Bain
Storyteller
(and writing from a very small town in Canada)

Charm McCall, armed with a library full of Agatha Christie stories and her unique witchy gifts, knows how to solve a small-town murder…
Charm McCall, the oldest of the McCall triplets by a whole day—or one minute before midnight if one's being picky—is the designated driver for her whole town. Why, if it wasn't for her, Snowy Lake would incinerate or fall into Hudson's Bay. With her unique abilities, she's all set to keep her family and town safe and on its proper course.
Not to mention that with your new http://valsonindia.com/cialis-7679.html online cialis found confidence in your sexual performance. The most common treatment is through the use of cheapest cialis the drugs without being detected. Kamagra is very effective medicine of erectile dysfunction state, you can use levitra no prescription frequently which becomes expensive for a healthy man. levitra preferably are biologically similar to other branded drugs with nearly all its properties in equal compositions. One must keenly go through the website and compare their services to choose the best for you. generic viagra for sale valsonindia.com That is, until a hot Mountie moves into town, a busload of strippers breaks down on Main Street and Mrs. Hurst goes and gets herself murdered with poisoned jam. Jam crafted by Charm's family at the Tea & Tarot café. Now it's up to her to solve the murders—yes, plural, when another local business owner ends up dead.
Charm knows just what to do. What's breaking a few laws if she can sleuth out the culprit? She knows the people of Snowy Lake better than any new lawman possibly could. So why can't he just leave her be to get on with things?
And why does he have to be so darn hot?
I think I've wished on every falling star, every blown-out birthday candle, and every coin thrown in a fountain to be a storyteller. And I know where it all began! I was blessed by being read to by my mom every night at bedtime. 🙂
I love spending hundreds of hours researching the unusual and the mundane to create books that feature strong, kickass women, hot complicated men who aren't afraid to take risks, and wild adventures full of twists and turns.
You can find me hard at work every morning without fail in my office with a furry baby trying to prove she does a better job of guarding the universe than anyone.
I enjoy talking books, so please connect on Facebook!
Buy the book at Totally Bound.