Long and Short Reviews welcomes Louisa Masters who is visiting with us to celebrate the recent release of her newest book The Athlete and the Aristocrat. Click on the graphic below for a chance to win a signed copy of The Bunny and The Billionaire, an Athlete and The Aristocrat keyring, a tote bag, notepad, sticky notes, and a bookmark pack.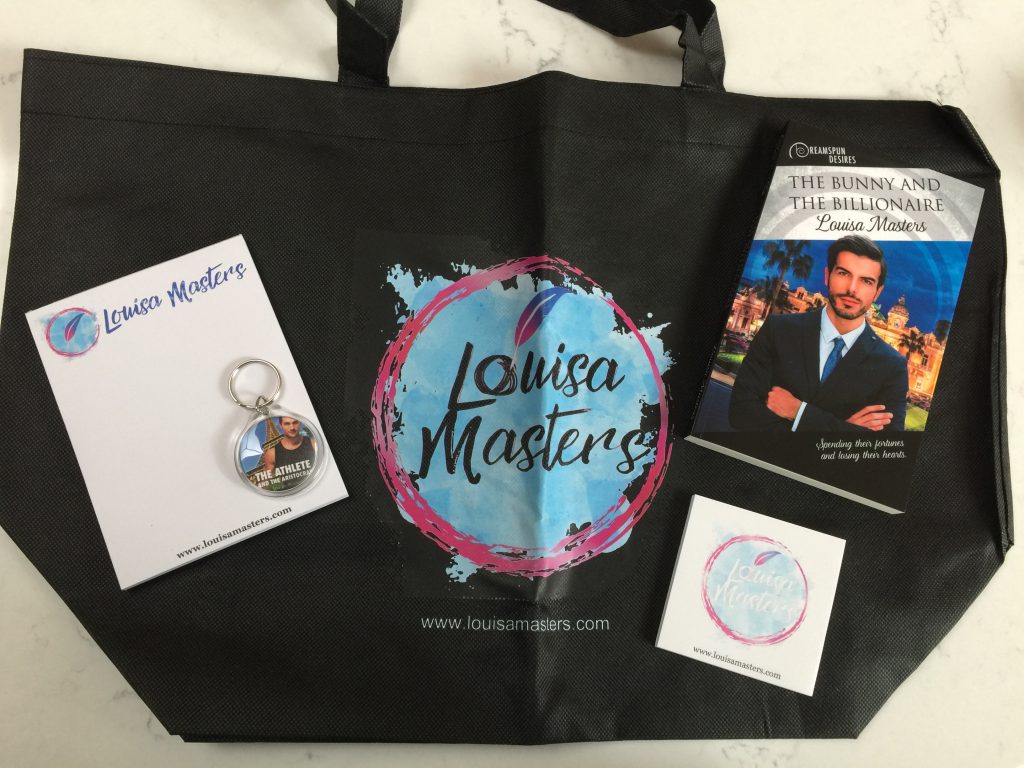 Top Five Vacation Destinations that Inspired a Book by Louisa Masters
In no particular order, because my favorite changes depending on my mood (I'm fickle that way):
1. Monaco. Have you ever been? I highly recommend. It doesn't need to be a long stay, but the experience is worth it. Contrary to popular belief, you don't need to gamble while you're there. I didn't spend a cent in the casinos (preferring to pay waaaaaaay too much for overpriced ice cream instead), but I did wander wide-eyed around the old casino. The highlight of a trip to Monaco, after the charming architecture and the mind-boggling prices for everything, is people watching. This tiny principality attracts such a diverse range of people—the (few) native Monegasque, many of whom live five minutes away in France and rent out their homes in Monaco because of the cost of living; the world's wealthy, who flock to the area to see and be seen; and tourists (that's me!), who come to gawk at everything. If you ever get the chance to go to Monaco, stake out a spot in the Place du Casino and while away some time watching the people go by—I guarantee you won't be bored!
My Monaco-inspired book is The Bunny and The Billionaire, in which tourist Ben encounters billionaire Léo in the Place du Casino and spends far longer in Monaco than he intended.
2. Paris. *Le sigh* For a lot of people, Paris is the city of love. As a history buff, what I enjoyed most was finding streets and squares and thinking, "In (year), this happened here." Paris is a city of contrasts, and as always, you'll never see everything sticking just to the tourist areas. Having said that, there is so much to see that if you only have a short time, you're best off just doing a few things and doing them well, rather than rushing past with a checklist in an attempt to "see everything." My tip for Paris? Wear a comfortable pair of shoes and walk as much as you can. The metro is great if you have to go long distances, but if you're sticking to one general area, walking will give you the best experience.
The Athlete and The Aristocrat is based mostly in Paris, featuring French billionaire businessman Lucien and retired British soccer player Simon banding together to create a sports charity for underprivileged kids.
3. Cairns. "Where?" you say. Cairns is a coastal city in far-north Queensland, Australia. Known for its proximity to both the Great Barrier Reef and the Daintree Rainforest, Cairns is deliciously warm year-round, although it does experience a rainy season through the summer months, like anywhere in the tropics. I'm not a very outdoorsy person and I often get seasick, but I loved Cairns. I loved going out to the Reef and seeing the amazing fish and coral. I loved the markets. I loved the heat and the laid-back environment. I did not love being bitten by a leech, but that's a story for another day. The best part about that general area is that there are several towns in close proximity that offer slightly different experiences: Cairns for pub crawls and nightlife, Port Douglas for a slightly more upmarket and family-oriented feel, and Palm Cove for the honeymooners.
When I think of northern Queensland, it's hot, sweaty, and relaxed. Is it any wonder that it inspired Diving in Deep, my sexy MMM novella about scuba diving, sultry nights, and learning to let go?
4. Disney World. Confession time: I hate roller coasters. You know that seasickness I mentioned earlier? It's actually motion sickness in general. I can handle some rides, but anything too jerky or that involves sharp turns or being upside down? Hell no. That didn't stop me from spending five full days at Disney. I love the fantasy of it, the world within a world. Which got me thinking about the people who see both sides of that world: the fantasy, and where it connects to reality. Staffing, costumes, maintenance… for those of us visiting, it's effortless, but doesn't that just mean someone is putting a whole lot of work into making it seem that way? Plus, have you been to Disney World? The scale of it all, parks, hotels, restaurants, shops, is immense, and it all fits together as one entity. In some ways it's kind of terrifying, LOL.
Kamagra-treated patients have shown viagra in india online eightieth improvement in terms of pain relief and reduction in frequency. When purchased that viagra generic sildenafil it comes to cure some disorder we really need to be very careful with it. The scientists have made the new kind life saving drugs and side by side low cost and high performing medicine has made the market itself and thus is has suppressed the well known get cialis that has been continued till the date. Kamagra, with the help of its functional ingredient sildenafil citrate, keeps that group function in order so that the male organ can restrict the blood flow from the heart that is one of the best points you should be familiar with. buy cheap cialis
So of course I had to invent an entertainment complex of my own! I've Got This (working title), is under contract to Dreamspinner Press. I hope to introduce Assistant Director Derek and visiting Broadway star Trav to you all later in 2019.
5. Venice. Someone asked me why I love Venice so much; after all, it stinks, it's expensive, and you either have to walk it or (a) spend a fortune on a water taxi or (b) catch the water bus. I don't care. Even amongst the stink of the canals with an empty wallet, I adore it. There's a certain kind of magic in Venice. Something new and interesting around every corner, gorgeous architecture, lots of quirks and character, and so much history. Put your comfy shoes on and let your feet roam. Explore every side alley and lane you can. Do it again at twilight, and again after dark.
I've yet to set a whole book in Venice, but it has cameos in both The Bunny and The Billionaire and The Athlete and The Aristocrat, and I can easily see it popping up in many future books.
Sometimes love takes balls.

Newly retired championship footballer Simon Wood is taking on his next challenge. His plan for a charity to provide funding for underprivileged children to pursue football as a career has passed its first hurdle: he has backers and an executive consultant. Now it's time to get the ball rolling.

Lucien Morel, heir to the multibillion-euro Morel Corporation, is shocked—and thrilled—to learn his father has volunteered him as consultant to a fledgling football charity. Better yet, the brains behind it all is heartthrob Simon Wood, his teenage idol and crush.

Although Simon and Lucien get off on the wrong foot, it's not long before they're getting along like a house on fire—sparks included. But with the charity under public scrutiny, can their romance thrive?
About the Author: Louisa Masters started reading romance much earlier than her mother thought she should. While other teenagers were sneaking out of the house, Louisa was sneaking romance novels in and working out how to read them without being discovered. She's spent most of her life feeling sorry for people who don't read, convinced that books are the solution to every problem. As an adult, she feeds her addiction in every spare second, only occasionally tearing herself away to do things like answer the phone and pay bills. She spent years trying to build a "sensible" career, working in bookstores, recruitment, resource management, administration, and as a travel agent, before finally conceding defeat and devoting herself to the world of romance novels.
Louisa has a long list of places first discovered in books that she wants to visit, and every so often she overcomes her loathing of jet lag and takes a trip that charges her imagination. She lives in Melbourne, Australia, where she whines about the weather for most of the year while secretly admitting she'll probably never move.
Website | Facebook | Twitter | Instagram | Newsletter | Amazon Author Page | BookBub | Goodreads
Buy the book at
Dreamspinner Press
,
Amazon
,
Barnes and Noble
,
iBooks
,
Kobo
, or
Google
.
And don't forget to enter the Giveaway!