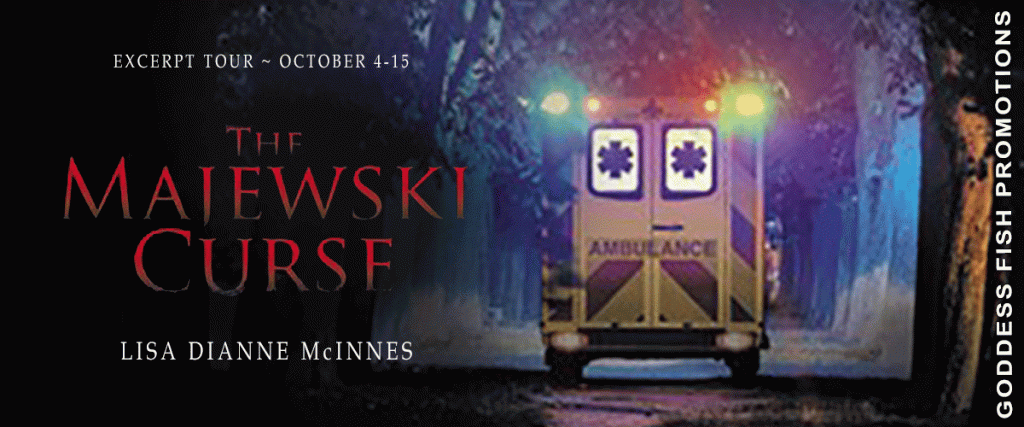 This post is part of a virtual book tour organized by Goddess Fish Promotions. Lisa Dianne McInnes will be awarding a $15 Amazon or B/N GC to a randomly drawn winner via rafflecopter during the tour. Click on the tour banner to see the other stops on the tour.
In her debut novel, Lisa Dianne McInnes urges us to explore the meaning of loss, the evil side of human nature, and the infinite power of love and rising above it all.

Between the years 2012 and 2017, like a pile of dominos, Lisa Dianne McInnes watched her life collapse as one traumatic tragedy after another took away her loved ones, leaving her to learn just how quickly life can fall apart.

An extraordinary memoir full of depth, compassion, and unimaginable strength, The Majewski Curse is the harrowing true story of the separate yet intertwined tragedies of Brandon, Devon, and Derek Majewski's deaths and the multiple conspiracies surrounding their family's search for truth.
Enjoy an Exclusive Excerpt
We sat and stared blankly at each other—frozen in our pain—for what felt like hours, even though only a minute or two had passed. I felt the room begin to close in on me, and for the first time in my life, I had to concentrate on breathing. There was a sudden knock on the door, and I can still recall the distinct way it reverberated through my heart.
When I looked up, I saw an officer standing in the doorway. He offered us his sincere condolences and gave us a moment to compose ourselves. He then uttered the words that floored everyone, leaving us all in disbelief.
"The woman who killed your son feels terrible about it," he began. "She is beside herself and is practically inconsolable."
Later, I desperately wished I could have regained my composure long enough to respond right away but instead, his words and the silence that followed still haunt me to this day.
When the unspeakable happens and your world is shaken, it feels nearly impossible to speak or react. Although the officer continued to say a few more words, nothing registered with us. All we could do was stare at him, confused, and hope for an immediate apology for his insensitivity, but one never came. We watched in bewilderment as he made a quick exit until we were finally startled out of our daze when the door slammed shut behind him. Eventually, we would come to learn what his words meant, but it would be years before everything else would fall into place.
A child's death is every parent's worst nightmare, and it is why the officer's words cut even deeper. His insensitivity was our first clue—of many—that would indicate something was not right.
Sharlene Simon was driving home on Innisfil Beach Road from Dave & Busters, a family-friendly sports bar, at around 1:00 a.m. the night she hit and killed Brandon with her Kia Sorrento SUV. Brandon and his friends, Richard Esch and Jake Roberts, were bicycling back home from Tim Hortons, the local coffee shop, when Sharlene plowed into them from behind. She hit Brandon with such force that he was thrown over 350 feet, the impact of his body smashing the front end of her SUV and damaging the roof as he flew backward over the top. Sharlene's police officer husband, Jules Simon, was following behind in his vehicle just before impact.
The boys never knew what hit them.
Brandon's friends were much more fortunate than he was. They had survived the crash but not without significant injury to Richard, who suffered multiple injuries and fractures, including a broken pelvis. Jake luckily escaped the accident without injury since he was riding on the outside shoulder of the road. He was knocked off his bike but evaded direct impact with the SUV.
About the Author:
Lisa Dianne McInnes has always been fascinated with spirituality and the human experience. She prides herself on always being committed to the truth, even when it hurts, and believes in being reliable, trustworthy, honest, and loyal to those she loves.
However, in 2012, when tragedy struck and shattered her family, Lisa's beliefs were tested and she was forced to undergo a profound inner transformation. In doing so, she had to acknowledge the trauma of her past but chose only to remember the love her family shared. Her solid understanding and belief in the theory of mindfulness and living in the moment helped her rise from the ashes and move on with her life. She believes the past can be like a black hole: if you stand too close it will pull you in.
Today, small things like sunsets, staring out at the water, and kisses for no reason are the reasons she smiles. She believes it is the simple memories that define us, and the ones we hold close to our hearts. For Lisa, writing allows her to share her struggles and experiences with others, and by doing so she learns and grows both mentally and spiritually through the process. Therefore, with her work, she hopes to inspire her readers to join her on the journey to find inner peace and greater fulfillment in their lives.
Lisa completed her debut novel, The Majewski Curse, and is currently preparing to start writing her second non-fiction work. She currently resides in Northern Ontario with her spouse and their puppy Cooper.
Website | Facebook | Instagram | Goodreads
Buy the book at Amazon, Amazon CA, Bookshop, Indigo Chapters, Barnes and Noble, or Book Depository.