Long and Short Reviews we.comes KD Ellis who is celebrating today's release of Shiloh's Secret, the second book in the Out in Austin series. Enter the Rafflecopter for the chance to win a $50.00 First for Romance Gift Card!
Shiloh Beckett has a trust fund, a stalker and a secret. He doesn't trust easily, but his new bodyguard might just break the cycle.

Shiloh Beckett might be the sole heir to Beckett Industries, one of the leading tech companies in the world, but the last thing he wants is to become another suit-and-tie. He's learned the hard way that money can't buy happiness, just a better brand of misery.

Gage Tucker lives by the motto Protect and Serve. Raised by a cop who failed his family, Gage chose to serve his country the only way he knew how—with boots on the ground and a gun in his hand. After a mission gone wrong, Gage came home with a broken body but the same drive to protect. Months of rehab later, he joined Eagle Security as a Personal Protection Officer and he's been a bodyguard ever since. Protecting a trust-fund brat from the paparazzi isn't what he signed up for.

Soon he learns that there's more than just the media after Shiloh, and the secrets the boy is hiding will change everything. If he can't convince Shiloh to trust him, how can he keep him safe?

Reader advisory: This book contains scenes of violence, rape, reference to past child abuse, self-harm and suicidal ideation, and PTSD,. There are references to drug use, sex work, elements of BDSM—Daddy kink and power play—and parental neglect.
Enjoy an Excerpt
Shiloh hiked the hem of his baby-doll dress higher as he leaned his knee against the back of the chaise. He knew the drape of silk pooling in the hollow of his thighs barely left more than a teasing shadow to keep him modest.
Not that anyone in the frat house cared. He'd seen each of the Sigma boys naked at one point or another, while either on his knees or his back. In fact, the only man here he hadn't seen naked yet was his bodyguard, a man who bought his muscles in a bottle of methyl-testosterone.
Brad sat in the armchair across from him. He was scanning the crowd of drunk college students stumbling from room to room, supposedly keeping an eye out for cameras. In reality, though, Shiloh caught the subtle glances toward the chaise, the way his gaze lingered on Shiloh's exposed skin and the even-less-subtle looks into the corner, where a couple was doing lines on the glass side table.
Shiloh propped himself up on an elbow so he could see them. "Hey, Jorgie." Shiloh feigned a slur. He'd been nursing the same glass of cheap whiskey since he'd arrived over an hour ago, though he'd skipped to the kitchen for a half-dozen refills for the sake of appearance. "Kiss you for a line."
Jorgie, nearly as fabulous as Shiloh in a glittery pink tank and tight jeans, wiped his nose before grabbing the baggie. He stumbled over, his cheeks flushed, blue eyes nearly black as he leaned down. His lips were hot when they pressed against Shiloh's.
Jorgie lost interest quickly, dropping the baggie on Shiloh's lap as a girl Shiloh vaguely recognized stumbled past. Jorgie trailed after her, calling "Evie, those shoes!"
Shiloh popped the seal on the bag and turned it gently, letting the coke fall against the side. He shook out a crooked line on his thigh. By now, his bodyguard had given up all pretense of watching the room. Brad's gaze locked on the powder.
Slowly, Shiloh ran a teasing finger over his skin to straighten the line. He admired the way it looked, even paler than his sun-starved flesh.
"I don't mind sharing," Shiloh said suddenly into the silence between them, and Brad dragged his gaze up to Shiloh's. He wet his lips. He wanted it. That was obvious—wanted it even more than he wanted Shiloh. "I won't tell if you don't."
And that was all it took.
Shiloh was almost disappointed at how easy it was. Brad pushed his way to standing, stalking closer. Shiloh held himself still. Brad only loomed for a second before dropping heavily to his knees. There was the briefest hesitation then his bodyguard hunched over his thigh. He pressed one large finger against his left nostril, then the sound of sniffing made Shiloh wrinkle his nose in disgust.
He expected the man to sit back but Brad lingered, skimming his thumb over Shiloh's thigh. It would be sexual in another circumstance—foreplay, a tease—but Shiloh knew he was just grabbing the last of the powder. Brad lifted his thumb to his mouth, rubbing it over his gums.
Brad's brown eyes grew darker as the drug tightened its grip on him. Shiloh was on the clock now. He would be lucky if the drug stuck in the man's system for a half-hour, with everything else in his veins.
About the Author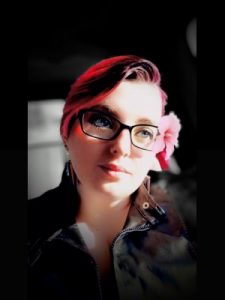 KD Ellis is a professional cat wrangler by day, and an author by night. She moved from a small town to an even smaller village to live with her husband and wife and their two children. She loves reading—anything with men loving men. She writes queer romance in between working her two jobs and cuddling her pets—all six of them, which confuses the turtle.
Goodreads | First for Romance Author Page
Buy the book at your favorite online venue or First for Romance.
Notice: This competition ends on 30th November 2021 at 12am EST. Competition hosted by Totally Entwined Group.
Direct Link:
http://www.rafflecopter.com/rafl/display/555033ec946/?widget_template=589504cd4f3bedde0b6e64c2