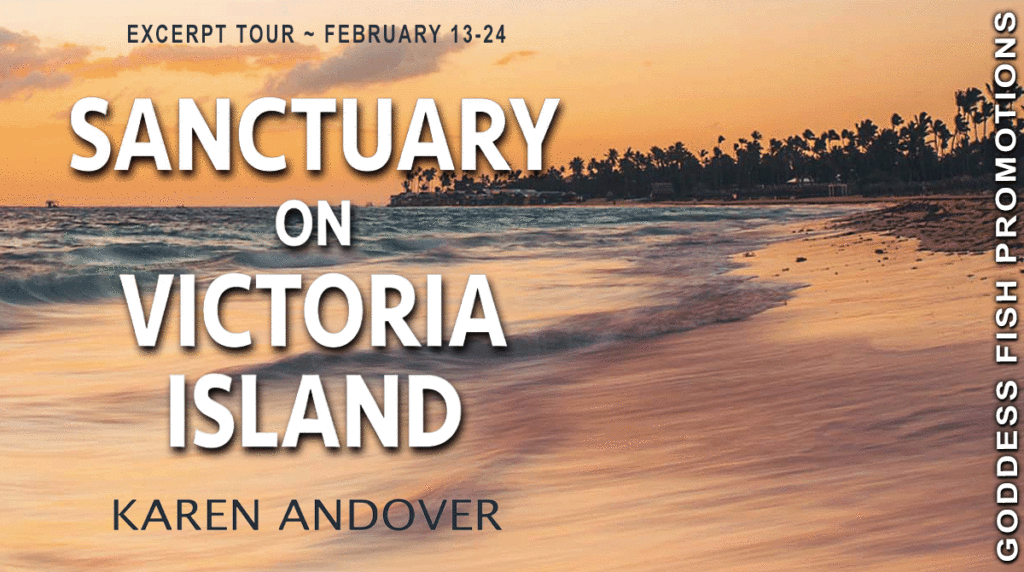 This post is part of a virtual book tour organized by Goddess Fish Promotions. Karen Andover will be awarding a $15 Amazon or B/N GC to a randomly drawn winner via rafflecopter during the tour. Click on the tour banner to see the other stops on the tour.
Victoria Island is an idyllic place to live and work. Or so Emma Rutledge had always thought. Working for her family's property company, she enjoys professional success. But her personal life is more complicated. She struggles to move past her childhood infatuation with Donovan, her brother's best friend, and to cope with his callous rejection of her feelings.

But things are not always as they seem on the picturesque island. The sunny and peaceful haven conceals dangerous secrets. When Emma unexpectedly stumbles across the darker side of life, her life is threatened.

Donovan Evans is leaving the military after fifteen years and returning home to Victoria Island. He is ready to start the next chapter of his life with a different job and the hope for a new relationship. But old hurts frustrate his plan. And unforeseen violence transforms his priorities. Suddenly Emma and Donovan have more at stake than getting past their troubled history. They must work together to say alive.
Enjoy an Exclusive Excerpt
Emma slurped the last of her frozen margarita. She carefully set the massive wide-rimmed tumbler down.
"You know something? You almost waited too damn long." She accentuated her comment by pointing a tortilla chip at Donovan.
"You weren't seriously involved with that banker."
He took a swig of his beer. When he set it down, beer spilled over the top.
"I could have been. Stephen and I had a lot in common."
"Yeah? Like what?"
"We both volunteered for the Save the Seas charity." She ticked one item on her finger.
"Hmm…" His eyes narrowed. "What else?"
Emma screwed her face up. She was having trouble organizing her thoughts, and this interrogation was making her think too hard. She blinked.
"He's attractive. He's my age." She counted off two more fingers. She extended another finger, then hesitated. "Oh, yes! He has a good job. That's four reasons."
He shook his head. "Those are superficial rationales at best. They don't establish long term compatibility. Anything else?"
"Uh, he was a good dancer." She made a "voila" motion with her hands.
"Right." He set his beer down precisely on the mat.
"It's clear to me that you could never have been deeply committed to him."
About the Author:Karen Andover is an author of romantic suspense, contemporary romance, and science fiction. Karen lives an idyllic island life and her goal is to share her happy place with readers one book at a time. She lives in Florida with her family and rescue pup.
Website | Facebook
Buy the book at Amazon.