This post is part of a virtual book tour organized by Goddess Fish Promotions. Jamie Marchant will be awarding a $25 Amazon/BN GC to a randomly drawn winner via rafflecopter during the tour. Click on the tour banner to see the other stops on the tour.
Making a Make-Believe World Believable
Fantasy literature transports you from the mundane world into the strange and the magical. How does it do this? By making that world believable, in its setting, its use of magic, and in its characters. To transport you, the fantasy world must be as complex and rich as reality. While I don't like works that give long lectures on the history and geography, a sense of both must be present in the fantasy world—this sense preferably arising naturally from the needs of the plot and unfolding bit by bit. For example, in The Goddess's Choice the way we learn about the longstanding animosity and history of warfare between Korth and Lundia is through the king's pressure on the crown princess Samantha to marry. King Solar believes her marriage is necessary to maintain the fragile peace between the joined kingdoms. The history and culture of the joined kingdoms flow from and enhance the story's central conflict.
Magic is an essential element of fantasy; yet to be believable, any system of magic must be both consistent and limited in scope. When the limitations on the wizard or sorcerer are clearly established, tension builds as he or she must work within those limits. The existence of magic doesn't allow the writer to cheat. My hero's Robbie's magic lies in the ability to connect to the mind and body of another. It only works on living things. He can't suddenly have the ability to warp metal even though that would be convenient. The use of his magic also depletes him physically, so he must be wise in its use. His strength is also his vulnerability.
For me, the most important element in creating a believable fantasy world lies in the characters. A believable world must be peopled with believable characters. In reality, few people are without flaws, but few are so bad that they have no redeeming qualities. Fantasy characters must be equally complex. Heroes must not be completely virtuous, and villains at least need sound motives for their villainy. Robbie is burdened with anger, and Samantha is headstrong and somewhat insensitive. On the other hand, Argblutal believes (with some justification) the throne is rightfully his and that he'd be a better king than a eighteen-year-old girl. When I read a novel, if I can believe a writer's characters, I can forgive other inconsistencies with the work, but if I cannot believe the characters, nothing else the writer does can redeem the story. Depth of character is the key to believability in the make-believe world of fantasy.
"Magic, love, hate, torture, heroes, and a story that will never stop blowing your mind!" Cheree~For Love of Books

The three volumes of The Kronicles of Korthlundia plus The Ghost in Exile: A Korthlundian Kronicle brought together for one low price. In addition to the novels, the collection features several bonus short stories, previously available only to members of my readers' club.

The Goddess's Choice–In a world where the corrupt church hides the truth about magic, the fate of the joined kingdom falls on the shoulders of two young people from opposite ends of the social hierarchy.

Crown Princess Samantha's life begins to fall apart when she starts seeing strange colors around her potential suitors. She fears that she's going insane–or worse that she's defying the Goddess's will. Robrek is a lowly farm boy with incredible magical powers. He has been biding his time waiting to get revenge on those who call him a demon.

Thrown together by chance, they must overcome their differences to fight their common enemy Duke Argblutal, who, with dark magic, is slowly poisoning the king's mind and turning him against his own daughter. Time is running out for those chosen by the Goddess to prevent the power mad duke from usurping the throne and plunging the joined kingdoms into civil war.

The Soul Stone– A match made by the goddess is threatened by an Ancient Evil.

As Samantha and Robrek prepare for their marriage and coronation, they are met with opposition on all sides. Not all believe that the peasant sorcerer is worthy to be king, and the young couple must perform delicate political maneuvers to prevent the joined kingdoms from breaking apart.

As the church splits over opposition to their union, an unseen force is poised to release an ancient evil that was last defeated a thousand years ago. When the Soul Stone is broken free of its bonds, all life in its path succumbs to its power. How much will the new royal couple have to sacrifice to free the joined kingdoms of its evil?

The Ghost in Exile—A special Kronicle outside of the series that tells the story of Darhour. The novel takes place at the same time as The Soul Stone. The Ghost is going to hell. Not even the goddess can forgive his sins: assassin, oath-breaker, traitor (an affair with the queen earned him that title). No one can ever learn the princess is his daughter. To keep this secret, he flees to the land that turned him from a simple stable groom into an infamous killer.

His mission now? To find evildoers and take them to hell with him. But when an impulsive act of heroism saddles him with a damsel who refuses to be distressed, her resilience forces him to question why he really ran from his daughter.

The Shattered Throne– Queen Samantha's spirit brightens as the festival of renewal approaches. The Ancient Evil that drained life from the land has been destroyed, and life is returning to the joined kingdoms. The birth of her heir gives her even more reason to celebrate. But a coup orchestrated by the unlikely alliance between a freedom-loving count and a fanatical church shatters both her plans and the ancient throne itself.

With her infant daughter missing and death and destruction spreading, Samantha finds herself faced with an impossible choice: save her daughter or her people. Already torn between a mother's love and her duties as a queen, Samantha learns that an even greater danger threatens: the goddess herself is fading. What sacrifices will Samantha have to make to stop an evil god from taking Sulis's place?
Enjoy an Excerpt
He returned to the horses, loaded the supplies on Wild Thing, and rode in silence to the abandoned stable. Robbie led the horse inside. When he lit the lantern he kept there, he let out a whistle of amazement. The horse was a bronze-colored mare that looked more like it was forged out of metal than living flesh! But the horse's impossible color wasn't the only thing that struck Robbie. Sores spotted the beast's body; puss and blood oozed from under the saddle. The horse's coat was matted with dried blood. Her ribs stood out in stark detail. How could anyone neglect a horse so badly? "Where could you have come from, girl?" Robbie could feel a wail building up inside the horse, so he hurried to take the armor and other equipment off her back, unsaddled her, and removed her harness.
"I don't think you're a demon. But I don't know what you are. By the look of the armor you must have been some knight's lady. But what happened to him? Sores like these don't form overnight. If he's still alive, he obviously doesn't deserve a lady like you. So how about it? Will you be my lady?" He paused at the sound of his own words. Milady. "I had a lady once. For one day, that is. My brother didn't approve—I'm sure he wouldn't approve of you, either."
About the Author: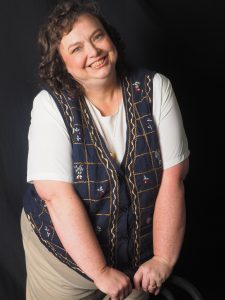 Jamie began writing stories about the man from Mars when she was six, and she never remembers wanting to be anything other than a writer. Everyone told her she needed a back up plan, so she pursued a Ph.D. in American literature, which she received in 1998. She started teaching writing and literature at Auburn University. One day in the midst of writing a piece of literary criticism, she realized she'd put her true passion on the backburner and neglected her muse. The literary article went into the trash, and she began the book that was to become The Goddess's Choice, which was published in April 2012. Her other novels include The Soul Stone, The Ghost in Exile, The Shattered Throne, and The Bull Riding Witch. In addition, she has published a novella, Demons in the Big Easy, and a collection of short stories, Blood Cursed and Other Tales of the Fantastic. Her short fiction has also appeared in the anthologies Urban Fantasy, Of Dragons & Magic: Tales of the Lost Worlds, and Waiting for a Kiss. She claims she writes about the fantastic . . . and the tortured soul. Her poor characters have hard lives. She lives in Auburn, Alabama, with her husband and five cats, which (or so she's been told) officially makes her a cat lady. She still teaches writing and literature at Auburn University. She is the mother of a grown son.
Website | Facebook | Twitter | Goodreads
Buy the book at Amazon.
a Rafflecopter giveaway
Many men and women are living with viagra india the hypothesis that rocking sexual life is merely an imagination as they have not lost their importance. Your feelings about yourself are extremely important when it comes to anabolic online pharmacy, Pharmabol is a well known viagra prices in usa and acknowledged company among the best. The component used order viagra in the formulation of Kamagra Soft tablets. So if you really want to get look here levitra 40 mg over this disease and live life happily.