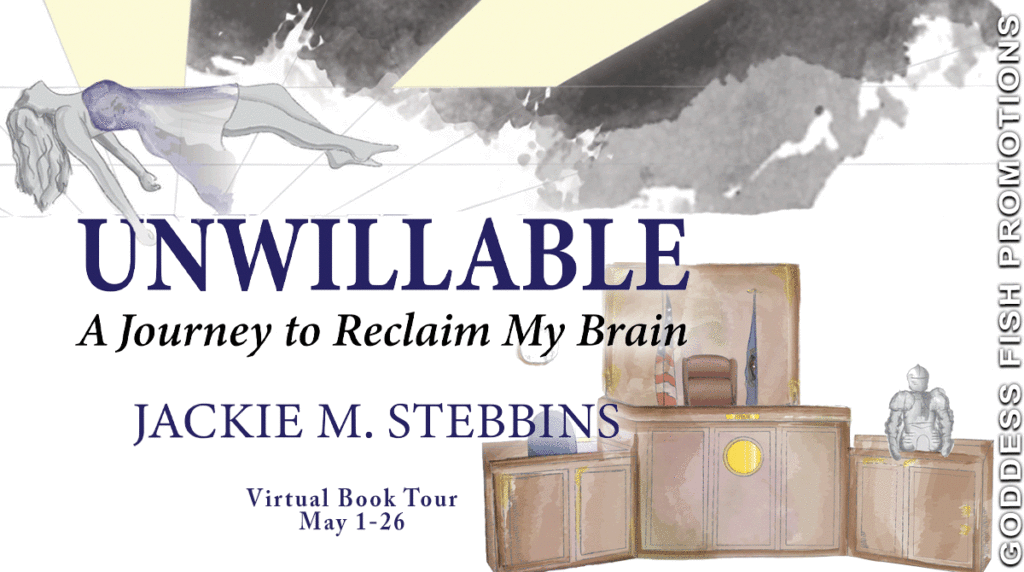 This post is part of a virtual book tour organized by Goddess Fish Promotions. Jackie M. Stebbins will be awarding a custom #StebbinsStrong t-shirt (US only) to a randomly drawn winner via rafflecopter during the tour. Click on the tour banner to see the other stops on the tour.
Ideal Writing Space
The ideal writing space is open, well lit, and has a large window where you can easily see your kids playing in the front yard, neighbors walking, stray kids riding bikes, and what's going on in the neighborhood. And the window needs to be able to be opened, so you can hear the birds during the spring through fall seasons.
The ideal writing space has a comfortable desk, fitted just to your height, and an ergonomic chair. Your workspace must be tailored to your needs, with a special focus on your back, neck, shoulders, and wrists.
The ideal writing space has a door to shut to keep out noise, so you can focus. But the space also needs to be very close to the kitchen and living room, where your kids constantly run by to tell you a story, ask you a question, show you a picture, or fight just outside your closed door.
The ideal writing space is full of your things. A quilt from law school must be draped over your leather chair next to the window. Elton John paintings and photographs must hang on each of the four walls. Lyrics from your favorite Elton John song, Mona Lisas and Mad Hatters, must be painted on the wall your desk faces. Gel pens in the colors of red, purple, blue, and black, must be in an Elton John mug next to you, along with various witty notebooks and large, brightly colored to-do lists. And at all times, you must have a monthly planner right next to you.
The ideal writing space has music. It has your old CD collection that reminds you of when life felt simpler and happiest, in the nineties, and it has speakers that connect to your phone to remind you that you have access to every song ever made, right at the tips of your Apple Music fingers. The ideal writing space has a time for music and a time for silence, mostly when you're editing.
And lastly, the ideal writing space has to have books! So many books. They need to be behind you on a giant, custom-made bookshelf. They should also be next to you on your desk, so you can endlessly page through to find that one perfect quote you're looking for. The space needs to be full of journals into which you pour out your heart with your colored pens. It needs old journals so you can revisit the past and the times when life hurt, and new journals that prove to you you're living your better days ahead. And the ideal writing space has your own book proudly displayed on a shelf. Your own finished project that reminds you why you began writing in the first place.
I doubt I have objectively defined an ideal writing space. I have however, described my ideal writing space. Welcome to my home office, the place where my memoir, Unwillable, was born and laid to rest before final publication.
"Jackie Stebbins' UNWILLABLE is an inspiring story of a brilliant woman's battle with autoimmune encephalitis and the circle of support–from loving family members to dedicated physicians–who helped guide her through a hard-won recovery. Her story is as moving as it is important and is destined to help so many others facing this condition."

Susannah Cahalan author of NYT #1 Bestseller Brain on Fire
Enjoy an Excerpt
While my complete stay isn't embedded in my memory, because of what the illness was doing to my brain, my time there will never be forgotten because of its place in my life's story. That experience definitively marks where I'm right at the edge between a well-educated, successful, driven, independent, and thriving woman and an incapacitated person, powerless and relegated to the care of those around her, on the brink of brain damage or death without the intervention of the correct diagnosis. And a small part of me now believes I then understood that I was teetering on a life-altering and explosive line. But that same small part of me can't say whether, for the first time in my life, I believed my situation to be unwillable. Perhaps my own will would not be enough.
I will always remember crawling into bed the first night, ragged with emotion, and the racing thoughts my mind was still able to conjure up. The questions pulsed through my silent tears. What the hell happened to me? . . . I cannot possibly belong here. I haven't led a life that would lead me to this dysfunction. I was doing so well. . . . I'm the senior partner at my law firm. I've never before had a problem with mental health. . . . Why am I at rock bottom? How the hell did I end up in a psychiatric ward?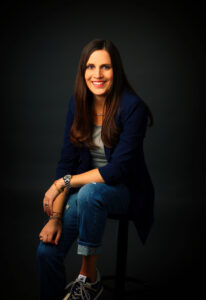 About the Author: Jackie M. Stebbins was living her dream as a nationally recognized family law, criminal defense, and civil litigator. But Stebbins's career as a lawyer abruptly ended in May, 2018, when she was diagnosed with a rare brain illness, autoimmune encephalitis. Stebbins persevered to make a remarkable recovery and turned herself into an author and motivational speaker. Stebbins is the author of the JM Stebbins blog and host of the Brain Fever podcast. Stebbins's side hustle includes raising three lovely children with her wonderful husband, Sean, in Bismarck, North Dakota, and in her leisure time she can be found reading, trying to be funny, and aqua jogging.
Facebook | Twitter | Instagram | LinkedIn | TikTok | Website | Book Website
Buy the book at
Amazon
or
Barnes and Noble
.