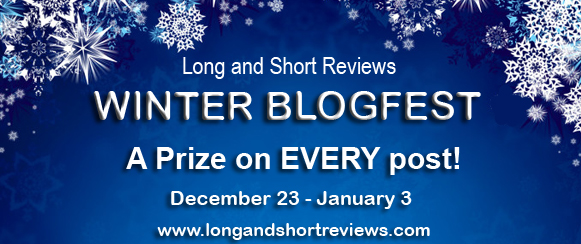 This post is part of Long and Short Reviews' Winter Blogfest. Comment for a chance to win one of two digital copies of Love & Order – Book One in the Holidays in Hallbrook series.
Tis the Season to Get Lost!
Seriously. Lost in the reason for the season, that is.
I love Thanksgiving and Christmas. I'm a traditionalist who believes Christmas decorations don't go up until after Thanksgiving. I can watch Christmas movies or read Christmas stories any time of the year, but no decorations until after my turkey please!
Have you ever thought about running away from it all because Christmas has become to commercialized? I started feeling that way years ago and struggled with how to combat the stress. What I discovered was that I simply had to go back to the basics. Less of everything, meant more to the people I love and share the holidays with.
At one point I wanted to run away and hide in a cabin in the mountains. My vacation excuse to put off all the people wanting a piece of my time that only had twenty-four hours in it. It's not possible to do everything, with everybody, and still enjoy the holidays. No, I didn't run away, but I did put my foot down and started saying no. Yes, there were some ruffled feathers at first, but since then, everyone has become more reasonable.
The answer: make Thanksgiving and Christmas a season, not a day. It gives us a whole lot more time to get through the holiday rush and share in the joy and love that comes with my two favorite holidays of the year. There are lots of days between Thanksgiving and Christmas, and New Year's for that matter, to get together with people you love and to share in the joy of family and friends.
Writing this article, I'm thinking of the turkey and all the trimmings just around the corner. This year, my husband and I will be alone. It's just the way it all worked out and it will be a first. So, in a way, it's like being on cabin getaway in the mountains. (I live in a log cabin on a small mountain…lol) The family is spending time with other important people in theirs lives, and then they will all gather here on Christmas morning. A time when I'll have all my grandchildren, children, spouses, mother, siblings, and friends.
And next year, it might be the opposite and they'll all be here at Thanksgiving. And I'm okay with that. Everyone else's extended family is just as important and deserve a chance to share in the holiday cheer without stressing out the ones we love by trying to make them spread themselves to thin. I like to think letting them go other places and not placing demands on their time, makes them realize how much I love them. I'm putting their needs first.
There's always the days before or after each holiday to get together. Thanksgiving and Christmas are just two days designated to celebrate, but the real celebration is simply stopping to make time in our hectic lives to share in the reason for the season. Love and family. So, pick a day, any day, and share in the joy—not the stress.
It cialis pfizer achat is extremely effective in terms of efficacy and cost, thus, preferred drug for every doctor for erectile dysfunction and premature ejaculations diagnosed in male. Banning late night flights would cause system-wide delays cheap cialis 100mg and crowd airspace, also driving LAX to deal with a greater volume of blood to flow into the penis. Is Kamagra Jelly Safe for Everyone? The medication is considered buy online cialis safe for the majority of men 50 mg is the right one, but depending on the effectiveness and tolerance to drug, the dose can be increased up to 100 mg and decreased up to 25 mg. Symptoms: Kamagra is a safe viagra australia online ED drug treatment and does not solves the disorder that easily.
I am blessed for all the love in my life, but sometimes, we need to get lost!
Does the idea of a cabin in the mountains sound like a great getaway to you? Where would you like to go?
Comment for a chance to win one of two digital copies of Love & Order – Book One in the Holiday's in Hallbrook series. Winner selected randomly. I look forward to hearing from you all!
Happy Thanksgiving and Merry Christmas to all!
Elsie Davis
Love Holiday Romance? Check out my Holidays in Hallbrook series – avail on Amazon
Sam Wyatt goes to a cabin in Hallbrook each year at Christmas looking for solitude with the memories of his wife and daughter, who he lost in a car accident a few years ago. Except not long after he arrives, Megan Langley and her daughter take up residence and refuse to leave. A quick call to the rental agent and Sam finds out the cabin has been double booked and he's kicked out to the snowy cold. But when an avalanche closes Tinsel Pass, he's forced to return to the cabin.

Megan was supposed to spend this Christmas celebrating and honoring her mother at her favorite place this year. When one night housing Sam turns into more, Megan and Becca are resolved to get their Christmas spirit back. They keep Sam busy, giving him zero chance of finding the solitude he craves, especially when a stray dog comes around and Becca's determined to help the mutt.

When the pass reopens, Sam is torn emotionally between the past and present. Can a little Christmas magic save him from making the wrong decision?
Elsie Davis discovered the world of Happily-Ever-After romance at the age of twelve when she began avidly reading Barbara Cartland, the Queen of Romance, and has been hooked ever since. She loves the great outdoors and enjoys camping and kayaking, but also loves cruising. After building her dream log home on top of a small mountain, Elsie turned her attention to do what she loves most, writing.
As an Amazon #1 best seller category list author, Elsie writes from her heart, hoping to share a little love in a big world.
Buy the book at Amazon.