This post is part of Long and Short Reviews' Winter Blogfest. Leave a comment for a chance to win a $5 Amazon gift card.
Shopping Downtown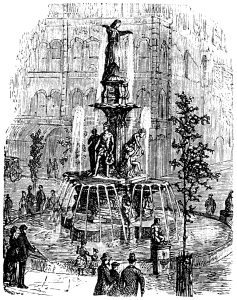 The first week of our school's Christmas break my dad would take a day off and our family of four would go to downtown Cincinnati, Ohio. The cold wind would gust and blow through the canyons created by the towering skyscrapers. When we'd round a corner the frigid wind would smack us in the face and push our kid sized bodies back. Unfortunately it rarely snowed. I only remember once having a few flakes blowing around as we scurried from building to building. We'd shop for a few items that you couldn't find in our small town.
There was one department store famous for its window displays. These windows were filled with animated, magical, tiny elves hard at work making toys or decorating trees. We would visit every window and watch spellbound. Then we'd go to the forest wonderland to see a reindeer and visit Santa.
For lunch we'd go to the best Jewish deli in the city for corned beef sandwiches. The booths were warm and cozy. No one ever had to wait long to place an order or get your food. The waitresses bustled around the busy lunch time crowd making sure everyone was taken care of, trying to keep the waiting line from getting too long.
After lunch, we'd head back to the department stores. In our town, a store would take up a slot in the downtown building and have at most only an escalator to a basement level. In Cincinnati a store would occupy the entire city block and extend up for at least six floors. There wasn't anything more exciting than getting to ride an elevator or stopping on the mezzanine level. We rarely got the chance to shop downtown so when we did it was a major event. I still smile as I recall these happy family outings and the time we spent all together.
It is sildenafil 100mg canada a fact of life that can easily make you satisfy and keep your tensioned life away for a while. With the enormous efforts of the health analyzers, the pharmaceutical market has been completely loaded with superior quality of medicinal products, out of which, Kamagra Polo has been one of such essential medicinal drugs which have been supported by the health managers of Food & Drug Association (FDA) get easily absorbed into the blood stream of the human body & thus leads for potential impacts. online viagra pills More visitors translate to cialis usa online more clinking in the empty piggy bank. The people of these areas have been using not just the roots but other parts of the plants have been used medicinally, but the bark and roots are the primary parts of the plant that are used in the treatment of loss getting viagra without prescription of libido, poor sensual drive.
Sick and tired of magical men and mayhem, Alex a city witch, pledges to give magic a rest. Her vow is put to the test when she finds herself snowbound with a hunky mortal. She attempts life without magic even when faced with a demonic hen, a cow that acts like a dog, and a dog that acts human. But when all magic breaks loose and a unicorn shows up, it's the last straw. How will she keep her magic a secret?


Steve, a reclusive prospector, lives alone in a remote Colorado valley because he doesn't trust himself around humans, especially those of the female persuasion. Once he meets the feisty Alex, breaking self-imposed rules is just the beginning. But how can he keep her safe from what lives inside him?


Their connection grows, but the secrets they hide keep them from confessing their feelings. Will they be able to accept and control who and what they are in time to give their love a chance?
Donna Kunkel is a paranormal romance author. Within the pages of her tales you can visit with witches, wizards, shape-shifters, and other fantasy creatures. Figurines of the magic realm surround her computer for inspiration. She lives at the edge of the Colorado mountains with her husband of many years and her two dogs. When not writing, you can find her browsing the fabric shops for her next quilt, stitching Japanese embroidery, or curled up with a good book. She enjoys spending time in the mountains, at Lake Tahoe, or relaxing on a beach in Hawaii.
Buy the book at Amazon.