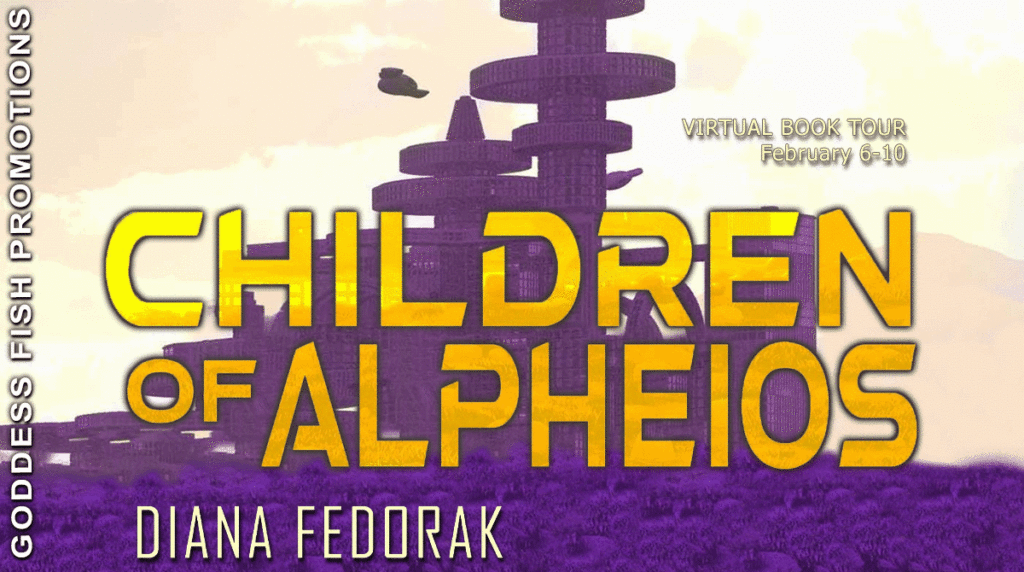 This post is part of a virtual book tour organized by Goddess Fish Promotions. Diana Fedorak will be awarding a $25 Amazon or Barnes and Noble GC to a randomly drawn winner via rafflecopter during the tour. Click on the tour banner to see the other stops on the tour.
How I Handled Research and World-Building for Children of Alpheios
Readers may be intrigued by the colors and images on the cover, which was designed by artist Jennifer Greeff. I took creating a new world for Children of Alpheios seriously before I started writing the story. I wanted a planet where human beings could live without spacesuits so it would be somewhat similar to Earth, but the environment needed to be harsh. Research involved reading through NASA and astronomy articles on potentially inhabitable planets.
That's how Children of Alpheios was set up on planet Eamine in a solar system with twin stars. The binary stars are close enough to orbit around each other with planet Eamine orbiting around their center of mass, which is called a circumbinary or P-type (planet-type) orbit. Due to the closeness of the suns, their orbits are stable and take eight days to complete, which provides wide fluctuations of daily temperatures on Eamine. Because of this, Eamine has limited habitability zones for humans to comfortably live in and walk around outside.
I also sketched out the supercontinent for where my characters lived, paying close attention to the topography. I had some mapping and geodesy training while I was in the Air Force and contemplated the climate a person would experience in the story.
The city of Alpheios is located in one of the temperate sweet spots on the supercontinent, wedged in a river valley between mountain ranges. A person living in Alpheios will see the suns' positions vary daily, and once a week, witness only one sun in the sky. Most days, they'll experience two sunsets and two sunrises. They'll also experience the temperature swings from freezing temperatures in the morning to hot desert-like temperatures by mid-afternoon, to rapidly cooling evenings. That's why my heroine, Alina, wears a climate suit so she can regulate her clothing's temperature in response to her environment.
Inhabitants must also be on guard for gamma storms. Did you know that NASA has detected thunderstorms on Earth which sometimes emit gamma rays during intense periods of lightning in the highest part of the clouds? On Eamine, if you're caught outside during one of these gamma storms, you can suffer radiation poisoning. Because of the twin stars, air mass is quickly heated as the winds carry moisture from the ocean, and storms can occur suddenly.
Buildings are constructed of the planet's amethyst-like rock, marbled with giltspar, a silver-colored mineral that protects life on the planet from radiation. And here's why we have a genetically engineered society, where babies are not carried by their mothers, but gestated by the colony's corporate founder, Genodyne. Genodyne built a reproduction vault with heavy amounts of giltspar for the safety of those babies.
The world-building took some time to develop, but I enjoyed bringing a new world to my readers. Children of Alpheios can be found on Amazon, Barnes and Noble, or Apple Books.
A genetically engineered colony on a new world. A baby born different than everyone else. A mother who will do anything to save him.

On planet Eamine, twenty-one-year-old Alina must protect her baby when Mandin is born with a remarkable DNA anomaly. The colony's central corporation wants Mandin for an experimental treatment program. Trained by the Expeditionary Academy, Alina knows how to survive Eamine's harsh environment and flees to keep Mandin safe.

While Alina tries to uncover the truth, she finds herself relying on Kiean, a gruff pilot who protects her from threats in the midst of her new surroundings. As an upcoming rebellion brews, Alina must discover who she can trust, facing choices about family, life, and love. Despite the risk, Alina is determined to safeguard Mandin from the colony's most powerful institutions.
Enjoy an Excerpt
Aurore handed her a tall glass. Alina drank the citrus liquid, inhaling bubbles. The crackers and fish in front of the robot beckoned. As she savored the alternating salty-sweet flavors, an audible ping lit up Aurore's expeditionary link.
"From SG." Aurore then read the message aloud. "AI scan correlates to a very high intelligence, but the sequence indicates a possible neurological condition. Have a pediatric neurologist look into this. Ask for Dr. Olek at Genodyne. He was one of my students at the med institute."
Alina tried to swallow the cracker stuck in her throat. It couldn't be. She was born of Phase One herself. Genodyne edited hereditary diseases out of
everyone's genome as standard procedure. Sucking on the straw of her drink helped wash down the cracker.
"He said it might be a really high intelligence," Aurore said.
"Yes, but a neurological condition? The doctor said they didn't detect a radiation leak, but what if there was one? What if it's neurodivergence or—"
"Mandin could be a genius for all we know," Aurore said.
Alina took another swig of her drink. She had broken her rule of stating her fears aloud.
About the Author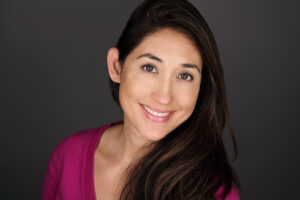 Diana Fedorak is a speculative fiction writer from Las Vegas, Nevada. Born in Saigon, South Vietnam, she grew up in a Pan Am Airways family who frequently traveled overseas. Her prior career was serving as an officer in the United States Air Force.
Diana's debut sci-fi novel, Children of Alpheios, was acquired by The Wild Rose Press in 2022. Set on planet Eamine, the story is about a young mother who finds herself pitted against the colony's corporation when she discovers they desire her baby's DNA anomaly for their genetic engineering program.
Website | Facebook | Twitter
Buy the book at Amazon or Barnes and Noble.